We Need YOU at Winter Jam in 2019!
https://veganoutreach.org/we-need-you-at-winter-jam-in-2019/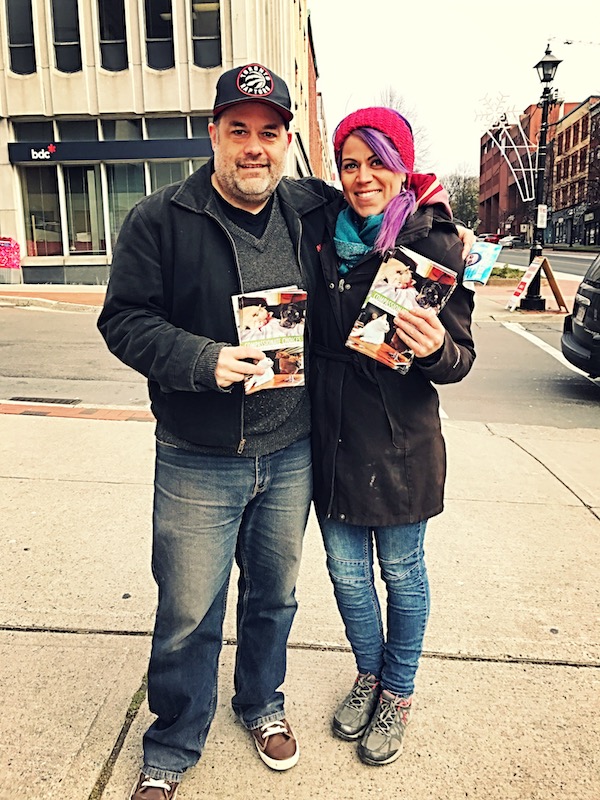 Kick off the new year by helping animals!
Find a Winter Jam concert in a city near you, and Vegan Outreach will provide the tools you need for a great evening of volunteering.
Sign up and you'll receive a package of pro-veg leaflets, Primal Strips vegan jerky to hand out, and sign-up sheets for our 10 Weeks to Vegan program. Armed with these tools, you'll go to Winter Jam and spread the message of compassion towards animals!
Winter Jam is a traveling Christian concert festival that attracts thousands of young people who are friendly and very receptive to our message. You don't need to be Christian to leaflet the events.
As a token of our appreciation, 20 volunteers who gather the most 10 Weeks to Vegan sign-ups will receive a free Vegan Outreach t-shirt!
Check out the dates below to find a Winter Jam concert near you. Peak leafleting time is from 5–7 pm, perfect for volunteers who can't make campus leafleting events during the day.
Leafleting is more fun with friends, so share this info with yours and help us recruit!
Contact Sara at [email protected] with questions and to reserve your spot.
January 11, 2019 — Jacksonville, FL — Jacksonville Veterans Memorial Arena
January 12, 2019 — Tampa, FL — Amalie Arena
January 13, 2019 — Mobile, AL — Mitchell Center
January 17, 2019 — Evansville, IN — The Ford Center
January 18, 2019 — Grand Rapids, MI — Van Andel Arena
January 19, 2019 — Columbus, OH — Schottenstein Center
January 20, 2019 — Charlotte, NC — Spectrum Center
January 24, 2019 — Council Bluffs, IA — Mid-America Center
January 25, 2019 — Des Moines, IA — Wells Fargo Arena
January 31, 2019 — New Orleans, LA — Lakefront Arena
February 1, 2019 — Birmingham, AL — Legacy Arena at BJCC
February 2, 2019 — Lexington, KY — Rupp Arena
February 7, 2019 — Peoria, IL — Peoria Civic Center
February 14, 2019 — Reading, PA — Santander Arena
February 15, 2019 — Pittsburgh, PA — PPG Paints Arena
February 16, 2019 — Cincinnati, OH — U.S. Bank Arena
February 17, 2019 — Ypsilanti, MI — EMU Convocation Center
February 23, 2019 — Greensboro, NC — Greensboro Coliseum
February 24, 2019 — Norfolk, VA — Scope Arena
March 1, 2019 — Bossier City, LA — CenturyLink Center
March 2, 2019 — Oklahoma City, OK — Chesapeake Energy Arena
March 3, 2019 — Austin, TX — H-E-B Center at Cedar Park
March 9, 2019 — Louisville, KY — Freedom Hall
March 15, 2019 — Columbia, SC — Colonial Life Arena
March 17, 2019 — Southaven, MS — Landers Center
March 21, 2019 — Augusta, GA — James Brown Arena
March 22, 2019 — Raleigh, NC — PNC Arena
March 23, 2019 — Charleston, WV — Charleston Coliseum
March 24, 2019 — Greenville, SC — Bon Secours Wellness Arena
March 28, 2019 — Ft. Wayne, IN — Allen County War Memorial Coliseum
March 29, 2019 — Indianapolis, IN — Bankers Life Fieldhouse
March 30, 2019 — State College, PA — Bryce Jordan Center
March 31, 2019 — Cleveland, OH — Wolstein Center
Loaded Baked Potato Wedges with Creamy Cheese Sauce and Tofu Bacony Bits
Loaded Vegan Baked Potato Wedges – These crispy baked potato wedges are perfection! Baked until crispy and topped with vegan cashew cheese sauce, tofu bacon, and scallions. These just might be potato perfection!
This easy recipe for Baked Loaded Potato Wedges will blow you away with the delicious combo of crispy baked potatoes,  tofu bacon bits, and a creamy vegan cashew cheese sauce.
While you could eat these loaded potato wedges as a meal or side dish, I love serving these as a shared appetizer or a Game Day snack. Having a few is delicious, but having a whole sheet pan on your own is quite gluttonous so you might want to share. If you're hosting a party, a movie night or a game day get-together, make sure to put these delicious loaded potato wedges on the menu and you will be everyone's favorite!
These Vegan Cheesy Potato Wedges are perfect for when you're craving something cheesy and comforting. The potatoes are baked not fried.  They are baked on the same sheet pan as the tofu bacon which makes for easy clean-up. While the potato wedges are baking, we whip up my favorite vegan cashew cheese sauce. It only takes minutes and you'll love the creamy rich texture. I like to make some extra and serve pasta with vegan cheese sauce and bacon the next day. You can also slice the potatoes into halves to make loaded baked potatoes!
More Vegan Game Day Foods & Snacks
Firecracker crispy tofu wings
Spinach artichoke dip 
Thai Layered Dip -because Peanut sauce.
Spicy Pepper Crisp Cauliflower bites with celery ranch
Zucchini chickpea Fritters
Cajun Chickpea Fries
Continue reading: Loaded Baked Potato Wedges with Creamy Cheese Sauce and Tofu Bacony Bits
The post Loaded Baked Potato Wedges with Creamy Cheese Sauce and Tofu Bacony Bits appeared first on Vegan Richa.