Vejje Plant-Based Meat
https://www.chicvegan.com/vejje-plant-based-meat/?utm_source=rss&utm_medium=rss&utm_campaign=vejje-plant-based-meat
Vejje is a plant-based meat made in Colorado. I'm so proud of what my friend's Doug Meier and Kris Giovanini have done to bring it to market. I've cooked with it many times and it's a super fun product to work with. That's why I'm telling you all about it today. Please see the bottom of this post to enter to win our giveaway!
Vejje Vegan Mixes
Vejje was created because Kris and Doug wanted to create a shelf-stable vegan burger mix that was as tasty or better than any commercially available frozen or refrigerated plant-based burger.  However, not only was taste a priority, the mix also had to be easy to use, cost efficient and extremely versatile. After several years of work, Beef-Free Mix (and the famous Vejje Burger) were born. Sausage-Free Mix soon followed. Chicken-Free Mix is the newest addition to the Vejje family of plant-based meats and although Beef-Free Mix is currently their most popular mix, the newer Chicken-Free Mix is a real game changer. "There simply is nothing else like it on the market!" According to Doug.
Shelf Stable
All of the mixes are dry so they are shelf stable with most mixes having a one-year or longer shelf life.  The mixes are also easy to hydrate and use and each box of Vejje makes between 2½ to 3 pounds of plant-based meat. This makes Vejje very economical to use.  Prepared Vejje meats taste amazing and you can prepare so many different meals using their mixes. Additionally, once hydrated, cooked or uncooked, the meats can be refrigerated for 5 to 7 days or frozen for up to 3 months.
"Our plant-based mixes are unique in that if you are looking for the "meat experience" you can make burgers or breakfast patties. However, if you are looking more for the "vegetable experience" you can use our mixes in unlimited recipes that include a wide array of vegetables, beans and lentils. Our website has some of these recipes, but even something as simple as chili or burritos could include many vegetables and then our mixes would be used to replace the meat" says Doug.

Chicken-Free Mix
Kris loves to use the Chicken-Free Mix to make everything from chicken pot pie and other casseroles to chicken sandwiches and stew.  "Customers seem to especially love Vejje BBQ Chicken and Vejje Chicken Salad and both of these recipes are on their website. The chicken salad recipe uses cranberries so the dish will be a festive addition to any gathering this holiday season" she says.


Beef-Free Mix
The Beef-Free Mix can also be used to make burgers, burritos, meatloaf, stuffed cabbage and beefy mac & cheese.  You can also add sautéed vegetables or mashed beans to the mix when making burgers. You can get really creative making burgers. In fact, Vejje was specifically designed to be easy to use yet allow for cooking creativity.  Customers especially enjoy tacos and burgers and these recipes are both on the company website.
Sausage
Several favorite ways to enjoy Vejje Sausage is in pasta sauces, lasagna and as a topping for pizza.  As a pizza topping and in lasagna all you do is hydrate the sausage according to package directions and then simply crumble it on your pizza or in your lasagna before baking. For sauce simply add hydrated sausage to the sauce and simmer for about 30 minutes If you have leftover hydrated uncooked Vejje Beef or Sausage, simply refrigerate or freeze it.  All of the meats freeze beautifully.
Where to buy Vejje Mixes
The company has seen some great growth in the last few years and Kris says she feels very proud when she hears from people who love preparing meals for family and friends using Vejje.  "It feels really good to know that Vejje Mixes are helping people share more plant-based meals!"
Doug is also happy to share with us that "Vejje has consistently been in the top 3 spots on Amazon for best-selling new releases in the meat substitute category." Congratulations Vejje!!!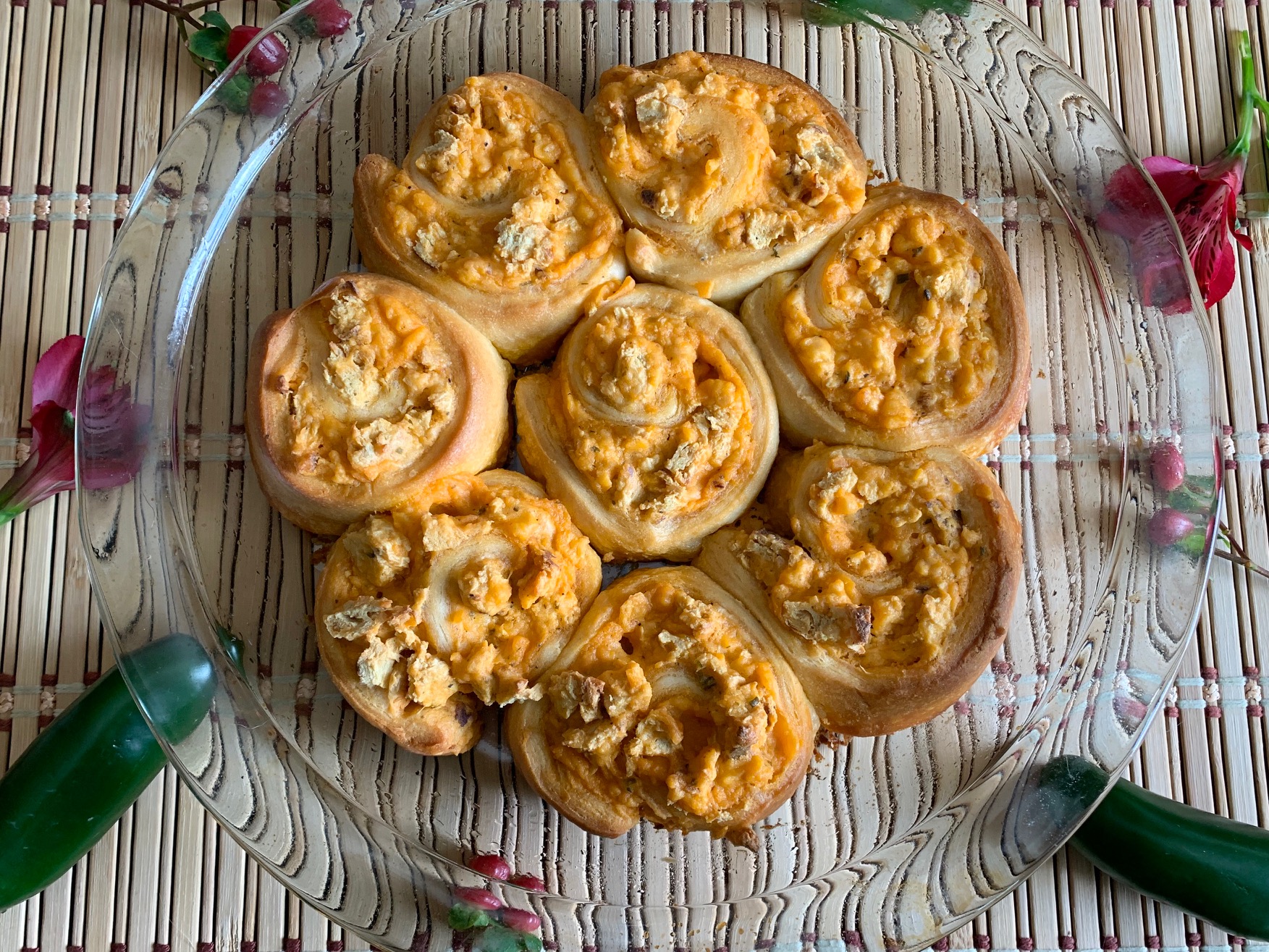 Buffalo Vejje Chicken Rollups
Veganized from Pillbury's recipe for Buffalo Chicken Rollups
Ingredients
2




cups




diced Vejje Chicken




this will be about 3 patties (prepare and cook according to package directions and then dice the patties into small chunks)

2




oz




vegan cream cheese




softened

2




tablespoons




Buffalo hot sauce or hot red pepper sauce

¾




cup




shredded vegan Cheddar cheese




about 3 ounces

1




can (8 oz)




Pillsbury™ refrigerated crescent dough sheet

½




cup




vegan ranch dressing
Instructions
Heat oven to 400°F. Spray 9-inch round pan with cooking spray. In medium bowl, mix cream cheese, Vejje chicken, hot sauce, and vegan Cheddar cheese until well blended.
On large cutting board, unroll dough sheet; spread Vejje chicken mixture evenly on dough to within 1/4 inch from sides. Starting with one long side, roll up dough; firmly pinch seam to seal.
Place seam side down on cutting board. Using sharp knife, cut roll into 8 equal slices; place cut side down in pan. Bake 25 to 30 minutes or until deep golden brown. Serve with ranch dressing and, if desired, additional Buffalo sauce.
And now for our giveaway! Follow the instructions below to enter 1 package of each flavor. Contest ends at midnight on March 22nd. U.S residents only, please. Good luck!