Vegan Korma Recipe Instant Pot – Stove top option
http://feedproxy.google.com/~r/blogspot/yPHzu/~3/-TFy0VRZyXE/instant-pot-vegan-korma-recipe.html
Instant Pot Vegan Korma Recipe with White Korma Sauce. Saucepan option. This Creamy Veggie and Tofu Korma is made in Instant Pot Pressure cooker. Vegan Glutenfree Coconutfree Recipe. Soyfree, Nutfree option Jump to Recipe 
There are kormas and there are kormas. Some have tomato and some dont. The spices and flavors vary depending on the region, family recipe, restaurant recipe and so on. Most have no coconut, some have coconut. I have a couple of recipes on the blog and my Indian Kitchen book. Restaurant style Navratan Korma and white sauce navratan Korma in my book. A Veggie Korma without onion here, and a Coconut korma with a creamy sauce here. Lots of Korma Options!
This Korma sauce is an Instant Pot version. This White Korma sauce uses a base of onion, spices, nuts and poppy seeds. You can use pumpkin seeds instead of cashews for a nutfree version. The Sauce gets pressure cooked to get the deep roasted flavor, then roasted or chopped veggies are added and simmered for a few minutes before serving. Serve this delicious bowl with some toasted nuts or seeds and dried fruit garnish. As with all recipes, allergy friendly options and saucepan option are mentioned.  Lets make more Korma!
More Instant Pot Recipes – all have saucepan options
Tips to Cooking Creamy Indian Sauces in Instant Pot Pressure Cooker
Northern Indian or restaurant dishes with thick or rich or tomatoey Indian Sauces can have a tendency to stick to the pot under pressure and cause burn errors. You might have to tinker around with the liquid needed by your pot to avoid the burn errors. Watch for the general thickness of the sauce before closing the lid. Add a bit more water to cool down to the pot before closing. Mix really well, before closing the lid.
If your IP is generally problematic with thick sauces,You can also omit the cashews from the sauce, blend it with 1/2 cup water to make cream and add later with the veggies while simmering.
Since there are no long cooking ingredients such as meats in vegan meals, you want to make the sauce by itself. The longer cooking time helps the sauce roast well which is the key to getting that amazing flavor profile. Veggies overcook in that much time and also add more moisture which doesnt allow the sauce to roast and caramelize.  
Spices: Old spices can lose a lot of flavor. If the sauce isn't as flavorful as you like, there may be less pay off from the spices or your personal preference maybe be for more. Just double them up. Also adjust salt to taste. The right amount often helps the flavor bloom.
Instant Pot Vegan Korma Recipe
Instant Pot Vegan Korma Recipe with White Korma Sauce. This Creamy Veggie and Tofu Korma is made in Instant Pot Pressure cooker. Saucepan option. Use more veggies or chickpeas for soyfree. Vegan Coconut-free Glutenfree Recipe. Soyfree, Nutfree option
Course: Main
Cuisine: Gluten-free, Vegan
Keyword: instant pot korma, instant pot korma sauce, veg korma, vegankorma sauce, white korma saue
Servings: 4
Calories: 223 kcal
Author: Vegan Richa
Ingredients
Tofu + Veggies:
7

oz

tofu, cubed

, or use other veggies such as cauliflower (1.5 to 2 cups)

8

oz

Sweet potatoes, cubed

1/2

tsp

garam masala

1/2

tsp

garlic powder

1/2

tsp

salt

2

tsp

oil

, divided
Korma Sauce:
3

green Cardamom Pods

4-5

cloves

1

Bay leaf

1

tsp

poppy seeds

1

tsp

coriander powder

1/2 to 1

tsp

garam masala

1/3

tsp

ground cinnamon

1/2

tsp

salt

1/3

tsp

cayenne

1

medium or small onion

1

inch

ginger

6

cloves

of garlic

1/4

cup

cashews

,use pumpkin seeds for nut-free, other nuts for cashew-free

1/4 to 1/3

cup

non dairy yogurt

1/2

cup

water

+ 1/2 cup water for rinsing
To add later:
1

cup

other veggies, chopped small

, I use quick cooking veggies as broccoli, peppers, zucchini, peas

2

tbsp

roasted cashew

(optional)

1

tbsp

raisins or dates
Instructions
Toss tofu, sweet potatoes in 1 tsp oil. Sprinkle in the spices and mix. Place on parchment lined baking sheet. Bake at 400 degrees F (205 C) for 20 to 25 mins.

Blend the korma sauce ingredients with 1/2 cup water until coarsely blended.

Add oil to the Instant Pot on saute. When hot, add the korma sauce. Cook for 2 minutes, to bring to a boil and simmer for another few seconds. This allows the pungency of the onion to cook out. Use 1/2 cup water to rinse out the blender and add to the pot. Mix well so there isn't anything stuck to the bottom. Close the lid

Pressure cook at high pressure for 11 mins. Let the pressure release naturally.

Open the lid and mix. At this point you can store this sauce. (Simmer with tempeh, seitan, vegan meat/chickin subs, some non dairy milk and salt depending on the addition used.)

Add the baked tofu and sweet potato. Add the other quick cooking veggies (or a cup of cooked chickpeas), 1/4 cup or more non dairy milk(for saucier) and 1/4 tsp salt. Mix and cook on saute for 2-3 minutes to bring to a good boil and cook for another minute. Mix frequently to avoid sticking. Taste and adjust salt. Add a 1/4 tsp or more sugar/ sweetener if needed.

Cancel and let the mixture sit in the pot for 5 mins so the veggies cook through and the flavors develop. Add 1-2 tbsp  roasted cashews or other nuts/seeds and 1-2 tbsp of dried fruit such as raisins or finely chopped dates and mix in (optional).

Garnish with cilantro and pepper flakes and serve over rice or Naan.

Refrigerate(just the sauce or veggie korma) for upto 4 days. Freeze for upto a month. 
Recipe Notes
Stovetop: Follow steps 1,2. Add oil to a saucepan over medium heat. Add the blended sauce and cook for 18 to 22 minutes. Stir occasionally. The sauce should thicken and smell roasted and not like raw onion, then add baked tofu+ sweet potatoes and other veggies or chickpeas if using, and 1/2 cup water and simmer for 5 mins. Add roasted nuts and raisins and mix in. Serve.
Oilfree: Omit the oil and use broth for sauteing and to bake the veggies. 
Whole Spices: If you dont have whole spices, use 1/2 tsp ground cardamom, 1/8 tsp ground clove instead. 
Nutrition is for 1 serve
Nutrition Facts
Instant Pot Vegan Korma Recipe
Amount Per Serving
Calories 223 Calories from Fat 72
% Daily Value*
Total Fat 8g 12%
Saturated Fat 1g 5%
Sodium 625mg 26%
Potassium 453mg 13%
Total Carbohydrates 29g 10%
Dietary Fiber 4g 16%
Sugars 6g
Protein 9.5g 19%
Vitamin A 185.4%
Vitamin C 66.1%
Calcium 13.4%
Iron 13.4%
* Percent Daily Values are based on a 2000 calorie diet.
Here's a quickie recipe for those nights when you just need something fast and delicious. This Lemon Ricotta Pasta is super fast, light, and fresh, which makes it perfect for an easy weeknight dinner during the summer. The bright lemon flavor perfectly compliments the light and creamy ricotta, and the little pops of sweetness from the peas make every bite a little more interesting. Simple, fresh, and easy.
Originally posted 3-4-2011, updated 6-8-2022.
Do I Have to Use Fresh Lemon?
This is one of those recipes where you really do want to use a fresh lemon instead of bottled juice. The zest from the lemon adds a ton of bright, summery lemon flavor to the pasta without making the sauce too sour. We add just a little of the juice to balance the creaminess of the ricotta, but the zest is where you're getting all that gorgeous sunny lemon flavor!
Not All Ricotta is Created Equal
I find there is quite a bit of variation in the quality of ricotta from brand to brand. Some are smooth, mild, and sweet like fresh milk, while others are bland and grainy. My preferred brand is Galbani, but they didn't have any at the store when I went, so I got the generic Kroger brand. It was definitely a bit grainy, but the pasta was still quite delicious despite that!
Also, make sure to get whole milk ricotta. Low-fat ricotta just doesn't hit the same in this recipe.
What Else Can I Add?
This simple pasta is a great jumping-off point for making a more elaborate pasta, if that's what you're in the mood for. Try adding some sliced chicken breast, fresh basil, or fresh spinach. Garlic butter shrimp would also go great with this pasta!
What to Serve with Lemon Ricotta Pasta
This pasta is so light and fresh that I suggest keeping any side dishes really simple, light, and fresh as well. I would go with a super simple side salad, or maybe some roasted asparagus and tomatoes.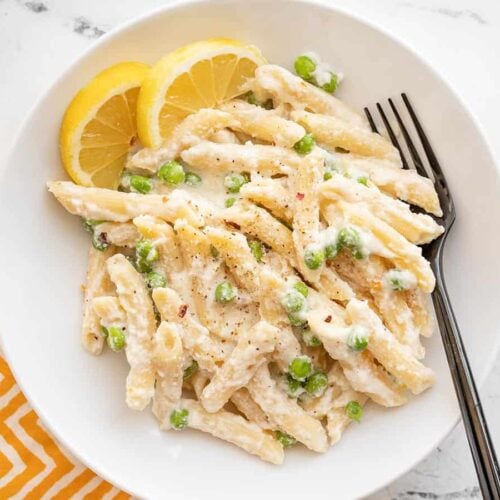 Lemon Ricotta Pasta
Lemon Ricotta Pasta is light, fresh, and quick to prepare, making it the perfect pasta for weeknight dinners in the summer.
Ingredients
1

lemon

$0.89

8

oz.

pasta*

$0.67

1

cup

frozen peas

$0.50

1

clove

garlic, minced

$0.08

1

Tbsp

butter

$0.11

1

cup

whole milk ricotta

$1.60

1/4

cup

grated Parmesan

$0.36

1/4

tsp

salt (or to taste)

$0.02

1/4

tsp

freshly cracked black pepper (or to taste)

$0.02

1

pinch

crushed red pepper (or to taste)

$0.02
Instructions
Zest and juice the lemon. You'll need about ½ tsp zest and 1 Tbsp lemon juice.

Cook the pasta according to the package directions (boil for 7-10 minutes, or until tender). Before draining, reserve about 1 cup of the starchy water from the pot.

Place the frozen peas in the colander before draining the pasta so the pasta will thaw the peas as it drains.

Add the butter and minced garlic to a large skillet and sauté over medium heat for 1-2 minutes, or just until the garlic is fragrant.

Add the drained pasta and peas, and about ½ cup of the starchy pasta cooking water to the skillet with the butter and garlic. Stir to combine, then turn off the heat.

Add the ricotta, Parmesan, 1 tablespoon lemon juice, and ½ teaspoon lemon zest to the skillet. Stir until everything is well combined, the residual heat from the skillet and pasta have warmed the ricotta, and the ricotta has formed a creamy sauce. Add more of the warm reserved pasta water if needed.

Season the pasta with salt, pepper, and crushed red pepper to taste. Serve warm.
Notes
*Use any short shape pasta.
Nutrition
Serving:
1
serving
|
Calories:
400
kcal
|
Carbohydrates:
51
g
|
Protein:
18
g
|
Fat:
14
g
|
Sodium:
335
mg
|
Fiber:
4
g
How to Make Lemon Ricotta Pasta – Step By Step Photos
Zest and juice one lemon. You'll need about ½ tsp of zest and 1 Tbsp juice.
Cook 8oz. pasta according to the package directions (boil for 7-10 minutes, or until tender). Reserve about 1 cup of the starchy pasta water before draining.
Add 1 cup of frozen peas to a colander, then pour the boiled pasta over top to thaw the peas as you drain the pasta.
Add 1 Tbsp butter and 1 clove garlic to a large skillet. Sauté over medium heat for 1-2 minutes, or just until the garlic becomes very fragrant.
Add the still-hot pasta and peas to the skillet along with about ½ cup of the hot reserved pasta water. Stir to combine, then turn off the heat.
Add 1 cup whole milk ricotta, ¼ cup grated Parmesan, 1 Tbsp lemon juice, and ½ tsp lemon zest to the pasta. Stir until the ingredients are combined, the residual heat from the pasta and skillet have warmed the ricotta, and the ricotta has turned into a creamy sauce.
Add more of the reserved pasta water if the mixture is too thick or too dry. Season the pasta with salt, pepper, and crushed red pepper to taste.
Enjoy the lemon ricotta pasta while still warm!
The post Lemon Ricotta Pasta appeared first on Budget Bytes.