The Ultimate Vegan Nachos
http://feeds.101cookbooks.com/~r/101Cookbooks/~3/a2tHjkPJxGA/
Let's do nachos today. I know the title says vegan nachos, but whether you're vegan or not, when you need a nacho fix, this is how you should roll. At least once. Just to see if you like them. I mean, nachos are always a crowd pleaser, and this is no exception, I promise. Chances are, you won't even miss the classic cheese bomb version. On the flip side, your body will thank you because the "cheese" in this version is non-dairy, vegan, packed with beneficial spices, cashews, garlic, and grated sweet potatoes, and lasts up to a week refrigerated.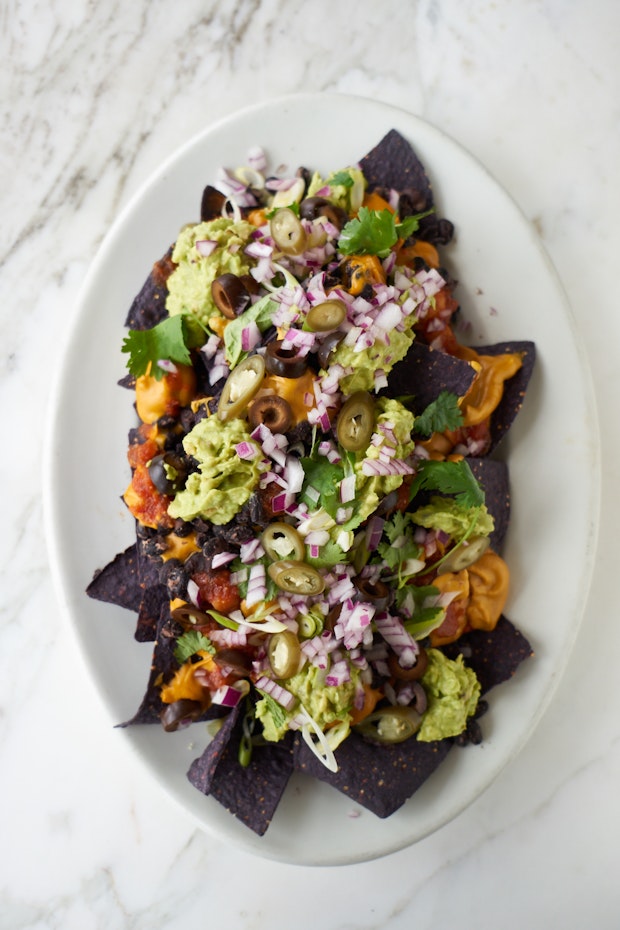 All About the Cheese
Sweet potato nacho cheese is a thing for good reason, it behaves a lot like a classic nacho cheese, it's the right color even, but(!) it's arguably more delicious, and made from natural ingredients. I incorporate a bunch of short-cuts in my version to speed things along, like grating the sweet potato. Also, if you make the sauce a day or two ahead of time, you can have a pan of nachos ready to go in a flash. Ready? Let's do this.
How to Get the Toppings Right
I'm including two different versions here. Option one is your typical pile-it-on semi-classic approach (pictured above): baked tortilla chips, black beans, sweet potato nacho cheese, olives, salsa, guacamole, chiles, etc. The other? Option two (pictured below) is what I like to think of as my hippie version: baked tortilla chips, sweet potato nacho cheese, chickpeas, roasted broccoli, guacamole, hemp seeds, pickled serrano chiles. The only things that would make it more hippie-ish would be to sprinkle it with nutritional yeast, and perhaps do a green version of the cheese (which I've considered ;)…
If you're trying to make a meal out of the nachos, a good approach is to pile them high with an added sheet pan of simple, roasted vegetables. Broccoli and cheese is a classic combo (that even a lot of kids like), so I tend to go that route, but experiment! Roast a pan of vegetables while you're making the cheese. Easy.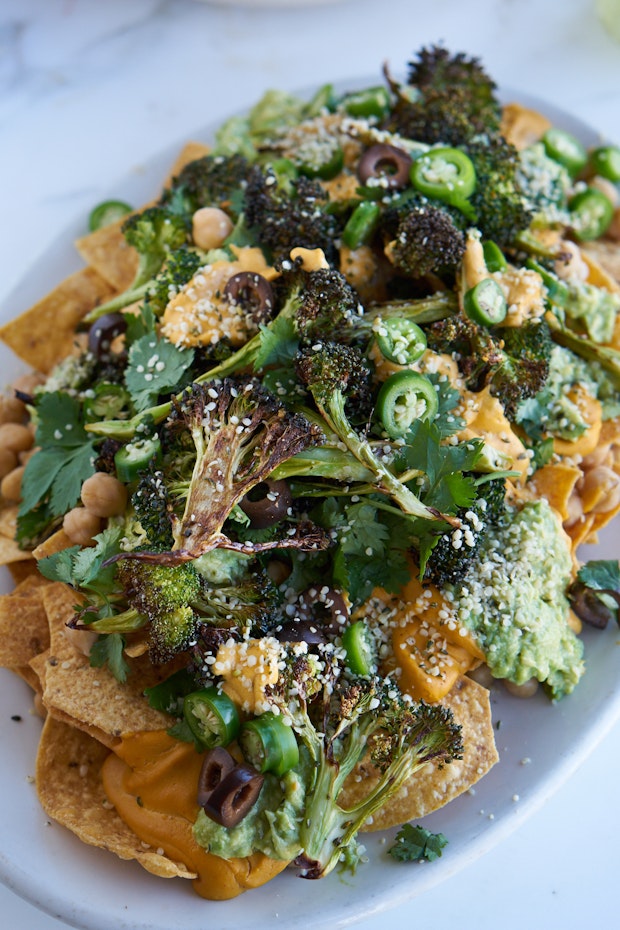 Choosing Your Chips
Is it me, or are baked tortilla chips increasingly hard to find? I look for baked chips (and sometimes fail). And/or ones with added heirloom corn, added quinoa, maca, etc. I also look for lightly-salted (some are SO salty!).
Uses for Your Extra Nacho Cheese
Any extra cheese is also tops as a sandwich spread, crudité dip, or keep it on hand anytime you're grilling or roasting.
Oven to Table Convenience
Bake and serve your nachos on the same plate (or pan). I use an oven-proof platter here. A baking sheet or sheet pan also works. It makes it simple to go from oven to table. Pile as many chips as you like on your platter/pan, top with beans, top with cheesy dollops, and bake for a few minutes. Don't worry that they don't look particularly nice, everything changes when you add your finishing toppings! No need to dirty another plate.
Loaded Baked Potato Wedges with Creamy Cheese Sauce and Tofu Bacony Bits
Loaded Vegan Baked Potato Wedges – These crispy baked potato wedges are perfection! Baked until crispy and topped with vegan cashew cheese sauce, tofu bacon, and scallions. These just might be potato perfection!
This easy recipe for Baked Loaded Potato Wedges will blow you away with the delicious combo of crispy baked potatoes,  tofu bacon bits, and a creamy vegan cashew cheese sauce.
While you could eat these loaded potato wedges as a meal or side dish, I love serving these as a shared appetizer or a Game Day snack. Having a few is delicious, but having a whole sheet pan on your own is quite gluttonous so you might want to share. If you're hosting a party, a movie night or a game day get-together, make sure to put these delicious loaded potato wedges on the menu and you will be everyone's favorite!
These Vegan Cheesy Potato Wedges are perfect for when you're craving something cheesy and comforting. The potatoes are baked not fried.  They are baked on the same sheet pan as the tofu bacon which makes for easy clean-up. While the potato wedges are baking, we whip up my favorite vegan cashew cheese sauce. It only takes minutes and you'll love the creamy rich texture. I like to make some extra and serve pasta with vegan cheese sauce and bacon the next day. You can also slice the potatoes into halves to make loaded baked potatoes!
More Vegan Game Day Foods & Snacks
Firecracker crispy tofu wings
Spinach artichoke dip 
Thai Layered Dip -because Peanut sauce.
Spicy Pepper Crisp Cauliflower bites with celery ranch
Zucchini chickpea Fritters
Cajun Chickpea Fries
Continue reading: Loaded Baked Potato Wedges with Creamy Cheese Sauce and Tofu Bacony Bits
The post Loaded Baked Potato Wedges with Creamy Cheese Sauce and Tofu Bacony Bits appeared first on Vegan Richa.