Teriyaki Tempeh and Broccoli from The Vegan Electric Pressure Cooker Cookbook
https://www.chicvegan.com/teriyaki-tempeh-and-broccoli-from-the-vegan-electric-pressure-cooker-cookbook/
Teriyaki Tempeh and Broccoli from The Vegan Electric Pressure Cooker Cookbook by Heather Nicholds requires just a few ingredients and it cooks up in a matter of minutes! It's the perfect dinner for busy weeknights.
Electric Pressure Cookers
Using an electric pressure cooker can be complicated. I have an Instant Pot, and I don't even bother trying to come up with my own recipes for it. I never know how long things need to cook, what kind of pressure foods require, or what type of release I should use. Since I rely on recipes from others when using it, I'm pretty excited about Heather Nichold's new book The Vegan Electric Pressure Cooker Cookbook.

The Vegan Electric Pressure Cooker Cookbook
In The Vegan Electric Pressure Cooker Cookbook, Heather demystifies these strange kitchen gadgets. She explains how they work, what all of the gizmos they contain do, and what all the buttons are for. Heather also explains the basics, making it easy to know what type of pressure to use to cook different foods. A kitchen safety guide is included, and misconceptions are debunked, too.

The Recipes
The recipes in The Vegan Electric Pressure Cooker Cookbook are easy to make and use just 5 core ingredients. Ingredients that are found in just about any kitchen, such as salt, water, oil, vinegar, and dried spices aren't counted as core ingredients. Most of the recipes are budget-friendly and use whole foods that can be found in just about any grocery store.
The recipes are organized according to what type of food they are. So, there's a chapter dedicated to grains, one for beans, another for pastas, and so on. The dishes will get you from breakfast and lunch all the way through dinner and dessert. No one will be able to resist delicious dishes such as Thai Coconut-Chickpea Stew, Creamy Mushroom Rigatoni, or Fudgy Brownies!
Snacks and drinks are also included, and recipes such as Spinach-Artichoke Dip, Spicy Potato Bites with Avocado Dip, and White Bean Crostini are easy to make when the munchies strike. Heather also includes recipes for vegan basics, such as Tofu Feta, Steel-Cut Oat Milk, and Lentil Bolognese Sauce.

Chapters Include:
The Basics of Electric Pressure Cooking
Get Going with Grains
Basic Beans and Legumes
Soups, Stews, and Chilis
Pasta Perfection
For the Love of Veggies
Holidays and Social Gatherings
Piece of Cake Desserts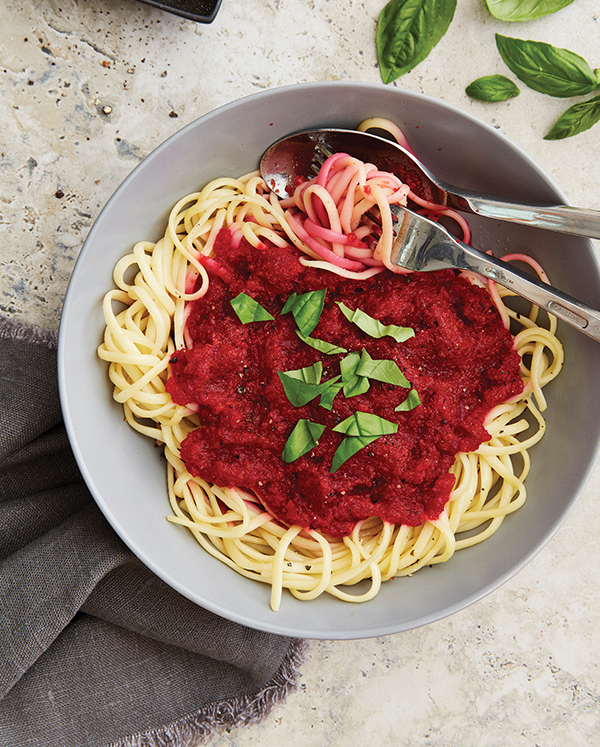 If you have an electric pressure cooker and are looking for easy-to-make healthy recipes, you need The Vegan Electric Pressure Cooker Cookbook!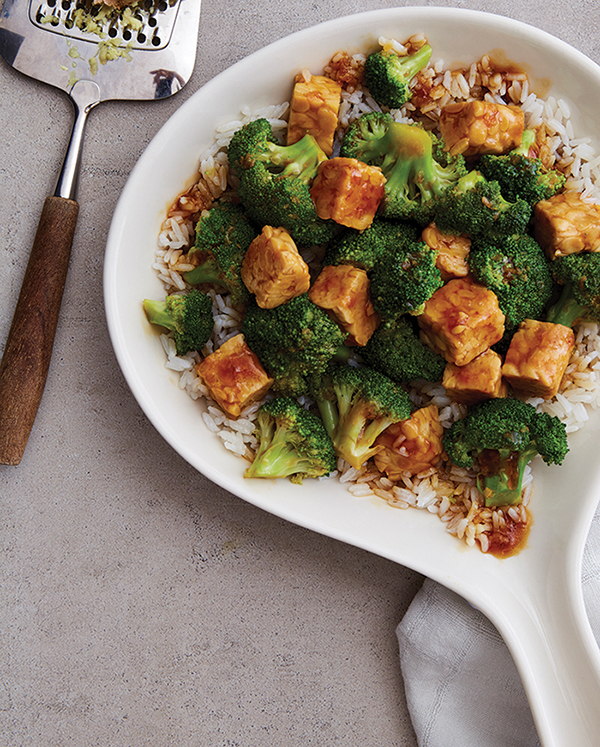 Teriyaki Tempeh and Broccoli
Tempeh is made of soy but is totally different from tofu. It's a dense patty of cultured soybeans that originated in Indonesia. Like tofu, tempeh needs to have flavor infused into it and also needs to be cooked. Putting it in the electric pressure cooker with bold flavors is a perfect way to quickly create an irresistible meal.
Ingredients
1/4




cup




tamari or soy sauce

1/4




cup




water

1




tablespoon




olive oil or untoasted sesame oil

1




tablespoon




maple syrup or unrefined sugar

1




teaspoon




cornstarch or arrowroot powder

1/2




teaspoon




ground ginger or 1 teaspoon grated peeled fresh ginger

1




(8- or 9-ounce)




package tempeh




cubed

1/2




head




broccoli




cut into pieces
Instructions
In your electric pressure cooker's cooking pot, stir together the tamari, water, olive oil, maple syrup, cornstarch, and ginger. Add the tempeh and broccoli (or put the broccoli in a steamer basket on a trivet to cook above the tempeh, if you like). Close and lock the lid and ensure the pressure valve is sealed, then select High Pressure and set the time for 5 minutes.
When the cook time is complete, quick release the pressure, being careful not to get your fingers or face near the steam release.
Once all the pressure has released, carefully unlock and remove the lid and toss to combine.