Some News! & What to Cook This August
August is here. Last month, I promised to let you know about some behind-the-scenes news. Now seems like the time to do it, because I can hardly write about food with so much going on. Food and life are inseparable, you know? Here we go:
1) We are having a baby!
Next month, in fact. We are having a girl and couldn't be more delighted to meet her soon. She has a name, she just kicked to say hello, and we saw that she is growing hair on her little head during our last ultrasound.
I could write twenty pages about our experience so far, but in short, it has been difficult. We ran into some health complications, we continue to see specialists, and they continue to assure us that the most likely outcome is a healthy baby. We feel incredibly fortunate and hopeful, and send our love to everyone who's experienced heartache, fear and uncertainty along the journey to parenthood. We know them well.
2) We got a puppy.
That's right, my husband talked me into getting a puppy while I'm pregnant. Would I recommend it? Well, that really depends on your situation. Clover is a perfectly rambunctious yellow lab. She's in her awkward adolescent phase right now and learning better manners every day. She tries my patience now, but she will be a great family dog.
I don't know how we got another food-obsessed pup, but Clover steals kale out of the garden bed and sticks her head into the dishwasher to see what she can scrounge up. Anyone have any tips on how to keep her out of the dishwasher?
3) My brother was in a serious accident.
On the Fourth of July, he was wakeboarding with family and just barely missed his landing. Every critical component within his knee shattered in that moment. Within days, it became clear that his leg from the knee down could not be saved. He spent nearly the entire month in the hospital and is finally home as of last weekend. I drove down to visit him as often as I could.
I shared a bit about this on Instagram and want to thank you deeply for your well wishes. He still has a long recovery ahead, but he is strong and resilient and has the most wonderful wife by his side. If all goes well, he'll be walking around on a brand new leg by Thanksgiving.
4) Cookie is doing well.
Since her lymphoma diagnosis last fall, she continues to receive chemotherapy every three weeks because she has one stubborn lymph node that won't go away. The good news is that the chemo works well and doesn't seem to bother her (it's much easier on dogs than humans). She's still her bouncy self and pretends to hate chasing around her new little sister, who has already surpassed her in size.
5) We are redesigning the website.
(And our house, but that's another story.) Before the baby arrives, I'm determined to get the site in tip-top shape for another decade of fresh recipes! The new website should launch later this month. It's an improvement upon the current site, not a total departure.
Among other features, you'll be able to filter recipes more easily so you can find exactly what you want. The home page will share the newest recipes as well as favorites from the archives. I hope you love it!
That's all for now.
It's a lot, I know. Despite the silence on the blog last month, I have been developing and photographing recipes for you. I have a delicious stockpile to last us through the end of the year—I've never been so far ahead! Now it's just a race to get them ready to launch before I take off for maternity leave. I want to be fully present with our daughter during her first few months, so I will just have to accept what I can and cannot get done. I feel much better now that you know what's going on and what to expect.
This month, farmers' markets are exploding with goodness. Fortunately, much of the produce growing now doesn't need much cooking, if at all. Now's the time to savor a ripe peach over the sink (I just did!). You'll find plenty of seasonal meals below.
Avocado
Gluten free
"I made this salad exactly as written last night and it was good I dreamed about it! We are suffering a severe heat wave in the PNW right now so eating many of your salads! Thanks for sharing." – Debbie
The post Some News! & What to Cook This August appeared first on Cookie and Kate.
Here's a quickie recipe for those nights when you just need something fast and delicious. This Lemon Ricotta Pasta is super fast, light, and fresh, which makes it perfect for an easy weeknight dinner during the summer. The bright lemon flavor perfectly compliments the light and creamy ricotta, and the little pops of sweetness from the peas make every bite a little more interesting. Simple, fresh, and easy.
Originally posted 3-4-2011, updated 6-8-2022.
Do I Have to Use Fresh Lemon?
This is one of those recipes where you really do want to use a fresh lemon instead of bottled juice. The zest from the lemon adds a ton of bright, summery lemon flavor to the pasta without making the sauce too sour. We add just a little of the juice to balance the creaminess of the ricotta, but the zest is where you're getting all that gorgeous sunny lemon flavor!
Not All Ricotta is Created Equal
I find there is quite a bit of variation in the quality of ricotta from brand to brand. Some are smooth, mild, and sweet like fresh milk, while others are bland and grainy. My preferred brand is Galbani, but they didn't have any at the store when I went, so I got the generic Kroger brand. It was definitely a bit grainy, but the pasta was still quite delicious despite that!
Also, make sure to get whole milk ricotta. Low-fat ricotta just doesn't hit the same in this recipe.
What Else Can I Add?
This simple pasta is a great jumping-off point for making a more elaborate pasta, if that's what you're in the mood for. Try adding some sliced chicken breast, fresh basil, or fresh spinach. Garlic butter shrimp would also go great with this pasta!
What to Serve with Lemon Ricotta Pasta
This pasta is so light and fresh that I suggest keeping any side dishes really simple, light, and fresh as well. I would go with a super simple side salad, or maybe some roasted asparagus and tomatoes.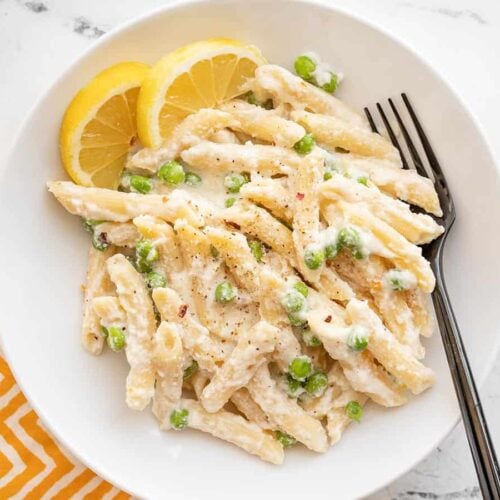 Lemon Ricotta Pasta
Lemon Ricotta Pasta is light, fresh, and quick to prepare, making it the perfect pasta for weeknight dinners in the summer.
Ingredients
1

lemon

$0.89

8

oz.

pasta*

$0.67

1

cup

frozen peas

$0.50

1

clove

garlic, minced

$0.08

1

Tbsp

butter

$0.11

1

cup

whole milk ricotta

$1.60

1/4

cup

grated Parmesan

$0.36

1/4

tsp

salt (or to taste)

$0.02

1/4

tsp

freshly cracked black pepper (or to taste)

$0.02

1

pinch

crushed red pepper (or to taste)

$0.02
Instructions
Zest and juice the lemon. You'll need about ½ tsp zest and 1 Tbsp lemon juice.

Cook the pasta according to the package directions (boil for 7-10 minutes, or until tender). Before draining, reserve about 1 cup of the starchy water from the pot.

Place the frozen peas in the colander before draining the pasta so the pasta will thaw the peas as it drains.

Add the butter and minced garlic to a large skillet and sauté over medium heat for 1-2 minutes, or just until the garlic is fragrant.

Add the drained pasta and peas, and about ½ cup of the starchy pasta cooking water to the skillet with the butter and garlic. Stir to combine, then turn off the heat.

Add the ricotta, Parmesan, 1 tablespoon lemon juice, and ½ teaspoon lemon zest to the skillet. Stir until everything is well combined, the residual heat from the skillet and pasta have warmed the ricotta, and the ricotta has formed a creamy sauce. Add more of the warm reserved pasta water if needed.

Season the pasta with salt, pepper, and crushed red pepper to taste. Serve warm.
Notes
*Use any short shape pasta.
Nutrition
Serving:
1
serving
|
Calories:
400
kcal
|
Carbohydrates:
51
g
|
Protein:
18
g
|
Fat:
14
g
|
Sodium:
335
mg
|
Fiber:
4
g
How to Make Lemon Ricotta Pasta – Step By Step Photos
Zest and juice one lemon. You'll need about ½ tsp of zest and 1 Tbsp juice.
Cook 8oz. pasta according to the package directions (boil for 7-10 minutes, or until tender). Reserve about 1 cup of the starchy pasta water before draining.
Add 1 cup of frozen peas to a colander, then pour the boiled pasta over top to thaw the peas as you drain the pasta.
Add 1 Tbsp butter and 1 clove garlic to a large skillet. Sauté over medium heat for 1-2 minutes, or just until the garlic becomes very fragrant.
Add the still-hot pasta and peas to the skillet along with about ½ cup of the hot reserved pasta water. Stir to combine, then turn off the heat.
Add 1 cup whole milk ricotta, ¼ cup grated Parmesan, 1 Tbsp lemon juice, and ½ tsp lemon zest to the pasta. Stir until the ingredients are combined, the residual heat from the pasta and skillet have warmed the ricotta, and the ricotta has turned into a creamy sauce.
Add more of the reserved pasta water if the mixture is too thick or too dry. Season the pasta with salt, pepper, and crushed red pepper to taste.
Enjoy the lemon ricotta pasta while still warm!
The post Lemon Ricotta Pasta appeared first on Budget Bytes.