Roasted Garlic Mashed Potatoes
https://www.loveandlemons.com/mashed-potatoes/
These mashed potatoes passed the ultimate test when Jack declared, "These are SO good!" I have to agree – they're creamy, deeply flavorful & delicious.

The standard for mashed potatoes is high in our house. See, Jack grew up eating his Uncle Billy's perfect mashed potatoes, and he still reminisces about them. They were creamy, fluffy, and rich with (lots of) melted butter, (lots of) sour cream, and topped with "butter lake," as Jack lovingly refers to it. I've made mashed potato recipes before, but always with a twist like cauliflower or kale. This year, I stepped up to take on the challenge of making a delicious, classic homemade mashed potato recipe.
This mashed potato recipe is not quite the same as his Uncle Billy's, so I didn't know what Jack would think. Instead of dairy, olive oil and starchy potato cooking water give these potatoes an amazing creamy texture, and roasted garlic fills them with rich, nutty depth of flavor. I thought they were delicious, but the real test came when we sat down to eat.
Jack's verdict? "These mashed potatoes are SO good!"
Garlic Mashed Potatoes Recipe Ingredients
The best mashed potatoes only require a few simple ingredients:
Potatoes – My first picks are Yukon gold or German butterball potatoes. Unlike russet potatoes, they have a rich golden color, and they make for super creamy mashed potatoes.
Roasted garlic – The secret ingredient! I mix in a whole head of roasted garlic to pack these guys with flavor.
Olive oil – I love the rich taste of olive oil in this recipe, and, along with starchy potato cooking water, it makes these garlic mashed potatoes just as creamy as any I've had with butter, milk, or sour cream.
Salt and pepper – Absolute essentials! For optimum flavor, I salt the potato cooking water as well as mixing salt and pepper into the mashed potatoes.
Toppings – Top your potatoes however you like! My favorite way to eat them is with a sprinkle of chives, minced fresh rosemary, and a pat of butter.
How to Make Mashed Potatoes
First, roast the garlic in a 350-degree oven until the cloves are deeply brown and tender. This could take up to 60 minutes! Tip: You can easily do this step ahead of time. Wrapped in foil, the roasted garlic will keep for 3 days in the fridge.
Then, peel the potatoes. If you love creamy mashed potatoes, peeling is a must. Once they're peeled, there's no need to cut the potatoes before cooking. Just put them in a large pot, and cover them with 1 inch of cold water.
Next, boil them. Add a teaspoon of salt to the pot, and boil until the potatoes are tender. Before you drain the potatoes, don't forget to reserve 1 cup of the starchy cooking water.

Then, it's time to mash! For the best creamy texture, I rice the potatoes first. Then, I use a regular potato masher to break up any chunks. If you don't have a potato ricer, that's ok! Just be sure to mash them thoroughly.
Finally, fold everything together. Remove the tender garlic cloves from their paper and mash them into a paste with a fork or small masher. Fold the garlic into the potatoes, along with olive oil, reserved potato cooking water, salt, and pepper. Season to taste and add more cooking water, as needed, to reach your desired consistency.
Top with your favorite fixings, and enjoy!


More Favorite Thanksgiving Recipes
If you love these roasted garlic mashed potatoes, try one of these favorite side dish recipes next:
Roasted Garlic Mashed Potatoes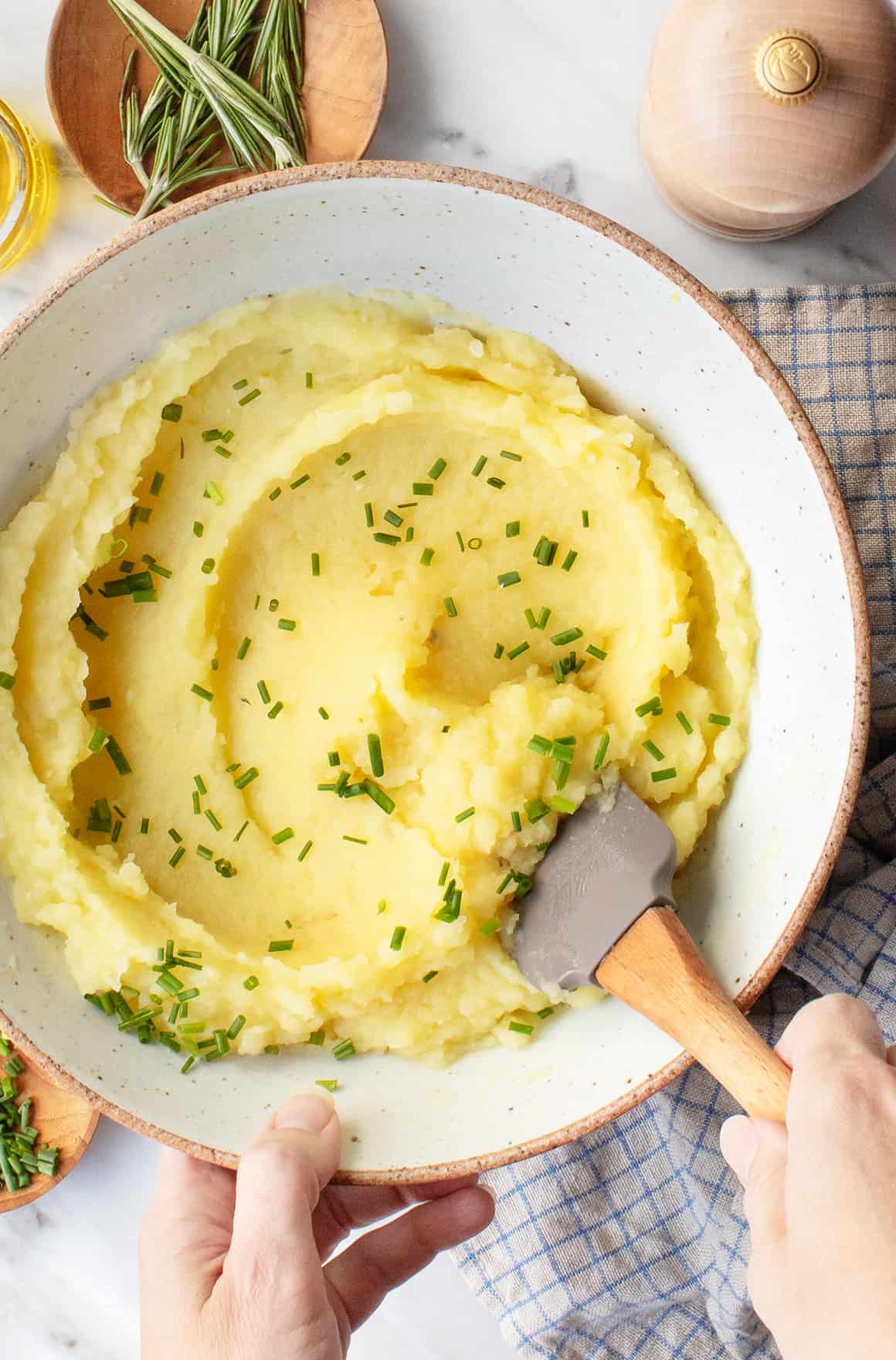 Author: Jeanine Donofrio
Recipe type: Side dish
1 whole garlic bulb
Extra virgin olive oil, for drizzling
Sea salt
2 pounds Yukon gold or butterball potatoes, peeled
2 teaspoons sea salt, divided
⅓ cup extra-virgin olive oil
Freshly ground black pepper
Butter, optional for serving
Chopped chives and/or rosemary, optional for sprinkling
Preheat the oven to 350°F.
Make the roasted garlic: Trim the top ¼ inch off the top of the garlic bulb. Place cut-side up on a piece of foil, drizzle with olive oil, and sprinkle with salt. Wrap the garlic in the foil and roast for 40 to 60 minutes or until the cloves are deeply golden brown and tender. Remove from the oven and let cool slightly. Use the back of a chef's knife or a small masher to mash the garlic into a paste before incorporating into the mashed potatoes. Set aside.
Make the mashed potatoes: Place the potatoes and 1 teaspoon of salt in a large pot and fill with enough water to cover the potatoes by 1 inch. Bring to a boil and cook until fork tender, about 20 minutes. Drain, reserving 1 cup of the cooking liquid.
Use a ricer or a potato masher to mash the potatoes into a large bowl. Use a rubber spatula to fold in the roasted garlic, olive oil, ½ cup of the reserved cooking liquid, 1 teaspoon salt, and several pinches of pepper. Continue folding until creamy, adding up to ½ cup more cooking liquid if desired for creamier potatoes. Serve hot with butter, rosemary, and chives, if desired.
*Note: the roasted garlic can be made up to 3 days in advance and stored in the fridge until ready to use.
Here's a quickie recipe for those nights when you just need something fast and delicious. This Lemon Ricotta Pasta is super fast, light, and fresh, which makes it perfect for an easy weeknight dinner during the summer. The bright lemon flavor perfectly compliments the light and creamy ricotta, and the little pops of sweetness from the peas make every bite a little more interesting. Simple, fresh, and easy.
Originally posted 3-4-2011, updated 6-8-2022.
Do I Have to Use Fresh Lemon?
This is one of those recipes where you really do want to use a fresh lemon instead of bottled juice. The zest from the lemon adds a ton of bright, summery lemon flavor to the pasta without making the sauce too sour. We add just a little of the juice to balance the creaminess of the ricotta, but the zest is where you're getting all that gorgeous sunny lemon flavor!
Not All Ricotta is Created Equal
I find there is quite a bit of variation in the quality of ricotta from brand to brand. Some are smooth, mild, and sweet like fresh milk, while others are bland and grainy. My preferred brand is Galbani, but they didn't have any at the store when I went, so I got the generic Kroger brand. It was definitely a bit grainy, but the pasta was still quite delicious despite that!
Also, make sure to get whole milk ricotta. Low-fat ricotta just doesn't hit the same in this recipe.
What Else Can I Add?
This simple pasta is a great jumping-off point for making a more elaborate pasta, if that's what you're in the mood for. Try adding some sliced chicken breast, fresh basil, or fresh spinach. Garlic butter shrimp would also go great with this pasta!
What to Serve with Lemon Ricotta Pasta
This pasta is so light and fresh that I suggest keeping any side dishes really simple, light, and fresh as well. I would go with a super simple side salad, or maybe some roasted asparagus and tomatoes.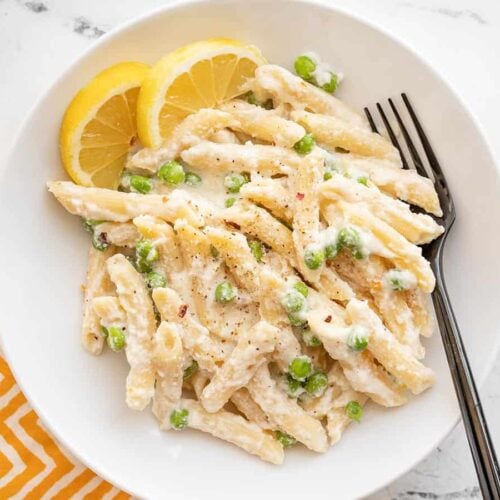 Lemon Ricotta Pasta
Lemon Ricotta Pasta is light, fresh, and quick to prepare, making it the perfect pasta for weeknight dinners in the summer.
Ingredients
1

lemon

$0.89

8

oz.

pasta*

$0.67

1

cup

frozen peas

$0.50

1

clove

garlic, minced

$0.08

1

Tbsp

butter

$0.11

1

cup

whole milk ricotta

$1.60

1/4

cup

grated Parmesan

$0.36

1/4

tsp

salt (or to taste)

$0.02

1/4

tsp

freshly cracked black pepper (or to taste)

$0.02

1

pinch

crushed red pepper (or to taste)

$0.02
Instructions
Zest and juice the lemon. You'll need about ½ tsp zest and 1 Tbsp lemon juice.

Cook the pasta according to the package directions (boil for 7-10 minutes, or until tender). Before draining, reserve about 1 cup of the starchy water from the pot.

Place the frozen peas in the colander before draining the pasta so the pasta will thaw the peas as it drains.

Add the butter and minced garlic to a large skillet and sauté over medium heat for 1-2 minutes, or just until the garlic is fragrant.

Add the drained pasta and peas, and about ½ cup of the starchy pasta cooking water to the skillet with the butter and garlic. Stir to combine, then turn off the heat.

Add the ricotta, Parmesan, 1 tablespoon lemon juice, and ½ teaspoon lemon zest to the skillet. Stir until everything is well combined, the residual heat from the skillet and pasta have warmed the ricotta, and the ricotta has formed a creamy sauce. Add more of the warm reserved pasta water if needed.

Season the pasta with salt, pepper, and crushed red pepper to taste. Serve warm.
Notes
*Use any short shape pasta.
Nutrition
Serving:
1
serving
|
Calories:
400
kcal
|
Carbohydrates:
51
g
|
Protein:
18
g
|
Fat:
14
g
|
Sodium:
335
mg
|
Fiber:
4
g
How to Make Lemon Ricotta Pasta – Step By Step Photos
Zest and juice one lemon. You'll need about ½ tsp of zest and 1 Tbsp juice.
Cook 8oz. pasta according to the package directions (boil for 7-10 minutes, or until tender). Reserve about 1 cup of the starchy pasta water before draining.
Add 1 cup of frozen peas to a colander, then pour the boiled pasta over top to thaw the peas as you drain the pasta.
Add 1 Tbsp butter and 1 clove garlic to a large skillet. Sauté over medium heat for 1-2 minutes, or just until the garlic becomes very fragrant.
Add the still-hot pasta and peas to the skillet along with about ½ cup of the hot reserved pasta water. Stir to combine, then turn off the heat.
Add 1 cup whole milk ricotta, ¼ cup grated Parmesan, 1 Tbsp lemon juice, and ½ tsp lemon zest to the pasta. Stir until the ingredients are combined, the residual heat from the pasta and skillet have warmed the ricotta, and the ricotta has turned into a creamy sauce.
Add more of the reserved pasta water if the mixture is too thick or too dry. Season the pasta with salt, pepper, and crushed red pepper to taste.
Enjoy the lemon ricotta pasta while still warm!
The post Lemon Ricotta Pasta appeared first on Budget Bytes.