Roasted Garlic Mashed Potatoes
https://www.loveandlemons.com/mashed-potatoes/
These mashed potatoes passed the ultimate test when Jack declared, "These are SO good!" I have to agree – they're creamy, deeply flavorful & delicious.

The standard for mashed potatoes is high in our house. See, Jack grew up eating his Uncle Billy's perfect mashed potatoes, and he still reminisces about them. They were creamy, fluffy, and rich with (lots of) melted butter, (lots of) sour cream, and topped with "butter lake," as Jack lovingly refers to it. I've made mashed potato recipes before, but always with a twist like cauliflower or kale. This year, I stepped up to take on the challenge of making a delicious, classic homemade mashed potato recipe.
This mashed potato recipe is not quite the same as his Uncle Billy's, so I didn't know what Jack would think. Instead of dairy, olive oil and starchy potato cooking water give these potatoes an amazing creamy texture, and roasted garlic fills them with rich, nutty depth of flavor. I thought they were delicious, but the real test came when we sat down to eat.
Jack's verdict? "These mashed potatoes are SO good!"
Garlic Mashed Potatoes Recipe Ingredients
The best mashed potatoes only require a few simple ingredients:
Potatoes – My first picks are Yukon gold or German butterball potatoes. Unlike russet potatoes, they have a rich golden color, and they make for super creamy mashed potatoes.
Roasted garlic – The secret ingredient! I mix in a whole head of roasted garlic to pack these guys with flavor.
Olive oil – I love the rich taste of olive oil in this recipe, and, along with starchy potato cooking water, it makes these garlic mashed potatoes just as creamy as any I've had with butter, milk, or sour cream.
Salt and pepper – Absolute essentials! For optimum flavor, I salt the potato cooking water as well as mixing salt and pepper into the mashed potatoes.
Toppings – Top your potatoes however you like! My favorite way to eat them is with a sprinkle of chives, minced fresh rosemary, and a pat of butter.
How to Make Mashed Potatoes
First, roast the garlic in a 350-degree oven until the cloves are deeply brown and tender. This could take up to 60 minutes! Tip: You can easily do this step ahead of time. Wrapped in foil, the roasted garlic will keep for 3 days in the fridge.
Then, peel the potatoes. If you love creamy mashed potatoes, peeling is a must. Once they're peeled, there's no need to cut the potatoes before cooking. Just put them in a large pot, and cover them with 1 inch of cold water.
Next, boil them. Add a teaspoon of salt to the pot, and boil until the potatoes are tender. Before you drain the potatoes, don't forget to reserve 1 cup of the starchy cooking water.

Then, it's time to mash! For the best creamy texture, I rice the potatoes first. Then, I use a regular potato masher to break up any chunks. If you don't have a potato ricer, that's ok! Just be sure to mash them thoroughly.
Finally, fold everything together. Remove the tender garlic cloves from their paper and mash them into a paste with a fork or small masher. Fold the garlic into the potatoes, along with olive oil, reserved potato cooking water, salt, and pepper. Season to taste and add more cooking water, as needed, to reach your desired consistency.
Top with your favorite fixings, and enjoy!


More Favorite Thanksgiving Recipes
If you love these roasted garlic mashed potatoes, try one of these favorite side dish recipes next:
Roasted Garlic Mashed Potatoes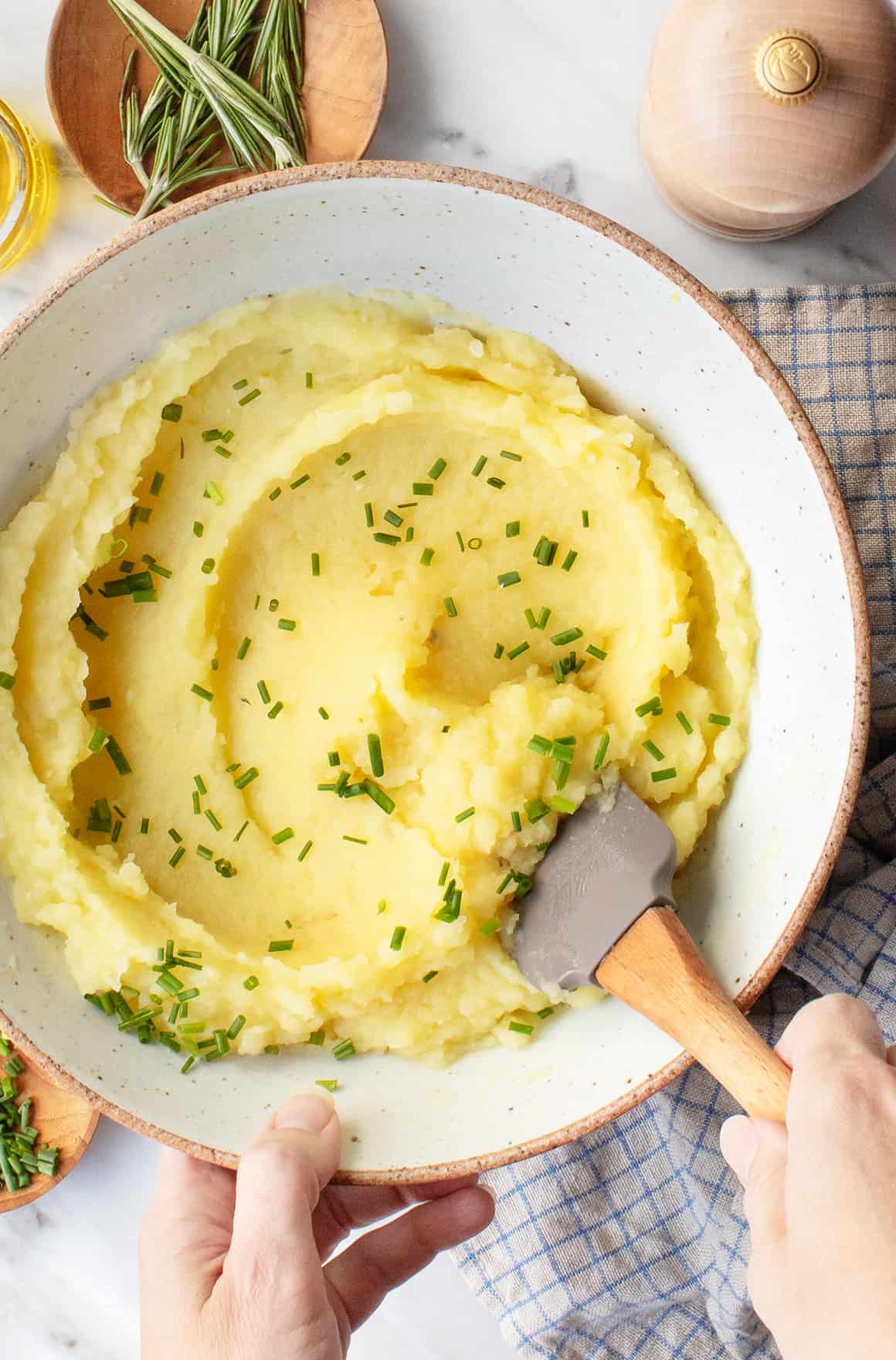 Author: Jeanine Donofrio
Recipe type: Side dish
1 whole garlic bulb
Extra virgin olive oil, for drizzling
Sea salt
2 pounds Yukon gold or butterball potatoes, peeled
2 teaspoons sea salt, divided
⅓ cup extra-virgin olive oil
Freshly ground black pepper
Butter, optional for serving
Chopped chives and/or rosemary, optional for sprinkling
Preheat the oven to 350°F.
Make the roasted garlic: Trim the top ¼ inch off the top of the garlic bulb. Place cut-side up on a piece of foil, drizzle with olive oil, and sprinkle with salt. Wrap the garlic in the foil and roast for 40 to 60 minutes or until the cloves are deeply golden brown and tender. Remove from the oven and let cool slightly. Use the back of a chef's knife or a small masher to mash the garlic into a paste before incorporating into the mashed potatoes. Set aside.
Make the mashed potatoes: Place the potatoes and 1 teaspoon of salt in a large pot and fill with enough water to cover the potatoes by 1 inch. Bring to a boil and cook until fork tender, about 20 minutes. Drain, reserving 1 cup of the cooking liquid.
Use a ricer or a potato masher to mash the potatoes into a large bowl. Use a rubber spatula to fold in the roasted garlic, olive oil, ½ cup of the reserved cooking liquid, 1 teaspoon salt, and several pinches of pepper. Continue folding until creamy, adding up to ½ cup more cooking liquid if desired for creamier potatoes. Serve hot with butter, rosemary, and chives, if desired.
*Note: the roasted garlic can be made up to 3 days in advance and stored in the fridge until ready to use.
"I want you to come watch the movie with us ON the couch, not be in the kitchen!"
I've been filling out this one-question-a-day journals for moms that I received for Christmas. It records a little thought or memory over the last year, and then starts again, so you can see how your answers change over a few years. One of the recent ones, prompted me to jot notes about what I am learning as a mom, and I found the question so general I was basically annoyed. I am a romantic, and also wildly pragmatic. In the span of a day I can tear up over the depths of love I feel for my kids, and also wish for them to have a mute button. We all have worlds within us; mothering pushing me into the corners of myself I am sometimes proud of or other corners ashamed of, but am I learning? Yes, every single day. Sometimes in the moment and other times after a particular season. But in 2021, my answer in the bullet journal was that I see my kids are wanting me to play with them. They aren't registering all the service and shuttling and laundry and what it takes to pull off a week, they just want to play WITH me. It's natural for me to move within lists and tasks and responsibilities and hustling, but playing is something I have to pay attention to. For them and for me. We usually do a family movie on Friday nights and my son (6.5), see quote above, pointed out that I don't actually watch the movie, I tinker in the kitchen and he wants me in the couch cuddle. Flattered, and found out that I'd rather make granola than watch The Croods 🙂 So from annoyed, to passing on the question to fellow parents, what are you learning? Try not to be annoyed. Maybe circle back to it.
I published this recipe over on SKCC a few weeks ago and wanted it to live here. We're trying to find more family-friendly vegetarian recipes (it's easy for me to fill up on roasted veggies and big salads, not so much for the kids). This batch lasts us two meals – once with noodles, maybe half zoodles, and the second round on toast or english muffins with cheese melted on top, like a pizza sort of thing? It freezes well and is great to deliver to new parents.
CAULIFLOWER BOLOGNESE
Serves 6
Ingredients
2 Tbsp. of extra virgin olive oil
1 small yellow onion – roughly chopped
3 cloves of garlic
sea salt to taste
pepper to taste
1 head of cauliflower (about ¾ lb. or 12 oz. riced)
1/2 cup of raw walnuts pieces
1/2 tsp. of Italian seasoning
1/2 tsp. of fennel seeds – crushed
2 Tbsp. of tomato paste
2 Tbsp. of balsamic vinegar
1/2 cup of red wine (or broth of any sort, and double the vinegar to mimic the wine's acidity)
28 oz. of canned, crushed tomatoes
1/2 cup of red lentils
red pepper flake to taste
For serving
12 oz. of pasta or choice, zoodles, etc.
parmesan
fresh, torn basil
Directions
In a large Dutch-oven or stockpot, heat the olive oil over medium low heat.
In a food processor, pulse the onion and garlic into smaller bits. Add them to the pot with a big pinch of salt and pepper. Sauté to soften, about 3 minutes.
Pulse up the cauliflower florets to get a rice-like texture. Add the riced-cauliflower to the pot and sauté to soften, about 5 minutes.
Pulse the walnuts in the processor and add those to the pot along with the Italian seasoning, fennel seed, another few generous pinches of salt and pepper, tomato paste and balsamic vinegar. Sauté until fragrant.
Add the red wine, cook about 3 minutes, then add the crushed tomatoes, ½ cup water, lentils, pinch of pepper flakes and stir to combine. Turn the heat to low, put the cover ajar and let it simmer gently for 30-35 minutes. Turn off the heat, taste for seasoning and adjust.
Cook your pasta or zoodles according to instructions. Top with cauli Bolognese, grated cheese, fresh basil and enjoy!
The Bolognese will keep in the fridge for a week and can be frozen for a few months.