Rainbow Veggie Fajitas
https://www.loveandlemons.com/rainbow-veggie-fajitas/
Can you believe the 4th of July is right around the corner? It seems like Memorial Day was just last week! If you're gearing up for the next big summer BBQ holiday, you have to give these delicious rainbow veggie fajitas a try. They're super easy to make on the grill, and all the ingredients in this veggie fajita recipe can be found at ALDI, meaning that this whole fajita spread is really affordable too.
I've been impressed with the quality of fresh produce and pantry staples at ALDI for a while now, but this season, their array of veggies (at super low prices!) really knocked my socks off. To make things even more convenient, we've put together a special Instacart link for you that has all of the ingredients ready to make this recipe – click here!
Now that it's summer, I can't get enough of colorful fresh veggies like tomatoes and peppers, and I was SO excited to see these rainbow bell peppers at the store. How pretty is that red, yellow, and green? When I saw them, I knew right away that I'd be making these rainbow fajitas. Along with the pretty peppers, I used bold purple onion for extra color and portobello mushrooms for hearty texture.
Veggie Fajitas are Perfect for Parties!
After making these fajitas, I can tell you that they're my new go-to summer entertaining dish. Not only can you make them in under 30 minutes, but they're also ideal for serving a crowd because everyone can customize their final dish to their liking. Jack's not a fan of avocado (crazy, I know), so he skipped it. I loaded mine up with all the fixings and generous squeezes of lime, and the next day, I enjoyed the leftovers in a burrito bowl with the grilled fajita veggies, rice, beans, arugula, and lots of guac and salsa.
And the best part? The veggies can go straight from the grill to the picnic table at your next backyard celebration.
My Fajita Marinade
You don't need a fancy fajita seasoning mix to pack these veggie fajitas with flavor. I use a simple 5-ingredient fajita marinade. It's a lightly spicy mix of avocado oil, garlic, chili powder, cumin, and sea salt. I use Simply Nature Avocado Oil here because I like its neutral taste with the Tex Mex spices. In addition, it's great for grilling because it has a high smoke point, so you don't need to worry about putting it on the hot grill.
The mushrooms also get coated with the marinade along with a little balsamic vinegar to make them extra juicy and flavorful. And once everything's cooked, I brighten up all the veggies with a generous squeeze of lime.
How to Make Fajitas
Once you've mixed your marinade together, this recipe couldn't be simpler to make. Here's what you need to do:
Slice your veggies! I like to cut the onions into wedges and the peppers into thin slices. Just stem the mushrooms and leave the caps whole.
Drizzle on the marinade. Toss the peppers with a scant tablespoon of the marinade, and pour the remaining marinade over the mushrooms and onions. Rub a splash of balsamic vinegar onto the mushrooms too.
It's time to grill! Preheat the grill with a cast iron skillet or grill pan on one side. When it's hot, put the pepper slices in the hot skillet and grill the mushrooms and onions directly on the grill grates.
Don't forget to flip halfway… Cook until the veggies soften and char marks form on the onions and mushrooms, flipping halfway through. I use tongs to toss the peppers in the skillet and cook until they get a little char too.
Enjoy! Slice the mushroom caps and serve the fajita veggies with tortillas and your favorite fixings.
What to Serve with Veggie Fajitas
I like to enjoy this fajita recipe with guacamole, pico de gallo, and tomatillo or pineapple salsa for creamy, zesty, and fresh accents. And don't forget the tortillas – flour tortillas are traditional for fajitas, but corn tortillas are good too.
While these fajitas are a filling meal on their own, you can never go wrong by serving them alongside black beans and cilantro lime rice.
And don't forget the margaritas!

If you love this veggie fajita recipe…
Get all of the ingredients to make these on Instacart in one click! If you're a first time ALDI Instacart shopper, use the code ALDILemons19 for $10 off your first three orders of $35 or more.
Happy fajita making!
Rainbow Veggie Fajitas
Author: Jeanine Donofrio
Recipe type: main dish
3 multi-colored peppers, stemmed and sliced into strips
3 portobello mushrooms, stemmed and wiped clean
1 red onion, sliced into wedges
2 tablespoons Simply Nature Avocado Oil
2 garlic cloves, chopped
½ teaspoon Stonemill Chili Powder, more to taste
½ teaspoon Simply Nature Cumin
½ teaspoon sea salt, more to taste
Splash of balsamic vinegar
2 limes, sliced into wedges
Freshly ground black pepper
Heat a grill to medium heat with a 12-inch cast-iron skillet (or grill pan) inside.
Arrange the peppers on a tray and the mushrooms and onion wedges on a separate rimmed plate. In a small bowl, whisk together the avocado oil, garlic, chili powder, cumin, salt, and several grinds of pepper. Drizzle 1 scant tablespoon of the mixture over the peppers and toss to coat. Drizzle the remaining marinade over the mushrooms and onions. Drizzle the mushrooms with a splash of balsamic vinegar and use your hands to coat the mushrooms on both sides.
Grill the peppers in the cast-iron pan for 8 to 10 minutes, tossing occasionally, until charred and soft. Be careful not to overfill the pan or the veggies won't char on the edges – cook them in 2 batches, if necessary. Grill the mushrooms and onion wedges directly on the grill for about 4 minutes about per side. Remove everything from the grill, using a potholder to remove the cast-iron pan. Squeeze the juice of ½ lime over the peppers and season with salt, pepper, and more chili powder, to taste. Slice the mushrooms into strips and place on a serving dish. Transfer the onions and the peppers to a serving skillet or large platter.
Serve with the tortillas, guacamole, jalapeños, tomatoes, cilantro, salsa, and remaining lime wedges for serving.
3.4.3177
Here's a quickie recipe for those nights when you just need something fast and delicious. This Lemon Ricotta Pasta is super fast, light, and fresh, which makes it perfect for an easy weeknight dinner during the summer. The bright lemon flavor perfectly compliments the light and creamy ricotta, and the little pops of sweetness from the peas make every bite a little more interesting. Simple, fresh, and easy.
Originally posted 3-4-2011, updated 6-8-2022.
Do I Have to Use Fresh Lemon?
This is one of those recipes where you really do want to use a fresh lemon instead of bottled juice. The zest from the lemon adds a ton of bright, summery lemon flavor to the pasta without making the sauce too sour. We add just a little of the juice to balance the creaminess of the ricotta, but the zest is where you're getting all that gorgeous sunny lemon flavor!
Not All Ricotta is Created Equal
I find there is quite a bit of variation in the quality of ricotta from brand to brand. Some are smooth, mild, and sweet like fresh milk, while others are bland and grainy. My preferred brand is Galbani, but they didn't have any at the store when I went, so I got the generic Kroger brand. It was definitely a bit grainy, but the pasta was still quite delicious despite that!
Also, make sure to get whole milk ricotta. Low-fat ricotta just doesn't hit the same in this recipe.
What Else Can I Add?
This simple pasta is a great jumping-off point for making a more elaborate pasta, if that's what you're in the mood for. Try adding some sliced chicken breast, fresh basil, or fresh spinach. Garlic butter shrimp would also go great with this pasta!
What to Serve with Lemon Ricotta Pasta
This pasta is so light and fresh that I suggest keeping any side dishes really simple, light, and fresh as well. I would go with a super simple side salad, or maybe some roasted asparagus and tomatoes.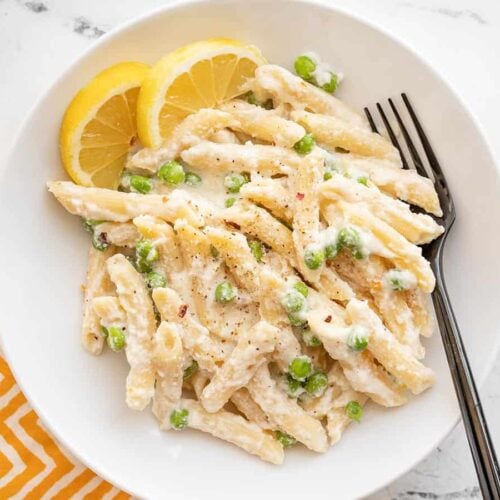 Lemon Ricotta Pasta
Lemon Ricotta Pasta is light, fresh, and quick to prepare, making it the perfect pasta for weeknight dinners in the summer.
Ingredients
1

lemon

$0.89

8

oz.

pasta*

$0.67

1

cup

frozen peas

$0.50

1

clove

garlic, minced

$0.08

1

Tbsp

butter

$0.11

1

cup

whole milk ricotta

$1.60

1/4

cup

grated Parmesan

$0.36

1/4

tsp

salt (or to taste)

$0.02

1/4

tsp

freshly cracked black pepper (or to taste)

$0.02

1

pinch

crushed red pepper (or to taste)

$0.02
Instructions
Zest and juice the lemon. You'll need about ½ tsp zest and 1 Tbsp lemon juice.

Cook the pasta according to the package directions (boil for 7-10 minutes, or until tender). Before draining, reserve about 1 cup of the starchy water from the pot.

Place the frozen peas in the colander before draining the pasta so the pasta will thaw the peas as it drains.

Add the butter and minced garlic to a large skillet and sauté over medium heat for 1-2 minutes, or just until the garlic is fragrant.

Add the drained pasta and peas, and about ½ cup of the starchy pasta cooking water to the skillet with the butter and garlic. Stir to combine, then turn off the heat.

Add the ricotta, Parmesan, 1 tablespoon lemon juice, and ½ teaspoon lemon zest to the skillet. Stir until everything is well combined, the residual heat from the skillet and pasta have warmed the ricotta, and the ricotta has formed a creamy sauce. Add more of the warm reserved pasta water if needed.

Season the pasta with salt, pepper, and crushed red pepper to taste. Serve warm.
Notes
*Use any short shape pasta.
Nutrition
Serving:
1
serving
|
Calories:
400
kcal
|
Carbohydrates:
51
g
|
Protein:
18
g
|
Fat:
14
g
|
Sodium:
335
mg
|
Fiber:
4
g
How to Make Lemon Ricotta Pasta – Step By Step Photos
Zest and juice one lemon. You'll need about ½ tsp of zest and 1 Tbsp juice.
Cook 8oz. pasta according to the package directions (boil for 7-10 minutes, or until tender). Reserve about 1 cup of the starchy pasta water before draining.
Add 1 cup of frozen peas to a colander, then pour the boiled pasta over top to thaw the peas as you drain the pasta.
Add 1 Tbsp butter and 1 clove garlic to a large skillet. Sauté over medium heat for 1-2 minutes, or just until the garlic becomes very fragrant.
Add the still-hot pasta and peas to the skillet along with about ½ cup of the hot reserved pasta water. Stir to combine, then turn off the heat.
Add 1 cup whole milk ricotta, ¼ cup grated Parmesan, 1 Tbsp lemon juice, and ½ tsp lemon zest to the pasta. Stir until the ingredients are combined, the residual heat from the pasta and skillet have warmed the ricotta, and the ricotta has turned into a creamy sauce.
Add more of the reserved pasta water if the mixture is too thick or too dry. Season the pasta with salt, pepper, and crushed red pepper to taste.
Enjoy the lemon ricotta pasta while still warm!
The post Lemon Ricotta Pasta appeared first on Budget Bytes.