Plant-Based Meal Prep Hash Brown-Crusted Frittata
https://www.chicvegan.com/plant-based-meal-prep-hash-brown-crusted-frittata/?utm_source=rss&utm_medium=rss&utm_campaign=plant-based-meal-prep-hash-brown-crusted-frittata
This vegan Hash Brown-Crusted Frittata from Vegan Yack Attack's Plant-Based Meal Prep! by Jackie Sobon is rich in protein, easy to make, and delicious atop a bed of mixed greens. Serve it for breakfast, brunch, or even dinner! It's vegan and gluten-free as well as being freezer friendly.
Plant-Based Meal Prep
A lot of my health coaching clients tell me that sticking to a healthy diet during the work week can be tough. I always suggest meal prepping to help them make it through the week. Meal prep can be a little daunting though. Sometimes you're not sure what to buy at the grocery store, how much food to prep, or if you have the right type of storage containers. And you want to make sure that you're not spending hours on end in the kitchen on the weekend in order to have meals throughout the week.
Jackie Sobon has come to the rescue with her newest cookbook Vegan Yack Attack's Plant-Based Meal Prep! Jackie takes the guesswork out of meal prep, making it simple and easy.
Jackie begins Plant-Based Meal Prep with meal preparation tips. Here you'll find tips for staying organized, as well as lists of essential equipment and helpful ingredients.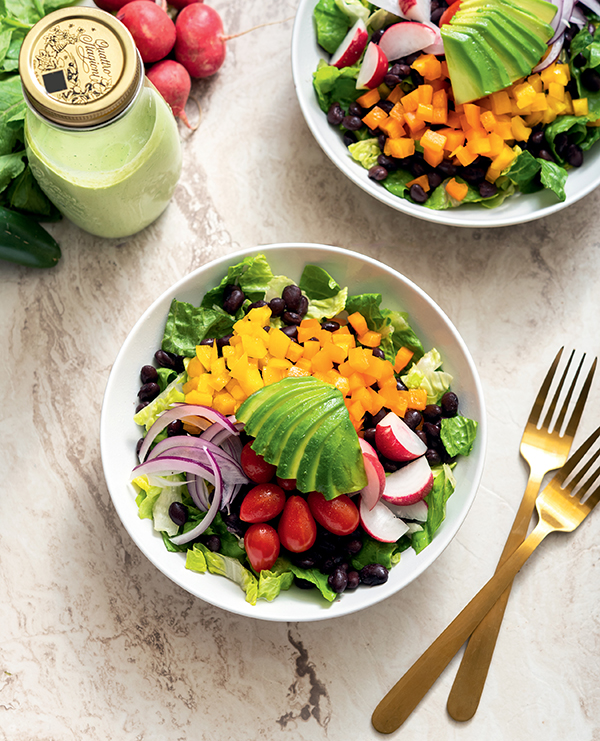 Meal Plans
Diving into meal prep, Jackie starts with weekly meal prep menus for one person. There are 6 menus, so you'll have enough meals to last you a month and a half if you follow it each week. Each menu has a grocery list along with guidelines to help make prep easy. The recipes are easy to make and they don't take too much time, so you're spending your precious day off standing in the kitchen. Each recipe makes 5 servings, so you'll have enough to last throughout the work week.
The book also has mix and match menus, some for two people and some for four. In these meal plans, Jackie has included checklists and prep itineraries to help make the most of your time. The menus include lighter fare, high protein meals, and flavors of East Asia.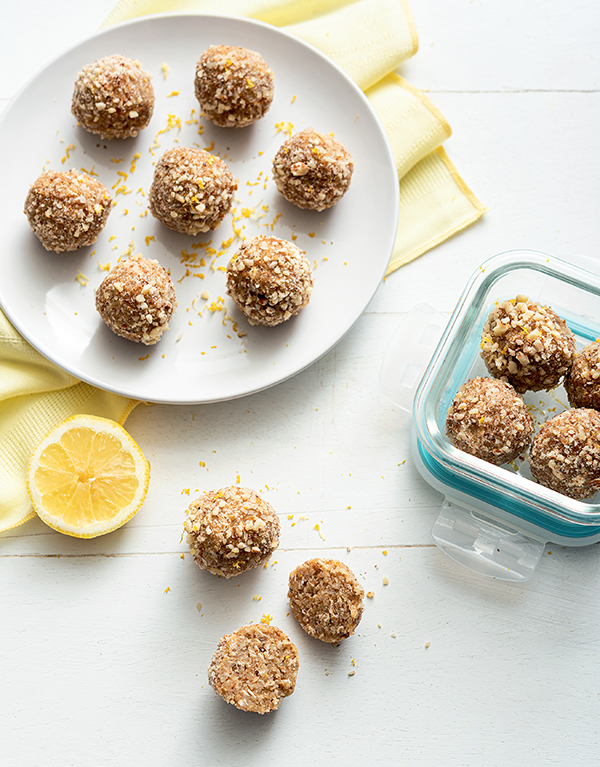 Creative Recipes
Even if you aren't into meal prep and are just looking for some yummy recipes, you'll really enjoy Plant-Based Meal Prep. Jackie is known for her deliciously flavorful and creative recipes, which you're probably familiar with if you follow her blog Vegan Yack Attack. These recipes do not disappoint. I talking about dishes like Seitan Fusion Tacos, Blood Orange Freezer Waffles with Berry Compote, and Piña Colada Chia Pudding. These recipes are all easy to make, and they use easy to find ingredients.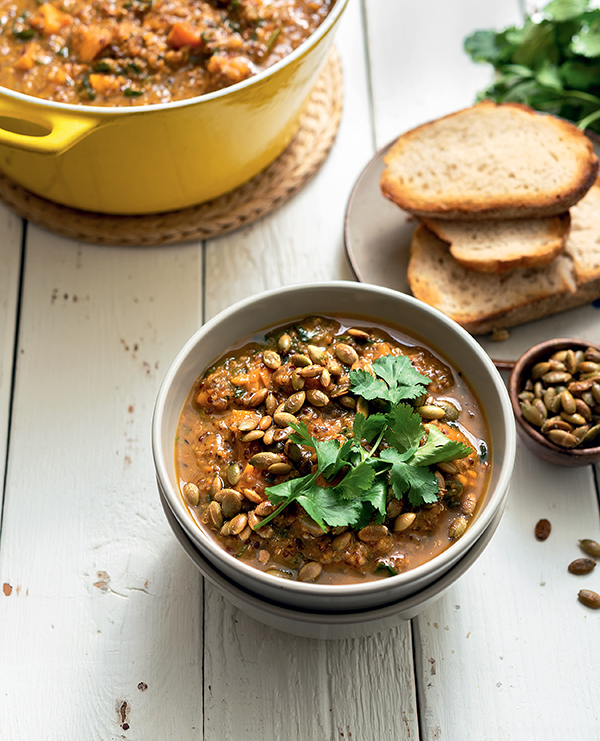 The Chapters in Vegan Yack Attack's Plant-Based Meal Prep include:
Making Meal Prepping Easy
Weekly Meal Prep for One
Mix and Match for All
Mix and Match Menus
Beautiful Breakfasts
Bunches of Lunches
Array of Entrees
Higher-Protein Meals
Sheet Pan, Instant Pot, and Freezer Meals
Kid-Friendly Food
Basics and Bonuses
Snack Attack
Sauces, Spreads, and More
If you want to get organized and prepare your meals in advance, you need Vegan Yack Attack's Plant-Based Meal Prep!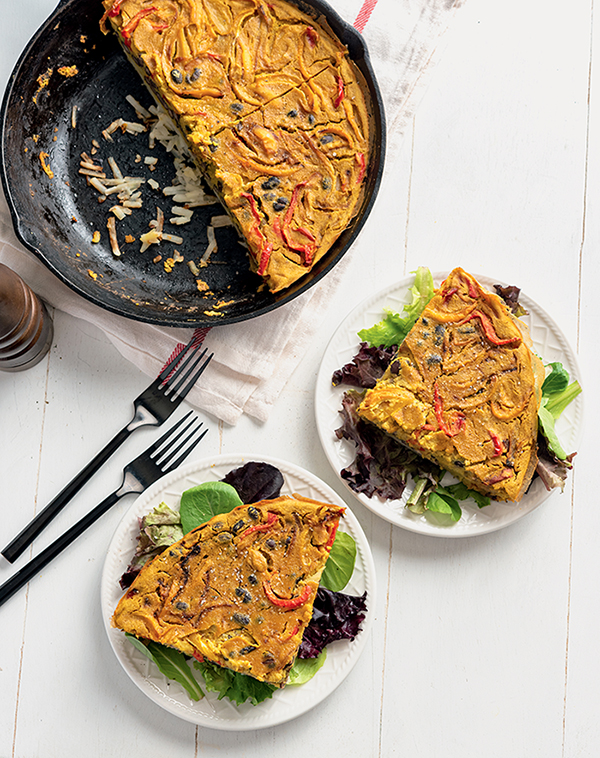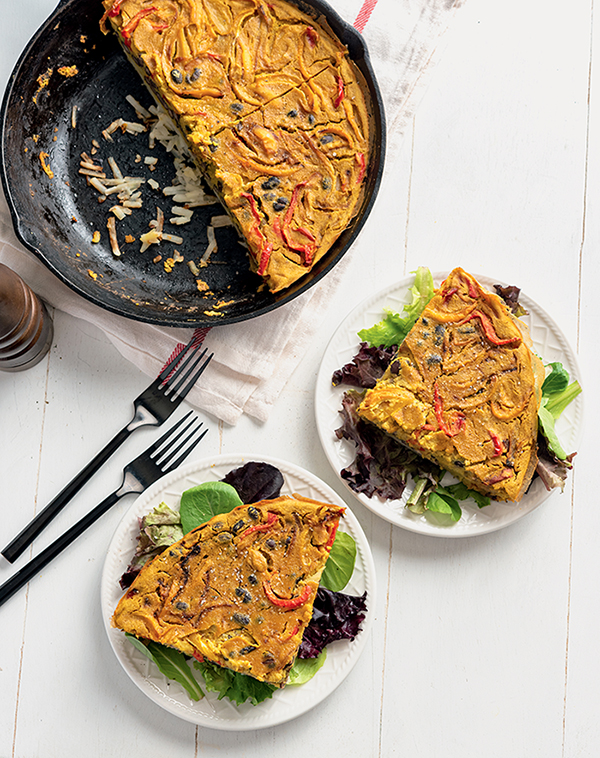 Hash Brown-Crusted Frittata
While I do love a good omelet, sometimes I get a little anxious about the flipping. Frittatas are great because all you have to do is cook your favorite fillings in a pan, add your base, and leave it to the oven to take care of the rest. This breakfast frittata is rich in protein, easy to make, and delicious atop a bed of mixed greens.
Ingredients
1




tablespoon




(15 ml) sunflower oil




divided

8




ounces




(225 g) frozen shredded potato hash browns

1/8




teaspoon




salt

¼




teaspoon




black pepper




divided

2




cups




(260 g) sliced bell peppers




assorted colors

1




cup




(110 g) sliced yellow onion

1




cup




(135 g) chickpea flour

1/3




cup




(30 g) nutritional yeast

2




tablespoons




(16 g) cornstarch

2




teaspoons




Kala namak




Indian black salt

1




teaspoon




onion powder

½




teaspoon




baking powder

¼




teaspoon




ground turmeric




optional

14




ounces




(425 ml) hot vegetable broth

1




15-ounce [425 g] can




black beans




drained and rinsed
Instructions
In a 9-inch (23 ccast iron skillet or oven-safe pan, heat 2 teaspoons of the oil over medium heat. Add the hash browns, pressing gently to flatten them into an even layer. Cook until there is some browning on the first side, about 6 minutes, sprinkling the salt and 1/8 teaspoon pepper over the top while they are cooking. Carefully flip the patty onto a plate and set aside. Preheat the oven to 375ºF (190ºC, or gas mark 5).
Add the remaining 1 teaspoon oil to the skillet along with the bell peppers and onion, and cook, stirring occasionally, until the onions are nearly translucent, about 5 minutes, then remove from the pan and set aside. While the peppers and onions are cooking, whisk together the chickpea flour, nutritional yeast, cornstarch, kala namak, onion powder, baking powder, and turmeric, if using, in a large bowl. Pour the hot vegetable broth into the chickpea flour mixture and whisk until combined.
Slide the hash brown patty, uncooked side down, back into the skillet, then top with black beans and pepper-onion mixture. Whisk the chickpea mixture to recombine (don't worry about how thin it iand pour it over the top. Place the skillet in the oven and bake for 33 to 35 minutes, or until the top is matte and slightly firm.
Remove the skillet from the oven and let cool on a rack for 15 to 20 minutes before serving. If storing for later, wait 30 minutes before cutting the frittata into quarters. Transfer to 4 storage containers and store in the refrigerator for up to 7 days or in the freezer for up to 3 months (allow to defrost completely in the refrigerator before reheating).
Recipe Notes
Note: If you don't have an ovensafe skillet or pan, brown the hash browns on the stovetop as instructed, then transfer them to a pie dish or springform pan before assembling.
Reprinted with permission from Jackie Sobon and Fair Winds Press, an imprint of Quarto Publishing Group USA Inc. © 2020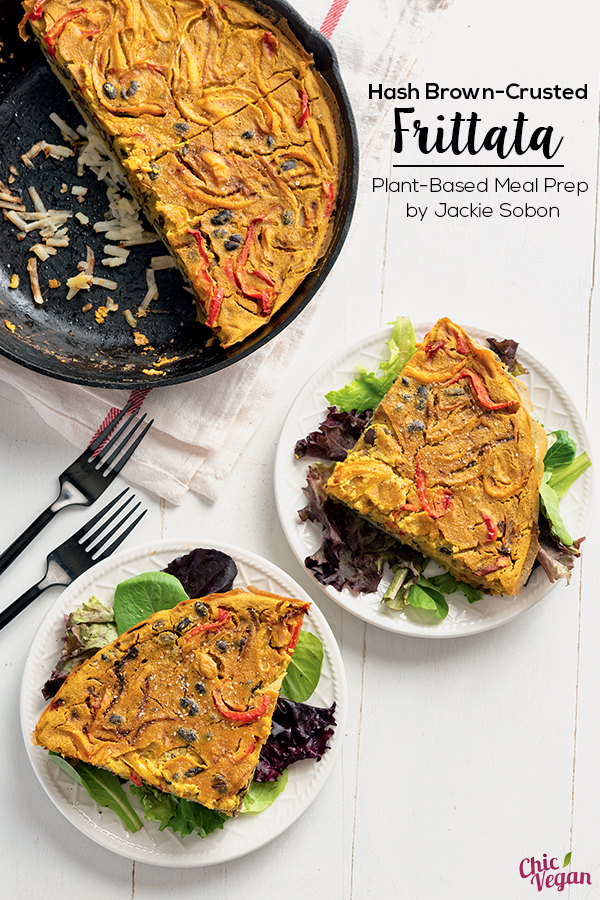 Loaded Baked Potato Wedges with Creamy Cheese Sauce and Tofu Bacony Bits
Loaded Vegan Baked Potato Wedges – These crispy baked potato wedges are perfection! Baked until crispy and topped with vegan cashew cheese sauce, tofu bacon, and scallions. These just might be potato perfection!
This easy recipe for Baked Loaded Potato Wedges will blow you away with the delicious combo of crispy baked potatoes,  tofu bacon bits, and a creamy vegan cashew cheese sauce.
While you could eat these loaded potato wedges as a meal or side dish, I love serving these as a shared appetizer or a Game Day snack. Having a few is delicious, but having a whole sheet pan on your own is quite gluttonous so you might want to share. If you're hosting a party, a movie night or a game day get-together, make sure to put these delicious loaded potato wedges on the menu and you will be everyone's favorite!
These Vegan Cheesy Potato Wedges are perfect for when you're craving something cheesy and comforting. The potatoes are baked not fried.  They are baked on the same sheet pan as the tofu bacon which makes for easy clean-up. While the potato wedges are baking, we whip up my favorite vegan cashew cheese sauce. It only takes minutes and you'll love the creamy rich texture. I like to make some extra and serve pasta with vegan cheese sauce and bacon the next day. You can also slice the potatoes into halves to make loaded baked potatoes!
More Vegan Game Day Foods & Snacks
Firecracker crispy tofu wings
Spinach artichoke dip 
Thai Layered Dip -because Peanut sauce.
Spicy Pepper Crisp Cauliflower bites with celery ranch
Zucchini chickpea Fritters
Cajun Chickpea Fries
Continue reading: Loaded Baked Potato Wedges with Creamy Cheese Sauce and Tofu Bacony Bits
The post Loaded Baked Potato Wedges with Creamy Cheese Sauce and Tofu Bacony Bits appeared first on Vegan Richa.