I often half-jokingly tell people one of the hardest things to cook consistently is perfect stovetop popcorn. Keyword: consistently. If you've ever burned a batch, or ended up with dozens of un-popped kernels, you know what I'm saying. Pull up a seat. This is where I've netted out after hundreds of batches of homemade popcorn.
Homemade Popcorn: Why Bother?
It's a quick, fantastic, inexpensive, healthful snack. Everyone delights in popcorn. And, everyone loves to get involved in experimenting with different flavors. You can make perfect stovetop popcorn in a flash, so ditch those bags of pre-popped kernels. When you make homemade popcorn you also know exactly what ingredients are going in the bowl. Also, microwave popcorn? Just no.
Popcorn Pro-tip: Skip the Oil
Let's get this out of the way first. Pop your popcorn in a dry pan or skillet, no oil. Controversial, I know, but I find that popping popcorn in hot oil increases the likelihood of burnt popcorn and dead kernels. Dry pan popping results in beautiful light popcorn that provides the perfect blank canvas for all your favorite seasonings.
Best Pan for Making Perfect Stovetop Popcorn?
The two pans I use most for making popcorn are a deep pasta pot (big batch), and a wide, deep skillet (small batch). You're going for wide, with a lot of surface area. In either case a fitted lid is needed, although in a pinch you might try placing a baking sheet over your pot. Careful though, it gets hot.
A lot of people will recommend using thick bottom pots or Dutch ovens to make popcorn. It's decent advice, especially if you're not the most attentive cook. If you can hit the right steady temperature, thick pots are more forgiving. That said, I love using my copper pans to pop popcorn. They're relatively thin and very responsive. That makes it easy to dial back the heat and adjust quickly of you sense your pan is hot. A long way of saying, keeping an eye on your temps is probably more important than obsessing about the perfect pot to use.
Cover but Crack
A good lid is important when making popcorn, but there's a bit of a strategy here. For the best results, and lowest number of un-popped kernels leave the lidopen just a hairline amount. It allows any steam or moisture to get out as well, resulting in fluffy kernels.
Popcorn Seasoning Ideas
Once you have a perfect bowl of fluffy, crisp kernels the seasoning game is on. Here are a few ideas. And please, if you have other favorite popcorn seasonings, drop a comment.
Turmeric Popcorn: A long time fave. Kernels tossed with a short list of power ingredients – ghee, clarified butter, or coconut oil plus turmeric, saffron, nutritional yeast, sesame, and toasted coconut.
Use Compound Butters: Gently melt any of these for flavor-packed drizzles. Lemon Miso Butter is great here, as is Scallion Dill Butter.
Bloody Mary Popcorn:It's what happens when popcorn meets the flavors of a Bloody Mary cocktail.
Chile Lime Tequila: Fresh popcorn is tossed with melted butter, lime juice, jalapeno peppers, red pepper flakes, cumin and a splash of tequila.
Classic Buttered Popcorn: This is built into the recipe below, but I'll mention an alternative here. Ghee is a great swap for melted butter on popcorn. It has wonderful brown butter notes from the toasted milk solids, and less water content. This means no soggy kernels.
Perfect Stovetop Popcorn
Be sure to see the post above from extra tips, and popcorn seasoning ideas!
INGREDIENTS
1/2

 

cup

 

high-quality popcorn kernels

3

 

tablespoons

 

melted butter or olive oil, or to taste

1/4

 

teaspoon

 

fine grain sea salt, or to taste
INSTRUCTIONS
Heat a wide pot or skillet over medium-high heat. Make sure the pan is completely dry to start. Place 5 or 6 popcorn kernels in the pan and cover leaving just a hair of a crack open.

When the kernels start to pop add the rest of the them, cover again, and cook until the remaining kernels pop, shaking now and then. Dial back the heat a bit as the popping slows. Remove from heat when the popping is every few seconds.

Add half the butter to a large bowl, transfer the popcorn, and toss well with the remaining butter and salt to taste.
Here's a quickie recipe for those nights when you just need something fast and delicious. This Lemon Ricotta Pasta is super fast, light, and fresh, which makes it perfect for an easy weeknight dinner during the summer. The bright lemon flavor perfectly compliments the light and creamy ricotta, and the little pops of sweetness from the peas make every bite a little more interesting. Simple, fresh, and easy.
Originally posted 3-4-2011, updated 6-8-2022.
Do I Have to Use Fresh Lemon?
This is one of those recipes where you really do want to use a fresh lemon instead of bottled juice. The zest from the lemon adds a ton of bright, summery lemon flavor to the pasta without making the sauce too sour. We add just a little of the juice to balance the creaminess of the ricotta, but the zest is where you're getting all that gorgeous sunny lemon flavor!
Not All Ricotta is Created Equal
I find there is quite a bit of variation in the quality of ricotta from brand to brand. Some are smooth, mild, and sweet like fresh milk, while others are bland and grainy. My preferred brand is Galbani, but they didn't have any at the store when I went, so I got the generic Kroger brand. It was definitely a bit grainy, but the pasta was still quite delicious despite that!
Also, make sure to get whole milk ricotta. Low-fat ricotta just doesn't hit the same in this recipe.
What Else Can I Add?
This simple pasta is a great jumping-off point for making a more elaborate pasta, if that's what you're in the mood for. Try adding some sliced chicken breast, fresh basil, or fresh spinach. Garlic butter shrimp would also go great with this pasta!
What to Serve with Lemon Ricotta Pasta
This pasta is so light and fresh that I suggest keeping any side dishes really simple, light, and fresh as well. I would go with a super simple side salad, or maybe some roasted asparagus and tomatoes.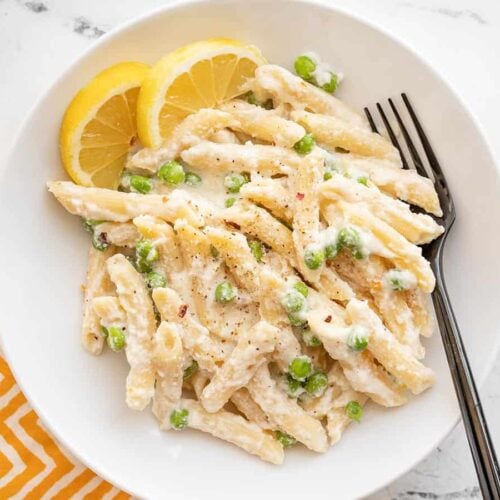 Lemon Ricotta Pasta
Lemon Ricotta Pasta is light, fresh, and quick to prepare, making it the perfect pasta for weeknight dinners in the summer.
Ingredients
1

lemon

$0.89

8

oz.

pasta*

$0.67

1

cup

frozen peas

$0.50

1

clove

garlic, minced

$0.08

1

Tbsp

butter

$0.11

1

cup

whole milk ricotta

$1.60

1/4

cup

grated Parmesan

$0.36

1/4

tsp

salt (or to taste)

$0.02

1/4

tsp

freshly cracked black pepper (or to taste)

$0.02

1

pinch

crushed red pepper (or to taste)

$0.02
Instructions
Zest and juice the lemon. You'll need about ½ tsp zest and 1 Tbsp lemon juice.

Cook the pasta according to the package directions (boil for 7-10 minutes, or until tender). Before draining, reserve about 1 cup of the starchy water from the pot.

Place the frozen peas in the colander before draining the pasta so the pasta will thaw the peas as it drains.

Add the butter and minced garlic to a large skillet and sauté over medium heat for 1-2 minutes, or just until the garlic is fragrant.

Add the drained pasta and peas, and about ½ cup of the starchy pasta cooking water to the skillet with the butter and garlic. Stir to combine, then turn off the heat.

Add the ricotta, Parmesan, 1 tablespoon lemon juice, and ½ teaspoon lemon zest to the skillet. Stir until everything is well combined, the residual heat from the skillet and pasta have warmed the ricotta, and the ricotta has formed a creamy sauce. Add more of the warm reserved pasta water if needed.

Season the pasta with salt, pepper, and crushed red pepper to taste. Serve warm.
Notes
*Use any short shape pasta.
Nutrition
Serving:
1
serving
|
Calories:
400
kcal
|
Carbohydrates:
51
g
|
Protein:
18
g
|
Fat:
14
g
|
Sodium:
335
mg
|
Fiber:
4
g
How to Make Lemon Ricotta Pasta – Step By Step Photos
Zest and juice one lemon. You'll need about ½ tsp of zest and 1 Tbsp juice.
Cook 8oz. pasta according to the package directions (boil for 7-10 minutes, or until tender). Reserve about 1 cup of the starchy pasta water before draining.
Add 1 cup of frozen peas to a colander, then pour the boiled pasta over top to thaw the peas as you drain the pasta.
Add 1 Tbsp butter and 1 clove garlic to a large skillet. Sauté over medium heat for 1-2 minutes, or just until the garlic becomes very fragrant.
Add the still-hot pasta and peas to the skillet along with about ½ cup of the hot reserved pasta water. Stir to combine, then turn off the heat.
Add 1 cup whole milk ricotta, ¼ cup grated Parmesan, 1 Tbsp lemon juice, and ½ tsp lemon zest to the pasta. Stir until the ingredients are combined, the residual heat from the pasta and skillet have warmed the ricotta, and the ricotta has turned into a creamy sauce.
Add more of the reserved pasta water if the mixture is too thick or too dry. Season the pasta with salt, pepper, and crushed red pepper to taste.
Enjoy the lemon ricotta pasta while still warm!
The post Lemon Ricotta Pasta appeared first on Budget Bytes.