Perfect Oatmeal Cookies
https://www.loveandlemons.com/oatmeal-cookies/
Happy Friday! I'm so excited to share these oatmeal cookies with you today because they truly are the best. A few weeks ago, I got an intense craving for a good oatmeal raisin cookie. I ran to the kitchen and hastily threw together ingredients that I happened to have on hand and, without really measuring, I made some ok oat-ball kind of cookies. They halfway hit the spot, but my craving continued. So when I flipped through Sarah Copeland's beautiful new book Every Day is Saturday, her oatmeal cookie recipe grabbed my attention.
Sarah writes, "there are three kinds of oatmeal cookie: over-sugared and raisin-laden; too wholesome (a hippie cookie in disguise); and then these little nuggets of joy you can't stop eating – that just right kind of cookie. These live in the third camp: sugar under control, but present, and no skimping on the butter (although I used coconut oil and they were still perfect). Cinnamon and vanilla give these big flavor. And for the sweet-toothed, a sprinkling of raisins, and buttery pecans (I used walnuts) do the trick."
My personal verdict? These cookies totally hit the spot! They were exactly what I was craving, the only problem is that they disappeared too quickly!
Sarah is the author of some of my favorite cookbooks including the Newlywed Cookbook and Feast. Her newest book, Every Day is Saturday, is a gorgeous book full of recipes that are easy and doable for weekdays but that will infuse a dreamy weekend vibe into your everyday.
Oatmeal Cookie Recipe Ingredients
The ingredients to this recipe are simple – you likely already have them in your pantry!
All-purpose flour and whole rolled oats are the base of the dough.
Baking powder and baking soda make them nice & puffy.
Brown sugar adds the perfect caramelized sweetness.
Sea salt offsets the sweet sugar and raisins.
Cinnamon and vanilla extract give them that delicious warm, spiced oatmeal cookie flavor.
Coconut oil or melted butter adds moisture and richness. I used coconut oil, and these tasted wonderfully buttery just the same!
1 large egg + an extra egg yolk give them a rich, thick dough and a moist, light final texture.
Raisins dot them with chewy pops of sweetness.
And walnuts add nuttiness and crunch.
How to Make Oatmeal Raisin Cookies
Making this oatmeal raisin cookie recipe couldn't be easier. Here's what you need to do:
In separate bowls, whisk together the dry and wet ingredients.
Pour the wet ingredients into the bowl with the dry ingredients and mix until just combined.
Fold in the oats, raisins, and walnuts. The mixture will be thick!
Let the dough rest for 20 minutes. Then, roll it into balls.
Bake the balls at 350 degrees for 10-11 minutes, until nicely golden brown.
When you take the cookies out of the oven, they should look slightly under-baked. Don't worry, though – leave them on the hot baking sheets for 5 minutes out of the oven, and they'll be delectably soft and chewy.
After 5 minutes, transfer the cookies to a wire rack to cool completely, and enjoy!
Oatmeal Cookie Recipe Tips
Sarah has a few excellent pointers in her book. These are her tips for making the best oatmeal raisin cookies:
Use brown sugar. Instead of using a mix of brown sugar and granulated sugar, Sarah opts for all brown sugar. It gives these oatmeal raisin cookies a delicious caramelized sweetness.
Go for melted, not creamed, butter. According to Sarah, creamed butter cookies are unpredictable: they can easily spread too much or be too firm. With melted butter, though, you'll get moist, chewy cookies every time.
Let the dough rest 20 minutes before baking. Those 20 minutes will make your dough easier to roll into balls, so the cookies will keep their shape and develop a yummy chewy texture in the oven.
Allow the cookies to cool completely for the best texture and flavor. It may be agony, but letting these oatmeal raisin cookies cool completely only makes them better. They'll be chewier and fully infused with brown sugar flavor. Sarah likes these best a few hours to 1 day after baking. (Though I can attest that they're still good if you can't wait that long.)
My Favorite Variations for Oatmeal Cookies
If you follow this recipe as written, you absolutely will not be disappointed: these oatmeal cookies are buttery, nutty, and perfectly spiced. If you want to step outside the traditional oatmeal raisin cookie box, though, here are a few suggestions to change them up:
Substitute chocolate chips for the raisins to make oatmeal chocolate chip cookies, or use a mix of both.
Try using pecans instead of walnuts.
Swap the raisins for dried cherries or cranberries.
Add a dash of cardamom or ginger to the dough.
Skip the raisins and use butterscotch chips or a mix of chocolate and butterscotch chips for extra-buttery flavor.
What's your favorite way to make oatmeal cookies? Let me know in the comments!
Make-Ahead Oatmeal Cookies
If you're someone who likes to keep cookie dough on hand in the fridge or freezer, this oatmeal cookie recipe is for you. You can mix up the dough and keep it in the fridge for 7-10 days or freeze it for up to a month.
To store the dough, roll it into balls and freeze them briefly. Then, transfer them to airtight plastic containers or Ziploc bags and refrigerate or freeze. You can also roll the dough into a log, using an 8×12-inch piece of parchment paper as a guide. Wrap the log tightly in parchment to refrigerate or freeze, and slice the cookies into rounds before baking.
Bake your cookie dough straight from the fridge. If it's frozen, allow it to rest for 15 minutes at room temperature before putting it in the oven.
If you love this oatmeal raisin cookie recipe…
Try these apple cookies, these pumpkin cookies, these sugar cookies, or these breakfast cookies next!
And be sure to check out Every Day is Saturday! I know you'll love it!
Perfect Oatmeal Raisin Cookies
Author: Sarah Copeland
Recipe type: Dessert
1 cup all-purpose flour
½ teaspoon baking soda
½ teaspoon baking powder
½ teaspoon sea salt
½ teaspoon cinnamon
½ cup coconut oil or butter, melted
¾ cup packed brown sugar
1 large egg
1 large egg yolk
2 teaspoons vanilla
1½ cup whole rolled oats
¾ cup raisins
½ cup chopped walnuts, optional
Preheat the oven to 350°F and line two baking sheets with parchment paper.
Combine the flour, baking soda, baking powder, salt, and cinnamon in a large bowl. In a separate bowl, whisk together the melted coconut oil, sugar, whole egg, egg yolk, and vanilla, whisking vigorously.
Stir the wet ingredients into the dry ingredients. Stir in the oats, raisins, and walnuts, if using, folding into a tight batter. Set the dough aside for 20 minutes while the oven preheats.
Scoop into 20 tablespoon-sized balls and roll lightly in barely damp hands to make them round. Spread out onto the prepared baking sheets and bake until puffed, golden, and a touch underbaked-looking, 10 to 11 minutes. Let cool on the pans for 5 minutes before transferring to a wire rack to cool completely.
3.4.3177
Here's a quickie recipe for those nights when you just need something fast and delicious. This Lemon Ricotta Pasta is super fast, light, and fresh, which makes it perfect for an easy weeknight dinner during the summer. The bright lemon flavor perfectly compliments the light and creamy ricotta, and the little pops of sweetness from the peas make every bite a little more interesting. Simple, fresh, and easy.
Originally posted 3-4-2011, updated 6-8-2022.
Do I Have to Use Fresh Lemon?
This is one of those recipes where you really do want to use a fresh lemon instead of bottled juice. The zest from the lemon adds a ton of bright, summery lemon flavor to the pasta without making the sauce too sour. We add just a little of the juice to balance the creaminess of the ricotta, but the zest is where you're getting all that gorgeous sunny lemon flavor!
Not All Ricotta is Created Equal
I find there is quite a bit of variation in the quality of ricotta from brand to brand. Some are smooth, mild, and sweet like fresh milk, while others are bland and grainy. My preferred brand is Galbani, but they didn't have any at the store when I went, so I got the generic Kroger brand. It was definitely a bit grainy, but the pasta was still quite delicious despite that!
Also, make sure to get whole milk ricotta. Low-fat ricotta just doesn't hit the same in this recipe.
What Else Can I Add?
This simple pasta is a great jumping-off point for making a more elaborate pasta, if that's what you're in the mood for. Try adding some sliced chicken breast, fresh basil, or fresh spinach. Garlic butter shrimp would also go great with this pasta!
What to Serve with Lemon Ricotta Pasta
This pasta is so light and fresh that I suggest keeping any side dishes really simple, light, and fresh as well. I would go with a super simple side salad, or maybe some roasted asparagus and tomatoes.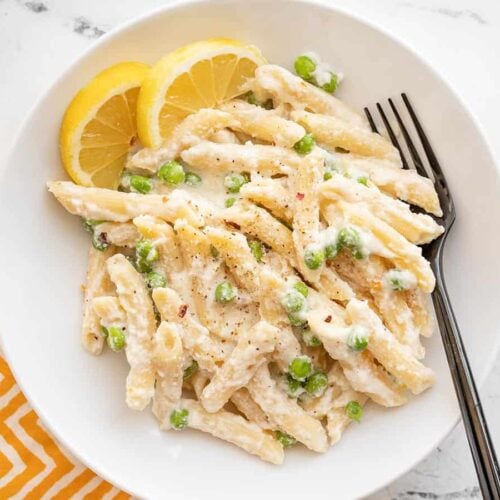 Lemon Ricotta Pasta
Lemon Ricotta Pasta is light, fresh, and quick to prepare, making it the perfect pasta for weeknight dinners in the summer.
Ingredients
1

lemon

$0.89

8

oz.

pasta*

$0.67

1

cup

frozen peas

$0.50

1

clove

garlic, minced

$0.08

1

Tbsp

butter

$0.11

1

cup

whole milk ricotta

$1.60

1/4

cup

grated Parmesan

$0.36

1/4

tsp

salt (or to taste)

$0.02

1/4

tsp

freshly cracked black pepper (or to taste)

$0.02

1

pinch

crushed red pepper (or to taste)

$0.02
Instructions
Zest and juice the lemon. You'll need about ½ tsp zest and 1 Tbsp lemon juice.

Cook the pasta according to the package directions (boil for 7-10 minutes, or until tender). Before draining, reserve about 1 cup of the starchy water from the pot.

Place the frozen peas in the colander before draining the pasta so the pasta will thaw the peas as it drains.

Add the butter and minced garlic to a large skillet and sauté over medium heat for 1-2 minutes, or just until the garlic is fragrant.

Add the drained pasta and peas, and about ½ cup of the starchy pasta cooking water to the skillet with the butter and garlic. Stir to combine, then turn off the heat.

Add the ricotta, Parmesan, 1 tablespoon lemon juice, and ½ teaspoon lemon zest to the skillet. Stir until everything is well combined, the residual heat from the skillet and pasta have warmed the ricotta, and the ricotta has formed a creamy sauce. Add more of the warm reserved pasta water if needed.

Season the pasta with salt, pepper, and crushed red pepper to taste. Serve warm.
Notes
*Use any short shape pasta.
Nutrition
Serving:
1
serving
|
Calories:
400
kcal
|
Carbohydrates:
51
g
|
Protein:
18
g
|
Fat:
14
g
|
Sodium:
335
mg
|
Fiber:
4
g
How to Make Lemon Ricotta Pasta – Step By Step Photos
Zest and juice one lemon. You'll need about ½ tsp of zest and 1 Tbsp juice.
Cook 8oz. pasta according to the package directions (boil for 7-10 minutes, or until tender). Reserve about 1 cup of the starchy pasta water before draining.
Add 1 cup of frozen peas to a colander, then pour the boiled pasta over top to thaw the peas as you drain the pasta.
Add 1 Tbsp butter and 1 clove garlic to a large skillet. Sauté over medium heat for 1-2 minutes, or just until the garlic becomes very fragrant.
Add the still-hot pasta and peas to the skillet along with about ½ cup of the hot reserved pasta water. Stir to combine, then turn off the heat.
Add 1 cup whole milk ricotta, ¼ cup grated Parmesan, 1 Tbsp lemon juice, and ½ tsp lemon zest to the pasta. Stir until the ingredients are combined, the residual heat from the pasta and skillet have warmed the ricotta, and the ricotta has turned into a creamy sauce.
Add more of the reserved pasta water if the mixture is too thick or too dry. Season the pasta with salt, pepper, and crushed red pepper to taste.
Enjoy the lemon ricotta pasta while still warm!
The post Lemon Ricotta Pasta appeared first on Budget Bytes.