Our Guide to Barcelona
https://greenkitchenstories.com/our-guide-to-barcelona/
We love Barcelona and if you are following us on social media you might have noticed that we return there in the summers. Our family has an apartment in the Raval area and Barcelona has therefore become almost like a second home to us. It has that rare combination of big city vibe, great weather and long beaches. We have shared a few recommendations on instagram but we wanted to put together a more proper guide of the places we like to visit for good food and family friendly places.
We are leaving out the Gaudí attractions, the Picasso museum and all other regular tourist attractions and focus on good vegetable centered places to eat, great coffee and delicious ice cream. There are thousands of restaurants and places in Barcelona and this is by no means a complete guide. But it's the places that we often return to or have been recommended by people that know our preferences. If you think we have missed something good, please leave a comment and we might include it when we update the guide.
We have also marked all these places in a Green Kitchen Barcelona on Google Maps so you can easily find them. And to make things even better, we also marked all our favorite playgrounds because they can be pretty tricky to find. (If you don't have kids you can just close that layer.)
Thanks for following along and enjoy Barcelona!
Cafés
– Satans Coffee – This has been one of our favorite coffee bars for years. It's hidden away in an alley in Gotica. Apart from awesome coffee they serve a couple of cool food options and served quinoa bircher before we did 🙂
– Caravelle – This place quickly became one of our favorites. The ambience and service is great and the coffee is on spot. The food are inventive and taste amazing. You can easily ask for your flat white with oat milk and their cow's milk comes from small farm just outside Barcelona.
– Little Fern Cafe – A New Zealand / Aussie style cafe in Pobleneu with lots of modern veggie options and great coffee. We loved the corn fritters and avocado and smashed pea sandwich. 
– Federal Cafe – A typical hipster place with cool interior and good coffee. They allow laptops so we go here when we need to work and enjoy a tomato and melted cheese croissant sandwich.
– Bohl – If you are looking for smoothie bowls and porridge bowls in Barcelona, this is the place to go. A beautiful location located in the Eixample neighborhood.
– Nømad Coffee Lab & Shop – Specialty coffee roasters with 3 locations serving hot coffee and signature cold brew.
– Onna Coffee – Serious coffee café, making their coffee with small batch hand-roasted coffee beans. You can find sweet breakfast and match lattes too. Located in the nice neighbourhood Grácia.
Restaurants 
– Bormuth – A classic catalan tapas restaurant in Born that we always return to. It's decently priced and has many good vegetarian tapas options. Try the red pepper and goat's cheese, the aubergine with honey and the wilted spinach with pine nuts and raisins.
– Teresa Carles / Flax & Kale  – This is a vegetarian institution in Barcelona. Famous for their creative vegetarian food, colorful smoothies and beautiful locations. Teresa Carles was the first restaurant but now they have a few more have two sister restaurants and also Teresas Stairway as their third location focused on smoothies and smaller bites. A little pricey but shouldn't be missed if you are a vegetarian visiting Barcelona.
– El Jardi – A little tapas and drink bar hiding inside a garden in the middle of busy Raval. They often have live music in the afternoons and then it's well worth stopping by for a drink and a snack.
– Bar Lobo -A fancier tapas bar on a quieter street just behind La Rambla. The food is good and the location is pretty although a little expensive. It's a good place to bring friends to as they have a big outdoor seating area in the sun, but you might want to reserve a table first.
– Tantarantana – An old favorite tapas restaurant in Born that we have visited for years. Food and service are great and they make the best fried aubergine.
– Honest Greens – New cool and huge restaurant and café with breakfast, lunch and dinner and a separate coffee bar with healthy-ish treats and snacks. Perfect if you are around Plaça de Catalunya and are looking for something green. Extra points for their kombucha on tap.
– The Green Spot – A fancier vegetarian restaurant right in the beginning of Barceloneta. We have tried their charcoal pizza with zucchini and smoked burrata, root carpaccio with spirulina and iced turmeric latte with espresso.
– Parking Pita / Parking Pizza – These two neighbor places were recommended to us by a bunch of people but we went there without checking their opening hours and came before they were open for dinner (kids life!). We didn't have time to go back but will def try it next time we are in town. The photos on their instagram look great.
– Sopa Barcelona – We haven't made it here yet but heard that we should go for good vegetarian food and soups. Might be worth a visit if you are in the Poblenou neighborhood.
– Baldomero – We haven't made it here yet, but it has been recommended to us by many. And the photos on their instagram looks aesthetically pleasing with shades of pink and a communal style kitchen.
– Väcka – A small vegan place with lots of fun and creative vegan burgers, waffles, vegan cheeses and cakes.
Ice Cream Bars
– Gocce Di Latte – A great ice cream bar between Born and Barceloneta. We often stop by here own the way back from the beach. They have an all vegan location around the corner.
– Amorino gelato – Super touristy but our kids love that they shape their ice cream into roses. They have serval locations in the city, we usually go to the Portaferrissa street.
– Dela Crem – Several people tipped us about this ice cream place which is located on a cosy walking street with several nice cafes and restaurants a little north of Plaça Catalunya. The salted pistachio ice cream was insanely good and their coffee and mascarpone too.
– Bar Campana – Located next to a cute courtyard in Born. Worth a stop for their coffee ice cream and good nougat flavors too.
– Paralello Gelato – Artisinal ice cream shop. We actually never made it here but it's on our list for next time.
STORES
– Veritas – This is an organic supermarket where we go if we want decently priced and clean ingredient products like nut butters, plant milks, quinoa, vegan ice creams, kombucha, veggie sausages, the best tempeh and tofu. We often stop by here during our first days and stock up on things that we enjoy to keep at home. 
– La Bouqeria – The classic market in Barcelona filled with colorful and creatively displayed fruit and vegetables, (sweetened) fruit juices, nuts, cheeses, restaurants (and meats)
– Santa Caterina Market – This is a similar market to La Bouqeria but indoor with a little less tourists.
– Ferment 9 – An entire shop and workshop space devoted to ferments like sauerkraut, kimchi, vegetables and kombucha. If you love bubbles and gut friendly bacterias, you must stop by and if you haven't tried it yet, go and get your ferment addiction started.
– Origo – An organic sourdough bakery in Graçia, in case you get tired of the standard Spanish baguette type of bread.
Things to do with kids
There are plenty of small playgrounds spread out in every neighborhood in Barcelona and many of them also have a coffee shop or tapas bar next door which we think is excellent. They aren't really marked on any official maps, so we have marked a few of our favorite playgrounds on our Google Map so you easily can find them. If you are looking for larger playgrounds, check out the parks Joan Miro, 
– Labyrinth de Hoerta – Take the metro here and walk up through the peaceful garden, watch the old fountains and then get lost in the large garden labyrinth. We usually bring lunch and have it there as there aren't any good food options. They have a pretty fun playground as well. 
– Tibidabo Amusement Park – A little tivoli on top of a mountain with a view over Barcelona. It's a fun day trip if you have kids but bring food as they don't have many vegetarian options other than fries and popcorn.
– Beach – Barceloneta is a long beach that can be reached within a 15 minute walk from La Rambla. It's well taken care of and have lots of lifeguards although water can get a little dirty as with most city beaches. If you rent a bike, it's worth riding a bit further away to Bogatell beach and further on. Water gets cleaner and it gets a little less crowded. If you are in Bogatell, you should also take a walk up the beautiful Rambla del Poblenou after the beach.
– Swimming Pools – There aren't that many great swimming pools for kids (unless you want to invade one of the hotels). However, if your kids can swim you should go up to one of the two swimming pools on Montjuic. Both places only have deep pools but they are reasonably priced and have 50 meters pools. Piscina Municipal de Montjuïc has an amazing panoramic view over the city but apart from that it's all very basic with no sunbeds or shadow places. Piscines Bernat Picornell don't have the view but it has both an indoor and an outdoor pool, lifeguards, sunbeds and a little café.
Here's a quickie recipe for those nights when you just need something fast and delicious. This Lemon Ricotta Pasta is super fast, light, and fresh, which makes it perfect for an easy weeknight dinner during the summer. The bright lemon flavor perfectly compliments the light and creamy ricotta, and the little pops of sweetness from the peas make every bite a little more interesting. Simple, fresh, and easy.
Originally posted 3-4-2011, updated 6-8-2022.
Do I Have to Use Fresh Lemon?
This is one of those recipes where you really do want to use a fresh lemon instead of bottled juice. The zest from the lemon adds a ton of bright, summery lemon flavor to the pasta without making the sauce too sour. We add just a little of the juice to balance the creaminess of the ricotta, but the zest is where you're getting all that gorgeous sunny lemon flavor!
Not All Ricotta is Created Equal
I find there is quite a bit of variation in the quality of ricotta from brand to brand. Some are smooth, mild, and sweet like fresh milk, while others are bland and grainy. My preferred brand is Galbani, but they didn't have any at the store when I went, so I got the generic Kroger brand. It was definitely a bit grainy, but the pasta was still quite delicious despite that!
Also, make sure to get whole milk ricotta. Low-fat ricotta just doesn't hit the same in this recipe.
What Else Can I Add?
This simple pasta is a great jumping-off point for making a more elaborate pasta, if that's what you're in the mood for. Try adding some sliced chicken breast, fresh basil, or fresh spinach. Garlic butter shrimp would also go great with this pasta!
What to Serve with Lemon Ricotta Pasta
This pasta is so light and fresh that I suggest keeping any side dishes really simple, light, and fresh as well. I would go with a super simple side salad, or maybe some roasted asparagus and tomatoes.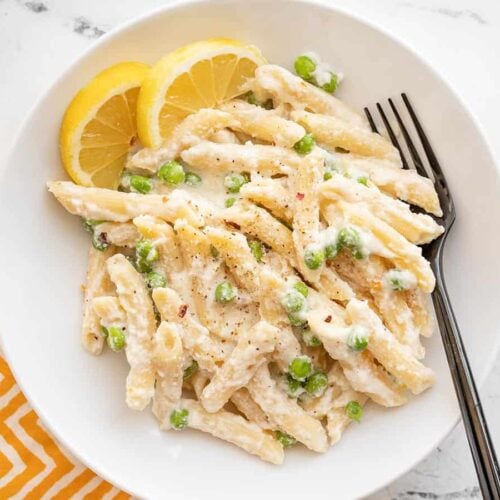 Lemon Ricotta Pasta
Lemon Ricotta Pasta is light, fresh, and quick to prepare, making it the perfect pasta for weeknight dinners in the summer.
Ingredients
1

lemon

$0.89

8

oz.

pasta*

$0.67

1

cup

frozen peas

$0.50

1

clove

garlic, minced

$0.08

1

Tbsp

butter

$0.11

1

cup

whole milk ricotta

$1.60

1/4

cup

grated Parmesan

$0.36

1/4

tsp

salt (or to taste)

$0.02

1/4

tsp

freshly cracked black pepper (or to taste)

$0.02

1

pinch

crushed red pepper (or to taste)

$0.02
Instructions
Zest and juice the lemon. You'll need about ½ tsp zest and 1 Tbsp lemon juice.

Cook the pasta according to the package directions (boil for 7-10 minutes, or until tender). Before draining, reserve about 1 cup of the starchy water from the pot.

Place the frozen peas in the colander before draining the pasta so the pasta will thaw the peas as it drains.

Add the butter and minced garlic to a large skillet and sauté over medium heat for 1-2 minutes, or just until the garlic is fragrant.

Add the drained pasta and peas, and about ½ cup of the starchy pasta cooking water to the skillet with the butter and garlic. Stir to combine, then turn off the heat.

Add the ricotta, Parmesan, 1 tablespoon lemon juice, and ½ teaspoon lemon zest to the skillet. Stir until everything is well combined, the residual heat from the skillet and pasta have warmed the ricotta, and the ricotta has formed a creamy sauce. Add more of the warm reserved pasta water if needed.

Season the pasta with salt, pepper, and crushed red pepper to taste. Serve warm.
Notes
*Use any short shape pasta.
Nutrition
Serving:
1
serving
|
Calories:
400
kcal
|
Carbohydrates:
51
g
|
Protein:
18
g
|
Fat:
14
g
|
Sodium:
335
mg
|
Fiber:
4
g
How to Make Lemon Ricotta Pasta – Step By Step Photos
Zest and juice one lemon. You'll need about ½ tsp of zest and 1 Tbsp juice.
Cook 8oz. pasta according to the package directions (boil for 7-10 minutes, or until tender). Reserve about 1 cup of the starchy pasta water before draining.
Add 1 cup of frozen peas to a colander, then pour the boiled pasta over top to thaw the peas as you drain the pasta.
Add 1 Tbsp butter and 1 clove garlic to a large skillet. Sauté over medium heat for 1-2 minutes, or just until the garlic becomes very fragrant.
Add the still-hot pasta and peas to the skillet along with about ½ cup of the hot reserved pasta water. Stir to combine, then turn off the heat.
Add 1 cup whole milk ricotta, ¼ cup grated Parmesan, 1 Tbsp lemon juice, and ½ tsp lemon zest to the pasta. Stir until the ingredients are combined, the residual heat from the pasta and skillet have warmed the ricotta, and the ricotta has turned into a creamy sauce.
Add more of the reserved pasta water if the mixture is too thick or too dry. Season the pasta with salt, pepper, and crushed red pepper to taste.
Enjoy the lemon ricotta pasta while still warm!
The post Lemon Ricotta Pasta appeared first on Budget Bytes.