How To Make the Creamy, Toasted Coconut Milk of Your Dreams
http://feeds.101cookbooks.com/~r/101Cookbooks/~3/9ghb6uNdCDg/
Let me start by saying, if you already make your own nut milks at home, you have to try this. I mean – walk to your kitchen, turn the oven dial, and get some coconut in there. You have to trust me here. I started making homemade toasted coconut milk a few months ago, and it has become one of my favorite things. It's creamy, rich, nutty, and intense. I enjoy it immensely on its own, and as an ingredient in other preparations as well. It's a real flavor punch. Imagine all the ways you can use it to make some of your favorite preparations even better. It's great in chai, in morning oatmeal, baked oatmeal(!). You can use it in a wild range of sweet preparations, but it's also good as a way to add a little je ne sais quoi, to broths, soups, and weeknight curries.
You can see how it comes together in a video of the process here, and you can find the recipe down below, as well as a few notes. Let me know if you make it, and if you do, please let me know how you're using it!
A couple notes. If you want to totally geek out on this, play around with the toastiness of your coconut. If you toast coconut deeply, you're going to have a different profile than a more lightly toasted coconut. I tend to ride the dark side of the spectrum, but it's wild the difference between a milk made with lightly toasted versus dark. Both delicious, just different.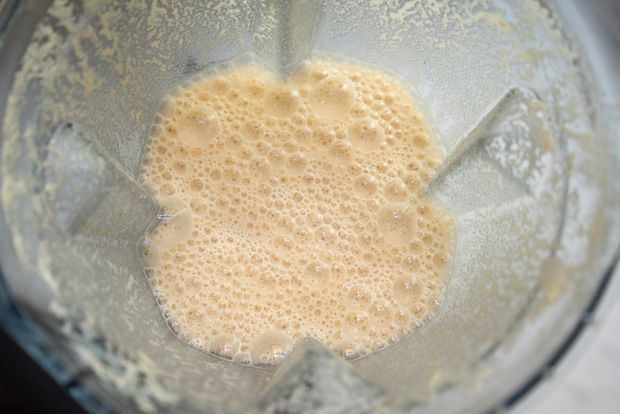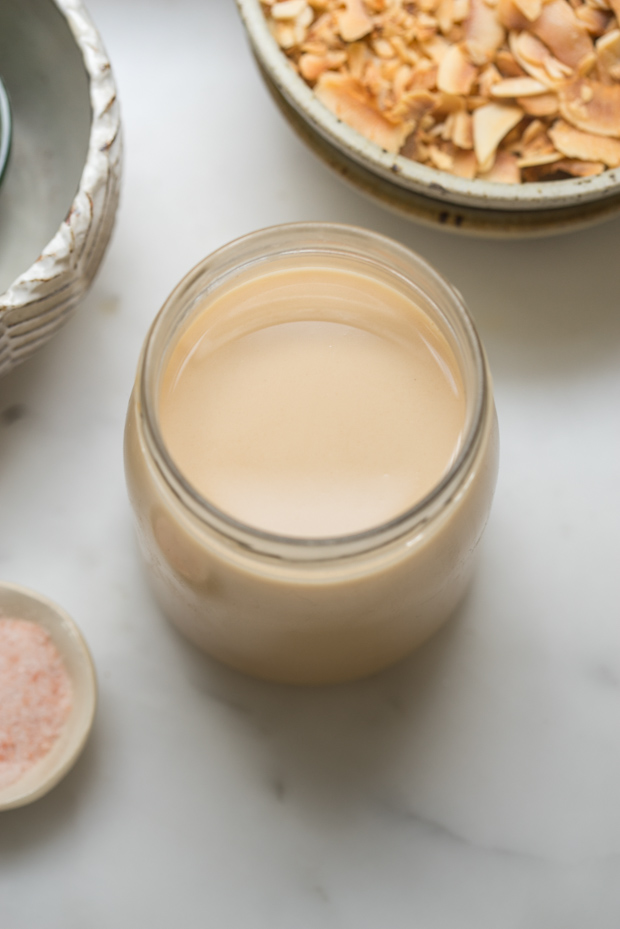 Also, like all pure coconut milk, it will separate. And it solidifies in the refrigerator. Use it as you would canned coconut milk, and expect it to behave similarly (i.e. you might need to warm it up a bit, and give it a good stir before using)…
"I want you to come watch the movie with us ON the couch, not be in the kitchen!"
I've been filling out this one-question-a-day journals for moms that I received for Christmas. It records a little thought or memory over the last year, and then starts again, so you can see how your answers change over a few years. One of the recent ones, prompted me to jot notes about what I am learning as a mom, and I found the question so general I was basically annoyed. I am a romantic, and also wildly pragmatic. In the span of a day I can tear up over the depths of love I feel for my kids, and also wish for them to have a mute button. We all have worlds within us; mothering pushing me into the corners of myself I am sometimes proud of or other corners ashamed of, but am I learning? Yes, every single day. Sometimes in the moment and other times after a particular season. But in 2021, my answer in the bullet journal was that I see my kids are wanting me to play with them. They aren't registering all the service and shuttling and laundry and what it takes to pull off a week, they just want to play WITH me. It's natural for me to move within lists and tasks and responsibilities and hustling, but playing is something I have to pay attention to. For them and for me. We usually do a family movie on Friday nights and my son (6.5), see quote above, pointed out that I don't actually watch the movie, I tinker in the kitchen and he wants me in the couch cuddle. Flattered, and found out that I'd rather make granola than watch The Croods 🙂 So from annoyed, to passing on the question to fellow parents, what are you learning? Try not to be annoyed. Maybe circle back to it.
I published this recipe over on SKCC a few weeks ago and wanted it to live here. We're trying to find more family-friendly vegetarian recipes (it's easy for me to fill up on roasted veggies and big salads, not so much for the kids). This batch lasts us two meals – once with noodles, maybe half zoodles, and the second round on toast or english muffins with cheese melted on top, like a pizza sort of thing? It freezes well and is great to deliver to new parents.
CAULIFLOWER BOLOGNESE
Serves 6
Ingredients
2 Tbsp. of extra virgin olive oil
1 small yellow onion – roughly chopped
3 cloves of garlic
sea salt to taste
pepper to taste
1 head of cauliflower (about ¾ lb. or 12 oz. riced)
1/2 cup of raw walnuts pieces
1/2 tsp. of Italian seasoning
1/2 tsp. of fennel seeds – crushed
2 Tbsp. of tomato paste
2 Tbsp. of balsamic vinegar
1/2 cup of red wine (or broth of any sort, and double the vinegar to mimic the wine's acidity)
28 oz. of canned, crushed tomatoes
1/2 cup of red lentils
red pepper flake to taste
For serving
12 oz. of pasta or choice, zoodles, etc.
parmesan
fresh, torn basil
Directions
In a large Dutch-oven or stockpot, heat the olive oil over medium low heat.
In a food processor, pulse the onion and garlic into smaller bits. Add them to the pot with a big pinch of salt and pepper. Sauté to soften, about 3 minutes.
Pulse up the cauliflower florets to get a rice-like texture. Add the riced-cauliflower to the pot and sauté to soften, about 5 minutes.
Pulse the walnuts in the processor and add those to the pot along with the Italian seasoning, fennel seed, another few generous pinches of salt and pepper, tomato paste and balsamic vinegar. Sauté until fragrant.
Add the red wine, cook about 3 minutes, then add the crushed tomatoes, ½ cup water, lentils, pinch of pepper flakes and stir to combine. Turn the heat to low, put the cover ajar and let it simmer gently for 30-35 minutes. Turn off the heat, taste for seasoning and adjust.
Cook your pasta or zoodles according to instructions. Top with cauli Bolognese, grated cheese, fresh basil and enjoy!
The Bolognese will keep in the fridge for a week and can be frozen for a few months.