How to Make Pesto like an Italian Grandmother
If you've ever tasted pesto in Italy you know that the pesto here in the United States just isn't the same. I received a lesson in how to make pesto from a real Italian grandmother last week and now I understand the difference and what makes this pesto recipe so special.
A Special Pesto
My friend Francesca makes the trip from her small town near the pesto-epicenter of Genoa, Italy to San Francisco once or twice a year – this time (lucky for us) she brought her mom and two-year old son Mattia. Her mom makes a beautiful pesto (and perfectly light, potato gnocchi to go along with it) and offered to show me and my friend Jen how it is done. I have to say, it was a complete game-changer. If you love pesto, you really have to try this. Her technique results in an incredibly special pesto.
Chop by hand or blender?
Most of the pesto you encounter here in the U.S. is different for a few reasons. First off, most of what you see is made by machine, usually a food processor or hand blender. This holds true even if it is homemade. Don't get me wrong, it usually tastes good, but because the ingredients aren't hand chopped you end up with a texture that is more like like a moist paste and there little to no definition between ingredients.
During my lesson I quickly began to realize chopping all the ingredients by hand is key because this prevents the ingredients from becoming a completely homogenized emulsion or paste. When you dress a pasta with a pesto that has been hand chopped the minuscule flecks of basil will separate from the olive oil in places, you get definition between ingredients, and bright flavors pop in a way they don't when they've been blended into one.
Choosing the right basil
Another thing, Genovese pesto is famous in part because it is often made with young, small basil leaves. For us non-Italians it is easy to find Genovese basil in stores and at farmer's markets particularly in the summer, but chances are it wasn't picked young. I wouldn't worry about it too much, simply by hand chopping all your ingredients, you will see a major shift in personality of your pesto.
The technique
If you're serious about making good pesto using the hand-chop technique you'll need a sharp (preferably large, single blade) mezzaluna, or a good knife. The sharpness of your blade absolutely matters – you don't want to bruise or tear your basil. Whatever you use to chop, make sure it has a sharp blade or the basil will turn dark. Chopping the ingredients will take twenty minutes or so. Once you chop your ingredients, you'll form them into a cake, pictured above. You add olive oil to this cake, and it's magic – below.
How to Store Pesto
Store any pesto you might use in the next day or two, refrigerated, under a thin film of olive oil. You can also freeze it in snack-sized baggies. Thaw and toss with whatever gnocchi, ravioli, or other favorite pasta you like – and a good splash of pasta water!
Pesto Variations
Don't limit yourself to basil pesto. You can absolutely experiment with other herbs as well. You can add anything from parsley to marjoram (a favorite!), mint to fresh oregano to your basil base. Or leave the basil out entirely! I like to add citrus zest on occasion, or switch up the type of nuts I use – toasted almonds and walnuts are favorites.
Let me know if you try this and what you think! Use your beautiful fresh pesto with this gnocchi recipe. Or this simple homemade pasta, bruschetta, or cavatelli. Tutto bene!
How to Make Pesto like an Italian Grandmother
One key to perfect pesto is chopping all the ingredients by hand, preferably with a sharp mezzaluna or knife. This pesto will keep a bit in the refrigerator, but it really hits its peak when served soon after it is made. The technique here is: chop a bit, add some ingredients, chop some more. I think part of the reason she does it this way (instead of chopping everything all at once) is because some things get chopped into oblivion, while some, not as much – it encourages spectrum of cut sizes throughout the pesto contributing to the overall texture. All told, the chopping took me a leisurely twenty to thirty minutes, I wasn't in any particular rush.
You'll also notice this recipe doesn't have any added salt (just the saltiness from the cheese), make sure your pasta water is well salted if you are going to use this pesto on pasta or the overall flavor profile will fall flat. Also, be sure to adjust for seasoning before serving. With food this simple, you need to get the seasoning right. Trust your tastebuds.
INGREDIENTS
1

 

large bunch of basil,

 

leaves only, washed and dried

3

 

medium cloves of garlic

one small handful of raw pine nuts

roughly 3/4 cup Parmesan,

 

loosely packed and freshly grated

A few tablespoons of extra-virgin olive oil
Special equipment: a mezzaluna for chopping (optional)
INSTRUCTIONS
Chop Ingredients
Start chopping the garlic along with about 1/3 of the basil leaves. Once this is loosely chopped add more basil, chop some more, add the rest of the basil, chop some more. I scrape and chop, gather and chop. At this point the basil and garlic should be a very fine mince. Add about half the pine nuts, chop. Add the rest of the pine nuts, chop. Add half of the Parmesan, chop. Add the rest of the Parmesan, and chop. In the end you want a chop so fine that you can press all the ingredients into a basil "cake" – see the photo up above. Transfer the pesto "cake" to a small bowl (not much bigger than the cake).
Form a Paste
Cover the pesto "cake" with a bit of olive oil. It doesn't take much, just a few tablespoons. At this point, you can set the pesto aside, or place it in the refrigerator until you are ready to use it. Just before serving, give the pesto a quick stir to incorporate some of the oil into the basil. Francesca's mom occasionally thins the pesto with a splash of pasta water for more coverage, but for our gnocchi this wasn't necessary.
Here's a quickie recipe for those nights when you just need something fast and delicious. This Lemon Ricotta Pasta is super fast, light, and fresh, which makes it perfect for an easy weeknight dinner during the summer. The bright lemon flavor perfectly compliments the light and creamy ricotta, and the little pops of sweetness from the peas make every bite a little more interesting. Simple, fresh, and easy.
Originally posted 3-4-2011, updated 6-8-2022.
Do I Have to Use Fresh Lemon?
This is one of those recipes where you really do want to use a fresh lemon instead of bottled juice. The zest from the lemon adds a ton of bright, summery lemon flavor to the pasta without making the sauce too sour. We add just a little of the juice to balance the creaminess of the ricotta, but the zest is where you're getting all that gorgeous sunny lemon flavor!
Not All Ricotta is Created Equal
I find there is quite a bit of variation in the quality of ricotta from brand to brand. Some are smooth, mild, and sweet like fresh milk, while others are bland and grainy. My preferred brand is Galbani, but they didn't have any at the store when I went, so I got the generic Kroger brand. It was definitely a bit grainy, but the pasta was still quite delicious despite that!
Also, make sure to get whole milk ricotta. Low-fat ricotta just doesn't hit the same in this recipe.
What Else Can I Add?
This simple pasta is a great jumping-off point for making a more elaborate pasta, if that's what you're in the mood for. Try adding some sliced chicken breast, fresh basil, or fresh spinach. Garlic butter shrimp would also go great with this pasta!
What to Serve with Lemon Ricotta Pasta
This pasta is so light and fresh that I suggest keeping any side dishes really simple, light, and fresh as well. I would go with a super simple side salad, or maybe some roasted asparagus and tomatoes.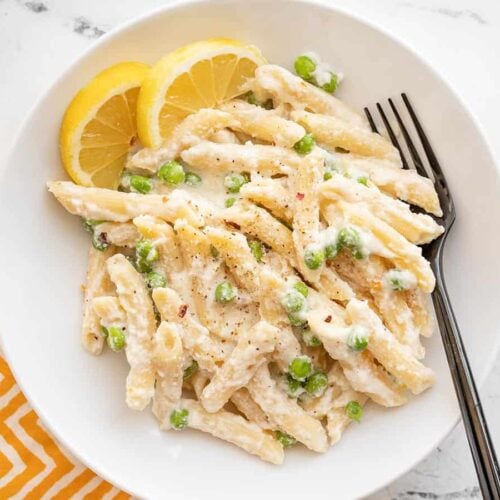 Lemon Ricotta Pasta
Lemon Ricotta Pasta is light, fresh, and quick to prepare, making it the perfect pasta for weeknight dinners in the summer.
Ingredients
1

lemon

$0.89

8

oz.

pasta*

$0.67

1

cup

frozen peas

$0.50

1

clove

garlic, minced

$0.08

1

Tbsp

butter

$0.11

1

cup

whole milk ricotta

$1.60

1/4

cup

grated Parmesan

$0.36

1/4

tsp

salt (or to taste)

$0.02

1/4

tsp

freshly cracked black pepper (or to taste)

$0.02

1

pinch

crushed red pepper (or to taste)

$0.02
Instructions
Zest and juice the lemon. You'll need about ½ tsp zest and 1 Tbsp lemon juice.

Cook the pasta according to the package directions (boil for 7-10 minutes, or until tender). Before draining, reserve about 1 cup of the starchy water from the pot.

Place the frozen peas in the colander before draining the pasta so the pasta will thaw the peas as it drains.

Add the butter and minced garlic to a large skillet and sauté over medium heat for 1-2 minutes, or just until the garlic is fragrant.

Add the drained pasta and peas, and about ½ cup of the starchy pasta cooking water to the skillet with the butter and garlic. Stir to combine, then turn off the heat.

Add the ricotta, Parmesan, 1 tablespoon lemon juice, and ½ teaspoon lemon zest to the skillet. Stir until everything is well combined, the residual heat from the skillet and pasta have warmed the ricotta, and the ricotta has formed a creamy sauce. Add more of the warm reserved pasta water if needed.

Season the pasta with salt, pepper, and crushed red pepper to taste. Serve warm.
Notes
*Use any short shape pasta.
Nutrition
Serving:
1
serving
|
Calories:
400
kcal
|
Carbohydrates:
51
g
|
Protein:
18
g
|
Fat:
14
g
|
Sodium:
335
mg
|
Fiber:
4
g
How to Make Lemon Ricotta Pasta – Step By Step Photos
Zest and juice one lemon. You'll need about ½ tsp of zest and 1 Tbsp juice.
Cook 8oz. pasta according to the package directions (boil for 7-10 minutes, or until tender). Reserve about 1 cup of the starchy pasta water before draining.
Add 1 cup of frozen peas to a colander, then pour the boiled pasta over top to thaw the peas as you drain the pasta.
Add 1 Tbsp butter and 1 clove garlic to a large skillet. Sauté over medium heat for 1-2 minutes, or just until the garlic becomes very fragrant.
Add the still-hot pasta and peas to the skillet along with about ½ cup of the hot reserved pasta water. Stir to combine, then turn off the heat.
Add 1 cup whole milk ricotta, ¼ cup grated Parmesan, 1 Tbsp lemon juice, and ½ tsp lemon zest to the pasta. Stir until the ingredients are combined, the residual heat from the pasta and skillet have warmed the ricotta, and the ricotta has turned into a creamy sauce.
Add more of the reserved pasta water if the mixture is too thick or too dry. Season the pasta with salt, pepper, and crushed red pepper to taste.
Enjoy the lemon ricotta pasta while still warm!
The post Lemon Ricotta Pasta appeared first on Budget Bytes.