If you know how to cook quinoa perfectly, you're on your way to a wide range of amazing meals. It's a fantastic adventure to cook your way through the world's wonderful heirloom grains (and grain-like seeds), and quinoa is one of them. The trick to nailing the perfect fluffy pot of quinoa is using the right ratio of water to quinoa and knowing a few little tricks. While I initially purchased quinoa for its nutritional perks (of which there are many) I kept purchasing it for its grassy taste and fluffed up, creamy-while-crunchy texture.
What is Quinoa?
Quinoa [Keen-wah] is a fantastic grain to utilize in year-round cooking. It has long been celebrated as a nutritional powerhouse – protein-rich, delicious, and charmingly versatile. Technically not a true grain, it is related botanically to Swiss chard and beets, but it is grain-like in spirit when it comes to cooking.
Which Color Quinoa is Best?
Quinoa grows in a wide range of colors. The most commonly available in the U.S. are red, brown, black, and ivory. You can also buy tri-color blends of quinoas. Most quinoa tastes very similar to me. White often cooks up fluffiest. The colors have very similar nutritional profiles, although I suspect red and black quinoa have increased phytonutrients. Black can also take a few extra minutes to cook. The biggest difference to me is visual impact. I tend to go with the ivory quinoa if making a meal for someone who might not be a very adventurous eater, or picky kids. The light colored quinoa tends to blend or bake right into things seamlessly. That said, I love the visual punch colored quinoa delivers to pizza crusts, muffins, grain bowls, and the like. So that's usually my choice.
Why Do I Need to Rinse Quinoa?
This is a thing. Always rinse quinoa before using to remove bitter saponin coating (which the plant produces to deter  birds and insects).
Quinoa Cooking Basics
What kind of quinoa should I buy? Consider sourcing fair-trade and organic quinoa. This supports local farm communities, and helps preserve the health and integrity of the land and farming communities.
Can I use a rice cooker to cook quinoa? Yes, absolutely. Use the following water (or broth) to quinoa ratio and follow the manufacturer's instructions.
Can I use a donabe to cook quinoa? Yes! I use my clay pot donabe to cook quinoa often. Use gentle heat, the ratio below, and the same technique you would use to cook rice.
How much water to quinoa should I use? This has been an ever-evolving issue for me over the years. And I've landed on 1 cup quinoa to 1 2/3 cups liquid. A steady, gentle simmer for about 20 minutes, covered, will result in a beautiful pot of quinoa. Just fluff with a fork and enjoy.
Get Creative! Cook Your Quinoa with Flavor
Nearly every basic quinoa recipe will instruct you to use water to cook your quinoa. I think this is great advice your first few times through. You can get a real sense of the flavor of quinoa by keeping it simple. Just know, there is a world of flavor to explore beyond that! I love to cook my quinoa with strong broths. A dollop of curry paste is always welcome for a jolt of flavor. Or you can experiment with spices like turmeric, powdered chiles, or seaweeds, or mushroom powders. Chopped garlic? Yes! Miso? So good. The realm of possibilities is endless.
How Can I Add Quinoa to My Baking?
Stir leftover quinoa into all your favorite baked goods for more interesting flavor, texture, and nutritional punch. The key here is experimenting. Stir a cup of cooked, room-temperature quinoa into your favorite muffin mix. Or cut it into your best pie crust, or biscuit dough. This amount is usually a good place to start until you get a feel for things. Make notes! Then, add more or less quinoa the next time through. This is one of my favorite baking pro-tips. Once you start adding things like quinoa or millet to your baking, all-white flour baking gets less and less interesting.
How to Store Cooked Quinoa
Store leftover quinoa in the refrigerator for up to a few days, beyond that, transfer it to the freezer. It freezes beautifully. When you're ready to use it, bring to room temperature and then transfer to a bowl. Use a fork to break up clumps and make uniform. My motto here is: Fridge, freeze, fluff.
Twenty Favorite Quinoa Recipes
If you're looking for great quinoa recipes, you're in the right place!
Have fun cooking with quinoa! Use it in soups, on salads, as a base for all sorts of quinoa bowls, and as a nutrient-packed alternative to white rice or pasta. Stir it into your batters and fold it into your bread and pizza doughs. If you find you enjoy recipes featuring whole quinoa, there are also other forms of quinoa available. Keep an eye out for quinoa flakes, popped/puffed quinoa as well as quinoa flour. All are delicious, interesting, and easy to incorporate into your cooking. Have fun!
How to Cook Quinoa
Quick and easy, quinoa is great on its own, as well as the basis of many fantastic recipes!
INGREDIENTS
2

 

cups

 

quinoa

 

well-rinsed and drained

3 1/3

 

cups

 

water

1/2

 

tsp

 

fine grain sea salt
INSTRUCTIONS
To cook quinoa combine the quinoa with water and salt in a medium saucepan.

Bring to a boil, cover, decrease the heat, and simmer for 20-ish minutes, covered, or until the quinoa is tender and you can see the little quinoa curlicues. Fluff with a fork and enjoy!
Here's a quickie recipe for those nights when you just need something fast and delicious. This Lemon Ricotta Pasta is super fast, light, and fresh, which makes it perfect for an easy weeknight dinner during the summer. The bright lemon flavor perfectly compliments the light and creamy ricotta, and the little pops of sweetness from the peas make every bite a little more interesting. Simple, fresh, and easy.
Originally posted 3-4-2011, updated 6-8-2022.
Do I Have to Use Fresh Lemon?
This is one of those recipes where you really do want to use a fresh lemon instead of bottled juice. The zest from the lemon adds a ton of bright, summery lemon flavor to the pasta without making the sauce too sour. We add just a little of the juice to balance the creaminess of the ricotta, but the zest is where you're getting all that gorgeous sunny lemon flavor!
Not All Ricotta is Created Equal
I find there is quite a bit of variation in the quality of ricotta from brand to brand. Some are smooth, mild, and sweet like fresh milk, while others are bland and grainy. My preferred brand is Galbani, but they didn't have any at the store when I went, so I got the generic Kroger brand. It was definitely a bit grainy, but the pasta was still quite delicious despite that!
Also, make sure to get whole milk ricotta. Low-fat ricotta just doesn't hit the same in this recipe.
What Else Can I Add?
This simple pasta is a great jumping-off point for making a more elaborate pasta, if that's what you're in the mood for. Try adding some sliced chicken breast, fresh basil, or fresh spinach. Garlic butter shrimp would also go great with this pasta!
What to Serve with Lemon Ricotta Pasta
This pasta is so light and fresh that I suggest keeping any side dishes really simple, light, and fresh as well. I would go with a super simple side salad, or maybe some roasted asparagus and tomatoes.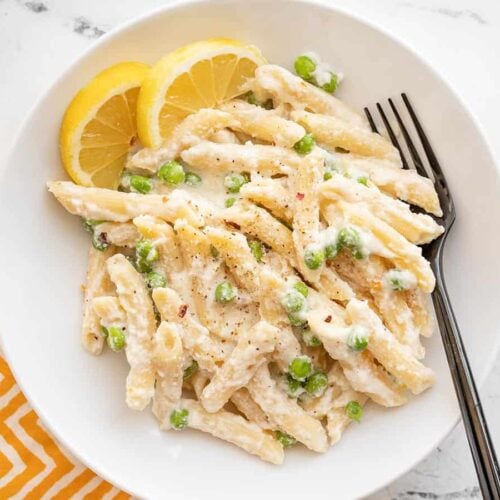 Lemon Ricotta Pasta
Lemon Ricotta Pasta is light, fresh, and quick to prepare, making it the perfect pasta for weeknight dinners in the summer.
Ingredients
1

lemon

$0.89

8

oz.

pasta*

$0.67

1

cup

frozen peas

$0.50

1

clove

garlic, minced

$0.08

1

Tbsp

butter

$0.11

1

cup

whole milk ricotta

$1.60

1/4

cup

grated Parmesan

$0.36

1/4

tsp

salt (or to taste)

$0.02

1/4

tsp

freshly cracked black pepper (or to taste)

$0.02

1

pinch

crushed red pepper (or to taste)

$0.02
Instructions
Zest and juice the lemon. You'll need about ½ tsp zest and 1 Tbsp lemon juice.

Cook the pasta according to the package directions (boil for 7-10 minutes, or until tender). Before draining, reserve about 1 cup of the starchy water from the pot.

Place the frozen peas in the colander before draining the pasta so the pasta will thaw the peas as it drains.

Add the butter and minced garlic to a large skillet and sauté over medium heat for 1-2 minutes, or just until the garlic is fragrant.

Add the drained pasta and peas, and about ½ cup of the starchy pasta cooking water to the skillet with the butter and garlic. Stir to combine, then turn off the heat.

Add the ricotta, Parmesan, 1 tablespoon lemon juice, and ½ teaspoon lemon zest to the skillet. Stir until everything is well combined, the residual heat from the skillet and pasta have warmed the ricotta, and the ricotta has formed a creamy sauce. Add more of the warm reserved pasta water if needed.

Season the pasta with salt, pepper, and crushed red pepper to taste. Serve warm.
Notes
*Use any short shape pasta.
Nutrition
Serving:
1
serving
|
Calories:
400
kcal
|
Carbohydrates:
51
g
|
Protein:
18
g
|
Fat:
14
g
|
Sodium:
335
mg
|
Fiber:
4
g
How to Make Lemon Ricotta Pasta – Step By Step Photos
Zest and juice one lemon. You'll need about ½ tsp of zest and 1 Tbsp juice.
Cook 8oz. pasta according to the package directions (boil for 7-10 minutes, or until tender). Reserve about 1 cup of the starchy pasta water before draining.
Add 1 cup of frozen peas to a colander, then pour the boiled pasta over top to thaw the peas as you drain the pasta.
Add 1 Tbsp butter and 1 clove garlic to a large skillet. Sauté over medium heat for 1-2 minutes, or just until the garlic becomes very fragrant.
Add the still-hot pasta and peas to the skillet along with about ½ cup of the hot reserved pasta water. Stir to combine, then turn off the heat.
Add 1 cup whole milk ricotta, ¼ cup grated Parmesan, 1 Tbsp lemon juice, and ½ tsp lemon zest to the pasta. Stir until the ingredients are combined, the residual heat from the pasta and skillet have warmed the ricotta, and the ricotta has turned into a creamy sauce.
Add more of the reserved pasta water if the mixture is too thick or too dry. Season the pasta with salt, pepper, and crushed red pepper to taste.
Enjoy the lemon ricotta pasta while still warm!
The post Lemon Ricotta Pasta appeared first on Budget Bytes.