This hot toddy recipe is the perfect way to warm up on a cold night! It's a healthier version of the classic cocktail, made with ginger tea & maple.
What are you doing for Halloween? Jack and I are mixing up these hot toddy cocktails and enjoying a fun night in. A perfect celebration in my book! If you don't know what a hot toddy is, it's the consummate cold weather drink. Made with dark whiskey, honey, and lemon, a classic hot toddy is smooth, warming, and bright. It's touted as a home cold and flu remedy, but while it's great for chasing away cold symptoms, it's also delicious any time you're looking for festive drink.
I (of course) kept the traditional lemon and whiskey in this recipe, but I added ginger tea for extra warming flavor and swapped the honey for a little maple syrup. You can make it fancy by garnishing it with orange slices, pomegranates, and fresh thyme – all are optional, but I highly recommend the thyme, as it adds a nice aromatic touch.
Hot Toddy Recipe Ingredients
Here's what you'll need to make this fun, festive hot toddy recipe:
Hot steeped ginger tea – I've tried this recipe with hot water, Earl grey, and black tea, but let me tell you, ginger tea really takes the cake. It gives this drink an extra warm flavor, which is delicious anytime, but especially good if you're relieving a sore throat.
Fresh lemon juice – It's essential for brightening up the dark flavors in this drink.
Maple syrup – I love the caramelized sweetness maple adds, but honey or agave nectar would work too.
Garnishes! I like orange slices, fresh thyme, and pomegranate seeds.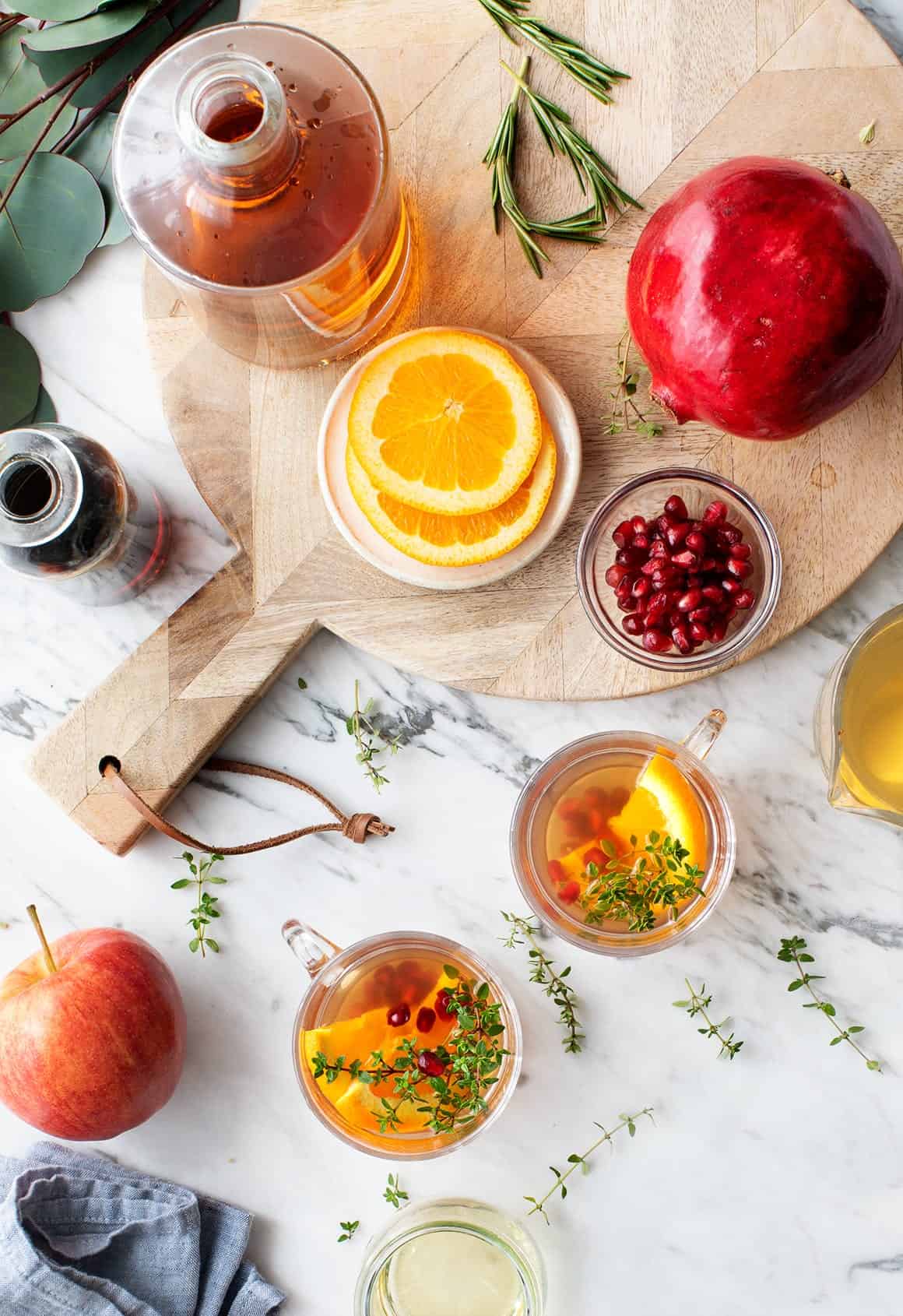 How to Make a Hot Toddy
Follow these easy steps to make these cozy hot cocktails at home:
Mix. Stir together the hot tea, whisky, lemon juice, and maple syrup, and divide the mixture into 2 serving mugs or glasses.
Taste and adjust. Don't skip this step! The key to making a great hot whiskey drink is adjusting the tart and sweet flavors to your liking. If you prefer a sweeter cocktail, add an extra drop of maple, and add more lemon if you like yours brighter.
Garnish. I love to finish my hot toddy with fresh thyme, orange slices, and pomegranates. You could also add a cinnamon stick or a slice of lemon or apple.
Enjoy!
More Favorite Cocktail Recipes
If you love this hot toddy recipe, try one of these favorite cocktail recipes next:
Cheers, friends!
Hot Toddy
Author: Jeanine Donofrio
Recipe type: Beverage
1 cup steeped ginger tea
3 ounces whiskey
2 tablespoons fresh lemon juice
2 teaspoons maple syrup or honey
for garnish: orange or apple slices, pomegranates, fresh thyme
Pour the tea, whisky, lemon juice, and maple syrup in to a liquid measuring glass, stir, and pour into 2 serving mugs or glasses. Adjust sweetener to taste. Garnish with orange or apple slices, pomegranates, and fresh thyme.
Use these ratios as a guide – if you like your cocktail less boozy add more tea, if you like it brighter, add more lemon, if it's too strong/tart, sweeten it with a little extra maple syrup.
I like Traditional Medicinals tea
ginger tea
in this recipe.
3.4.3177