Homemade Falafel
https://www.loveandlemons.com/falafel/
Falafel was the food that first convinced me that a vegetarian diet could be filled with bold, exciting flavors. It's crispy, rich, and satisfying, packed with fresh herbs and aromatic spices. Stuffed into pita bread with veggies, tahini sauce, and a pop of pickled onions, it's insanely flavorful, making it one of my all-time favorite foods.
I included a recipe for red lentil falafel in Love and Lemons Every Day (one of my favorites in the book!), but never before have I shared a classic chickpea-based falafel recipe. Without a doubt, it was worth the wait. I'm picky about my falafel, but these little guys check all the boxes: they're crunchy on the outside, soft in the middle, and loaded with herbs and spices.
What is Falafel?
If you're thinking, "Wait. What is falafel?", you're in for a treat. A traditional Middle Eastern dish, falafel are fried balls of ground chickpeas, which often include parsley, cilantro, and spices such as cumin and coriander. It's a popular street food throughout the Middle East and Europe (if you're ever in Paris, make a stop at L'As du Fallafel), where you can find it stuffed into pitas brimming with fresh veggies, herbs, sauces, and pickles.
I'm not a fan of working with a big vat of hot oil at home, so instead of deep frying my falafel, I bake it. It comes out deliciously crisp just the same, and it's a little lighter than the traditional version. This one is my favorite falafel recipe to date, and I hope you fall for it too!

My Falafel Recipe Ingredients
To make my baked falafel recipe, you need these key ingredients:
Uncooked dried chickpeas. I use soaked dried chickpeas, not canned chickpeas, in this recipe. Soak your dried chickpeas overnight before beginning the recipe, and then blend the soaked chickpeas into the herby falafel mixture.
Shallot and garlic. Together, they add a delicious bite! You can also use yellow onion in place of the shallot.
Lemon zest. It's not traditional, but I love the lemon's zesty brightness in these patties.
Cumin, coriander, and cayenne. This spice blend is warm and aromatic, and the cayenne adds a little heat.
Sea salt. It punches up the rich flavor of the herbs and spices.
Baking powder. Just a pinch makes these balls nice and puffy in the oven.
Cilantro and parsley. I use a good amount to make my falafel bright green and flavorful. There's no need to toss the herb stems for this recipe – blend them straight into the falafel mixture along with the leaves!
Extra-virgin olive oil. I add a tablespoon to the chickpea mixture for richness. In addition, I drizzle the patties with oil before baking so they become nice and crisp in the oven.
How to Make Falafel
Once you've soaked your chickpeas, this recipe is easy to make! Here's what you need to do:
Blend the ingredients. Add the falafel ingredients to a food processor, and pulse until well combined, but not pureed.
Form the falafel balls. Use a 2-tablespoon cookie scoop and your hands to gently form the mixture into 12 to 15 thick patties.
Bake! Drizzle the little cakes with olive oil, and bake, flipping halfway, until they're golden brown and crisp.
Serve, and enjoy! Stuff the cooked falafel into pitas with your favorite fixings, top them onto a salad, or serve them over a bowl. Then, dig in!
Best Baked Falafel Tips
Used dried, NOT canned chickpeas. The perfect cakey, crumbly falafel texture comes from dried chickpeas that have been soaked, but not cooked, before being blended into patties. Make sure to soak dried chickpeas ahead of time to make this recipe. Substituting cooked, canned chickpeas does not work here – your falafel will turn out wet and mushy.
Drizzle the patties generously with oil before baking. Because this falafel recipe is baked, not fried, it automatically uses much less oil than traditional falafel. In order to get your patties nicely crisp and golden brown in the oven, don't hesitate give them a generous drizzle of oil before baking. They'll come out delicious and still be lighter than classic falafel.
Don't pack your patties too tightly. It's tempting to really pack falafel patties together tightly, but doing so will make them tough and dense. Form the falafel balls gently, and if your mixture isn't holding together well, pop it in the fridge to chill for 30 minutes before shaping and baking the patties.
Make a double batch, and freeze the extras. These guys keep well in the freezer, so go ahead and make a double batch to have on hand for salads, bowls, or wraps. To reheat frozen falafel, pop them in a 400-degree oven for 10 minutes, until they're crisp and heated through.
Falafel Serving Suggestions
I love stuffing my falafel into a pita sandwich loaded with chopped tomatoes and cucumbers, fresh herbs, hummus, pickled onions, and generous drizzles of tahini sauce. To customize your pita sandwich, you could easily swap another Middle Eastern sauce like tzatziki or baba ganoush for the hummus, or drizzle it with cilantro lime dressing instead of (or in addition to) the tahini.
If you're not in the mood for pita, top your falafel onto a big salad along with some crispy roasted chickpeas, or serve it over a bed of quinoa, cilantro lime rice, or cauliflower rice with lots of fresh veggies.


And if you're in the market for a side dish, any of these recipes would be excellent with this baked falafel:

Falafel
Author: Jeanine Donofrio
Recipe type: Main dish
1 cup uncooked chickpeas, soaked overnight, drained, rinsed, and patted dry* (see note)
½ cup chopped shallot or yellow onion
3 garlic cloves
1 teaspoon lemon zest
1 teaspoon ground cumin
1 teaspoon ground coriander
¾ teaspoon sea salt
¼ teaspoon cayenne pepper
¼ teaspoon baking powder
1 cup chopped fresh cilantro leaves and stems
1 cup chopped fresh parsley leaves and stems
1 tablespoon extra-virgin olive oil, plus more for drizzling
Preheat the oven to 400°F and line a large baking sheet with parchment paper.
In a large food processor, place the chickpeas (they will be plump but still raw at this point), shallot, garlic, lemon zest, cumin, coriander, salt, cayenne, baking powder, cilantro, parsley, and olive oil. Pulse until well combined but not pureed. Use a spatula to scrape down the sides of the bowl as needed.
Use a 2-tablespoon scoop and your hands to form the mixture into 12 to 15 thick patties (be careful not to pack them too tight or your falafel will be dense). Place the patties on the baking sheet. Drizzle generously with olive oil (this is the key to making these moist and crisp since we're not frying) and bake for 14 minutes. Flip and bake for 10 to 12 minutes more or until golden brown and crisp on the outside. During the last few minutes of baking, wrap the pita in foil and warm in the oven.
Assemble pitas with a slather of hummus, diced veggies, falafel, herbs, pickled red onions, and generous drizzles of tahini sauce.
*Canned chickpeas cannot be substituted in this recipe or your falafel will turn out mushy.
Here's a quickie recipe for those nights when you just need something fast and delicious. This Lemon Ricotta Pasta is super fast, light, and fresh, which makes it perfect for an easy weeknight dinner during the summer. The bright lemon flavor perfectly compliments the light and creamy ricotta, and the little pops of sweetness from the peas make every bite a little more interesting. Simple, fresh, and easy.
Originally posted 3-4-2011, updated 6-8-2022.
Do I Have to Use Fresh Lemon?
This is one of those recipes where you really do want to use a fresh lemon instead of bottled juice. The zest from the lemon adds a ton of bright, summery lemon flavor to the pasta without making the sauce too sour. We add just a little of the juice to balance the creaminess of the ricotta, but the zest is where you're getting all that gorgeous sunny lemon flavor!
Not All Ricotta is Created Equal
I find there is quite a bit of variation in the quality of ricotta from brand to brand. Some are smooth, mild, and sweet like fresh milk, while others are bland and grainy. My preferred brand is Galbani, but they didn't have any at the store when I went, so I got the generic Kroger brand. It was definitely a bit grainy, but the pasta was still quite delicious despite that!
Also, make sure to get whole milk ricotta. Low-fat ricotta just doesn't hit the same in this recipe.
What Else Can I Add?
This simple pasta is a great jumping-off point for making a more elaborate pasta, if that's what you're in the mood for. Try adding some sliced chicken breast, fresh basil, or fresh spinach. Garlic butter shrimp would also go great with this pasta!
What to Serve with Lemon Ricotta Pasta
This pasta is so light and fresh that I suggest keeping any side dishes really simple, light, and fresh as well. I would go with a super simple side salad, or maybe some roasted asparagus and tomatoes.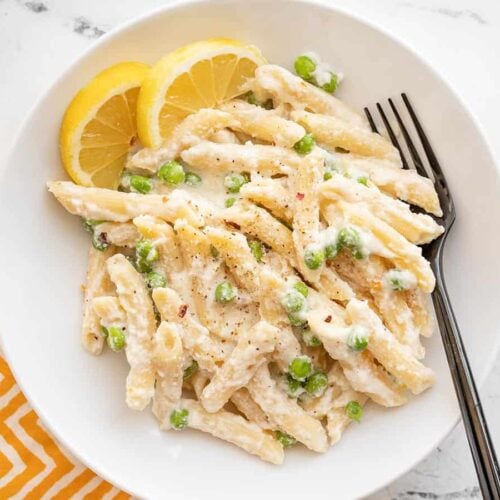 Lemon Ricotta Pasta
Lemon Ricotta Pasta is light, fresh, and quick to prepare, making it the perfect pasta for weeknight dinners in the summer.
Ingredients
1

lemon

$0.89

8

oz.

pasta*

$0.67

1

cup

frozen peas

$0.50

1

clove

garlic, minced

$0.08

1

Tbsp

butter

$0.11

1

cup

whole milk ricotta

$1.60

1/4

cup

grated Parmesan

$0.36

1/4

tsp

salt (or to taste)

$0.02

1/4

tsp

freshly cracked black pepper (or to taste)

$0.02

1

pinch

crushed red pepper (or to taste)

$0.02
Instructions
Zest and juice the lemon. You'll need about ½ tsp zest and 1 Tbsp lemon juice.

Cook the pasta according to the package directions (boil for 7-10 minutes, or until tender). Before draining, reserve about 1 cup of the starchy water from the pot.

Place the frozen peas in the colander before draining the pasta so the pasta will thaw the peas as it drains.

Add the butter and minced garlic to a large skillet and sauté over medium heat for 1-2 minutes, or just until the garlic is fragrant.

Add the drained pasta and peas, and about ½ cup of the starchy pasta cooking water to the skillet with the butter and garlic. Stir to combine, then turn off the heat.

Add the ricotta, Parmesan, 1 tablespoon lemon juice, and ½ teaspoon lemon zest to the skillet. Stir until everything is well combined, the residual heat from the skillet and pasta have warmed the ricotta, and the ricotta has formed a creamy sauce. Add more of the warm reserved pasta water if needed.

Season the pasta with salt, pepper, and crushed red pepper to taste. Serve warm.
Notes
*Use any short shape pasta.
Nutrition
Serving:
1
serving
|
Calories:
400
kcal
|
Carbohydrates:
51
g
|
Protein:
18
g
|
Fat:
14
g
|
Sodium:
335
mg
|
Fiber:
4
g
How to Make Lemon Ricotta Pasta – Step By Step Photos
Zest and juice one lemon. You'll need about ½ tsp of zest and 1 Tbsp juice.
Cook 8oz. pasta according to the package directions (boil for 7-10 minutes, or until tender). Reserve about 1 cup of the starchy pasta water before draining.
Add 1 cup of frozen peas to a colander, then pour the boiled pasta over top to thaw the peas as you drain the pasta.
Add 1 Tbsp butter and 1 clove garlic to a large skillet. Sauté over medium heat for 1-2 minutes, or just until the garlic becomes very fragrant.
Add the still-hot pasta and peas to the skillet along with about ½ cup of the hot reserved pasta water. Stir to combine, then turn off the heat.
Add 1 cup whole milk ricotta, ¼ cup grated Parmesan, 1 Tbsp lemon juice, and ½ tsp lemon zest to the pasta. Stir until the ingredients are combined, the residual heat from the pasta and skillet have warmed the ricotta, and the ricotta has turned into a creamy sauce.
Add more of the reserved pasta water if the mixture is too thick or too dry. Season the pasta with salt, pepper, and crushed red pepper to taste.
Enjoy the lemon ricotta pasta while still warm!
The post Lemon Ricotta Pasta appeared first on Budget Bytes.