Heirloom Apple Salad
http://feeds.101cookbooks.com/~r/101Cookbooks/~3/8Wk1yGJdM38/
If you're looking for a simple apple salad, you're in the right place. There's a reasonable chance that you have the ingredients needed to make it sprinkled around your kitchen – on counter tops, or in the crisper. And if not, there are lots of ways to make substitutes. It's hearty and substantial, colorful and crunchy – made with heirloom apples, shaved celery, and toasted nuts of your choosing. The dressing is crème fraîche (or sour cream) spiked with rosemary, garlic and champagne vinegar.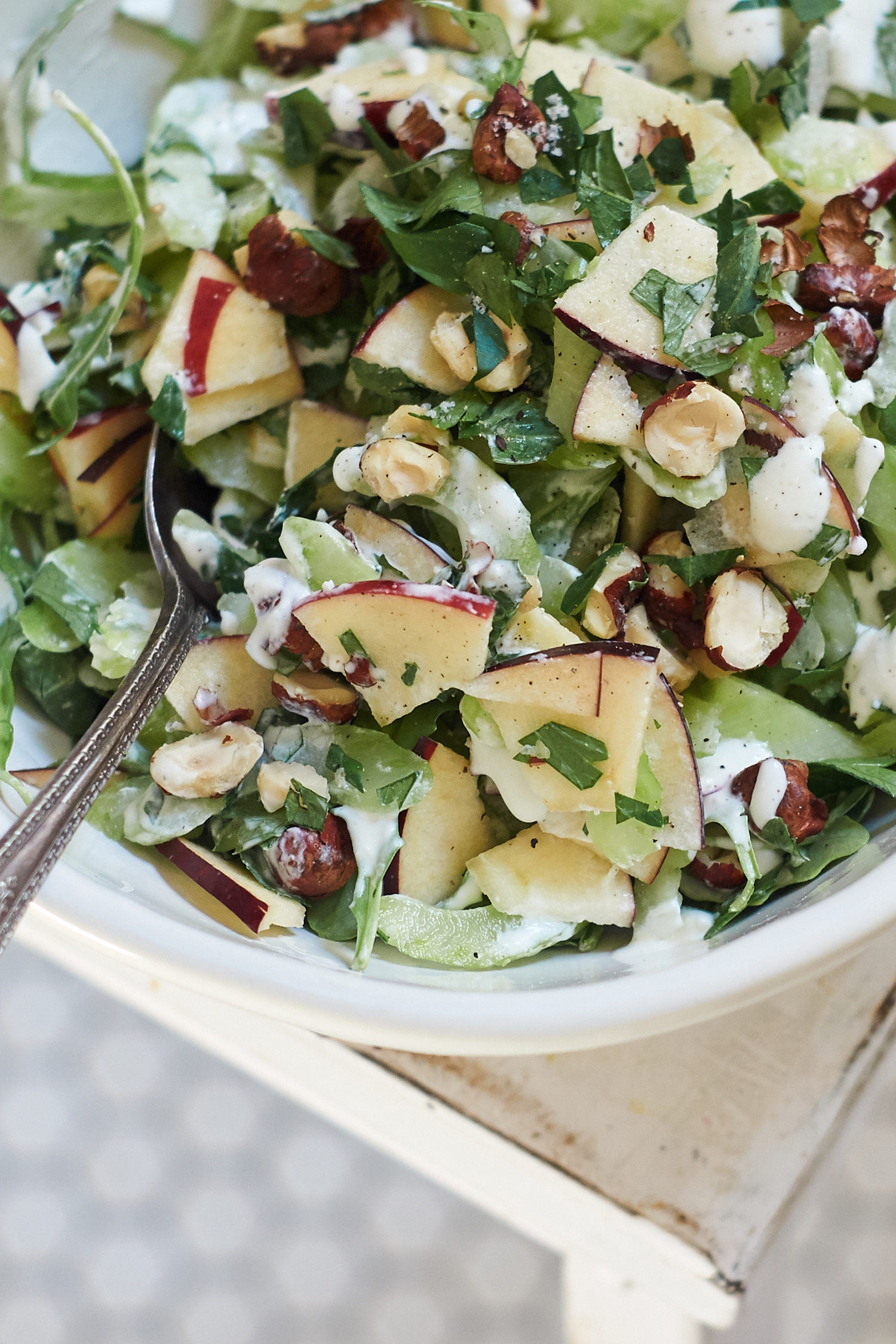 Apple Salads – All About the Crunch
This salad is big on crunch. And that alone is likely the reason it has become a fall favorite. There's crunch from crisp apples, celery, and nuts. Pair that with the creaminess in the dressing? It's a nice contrast. My main tip? Seek out crisp apples with good flavor. And pass on mealy apples.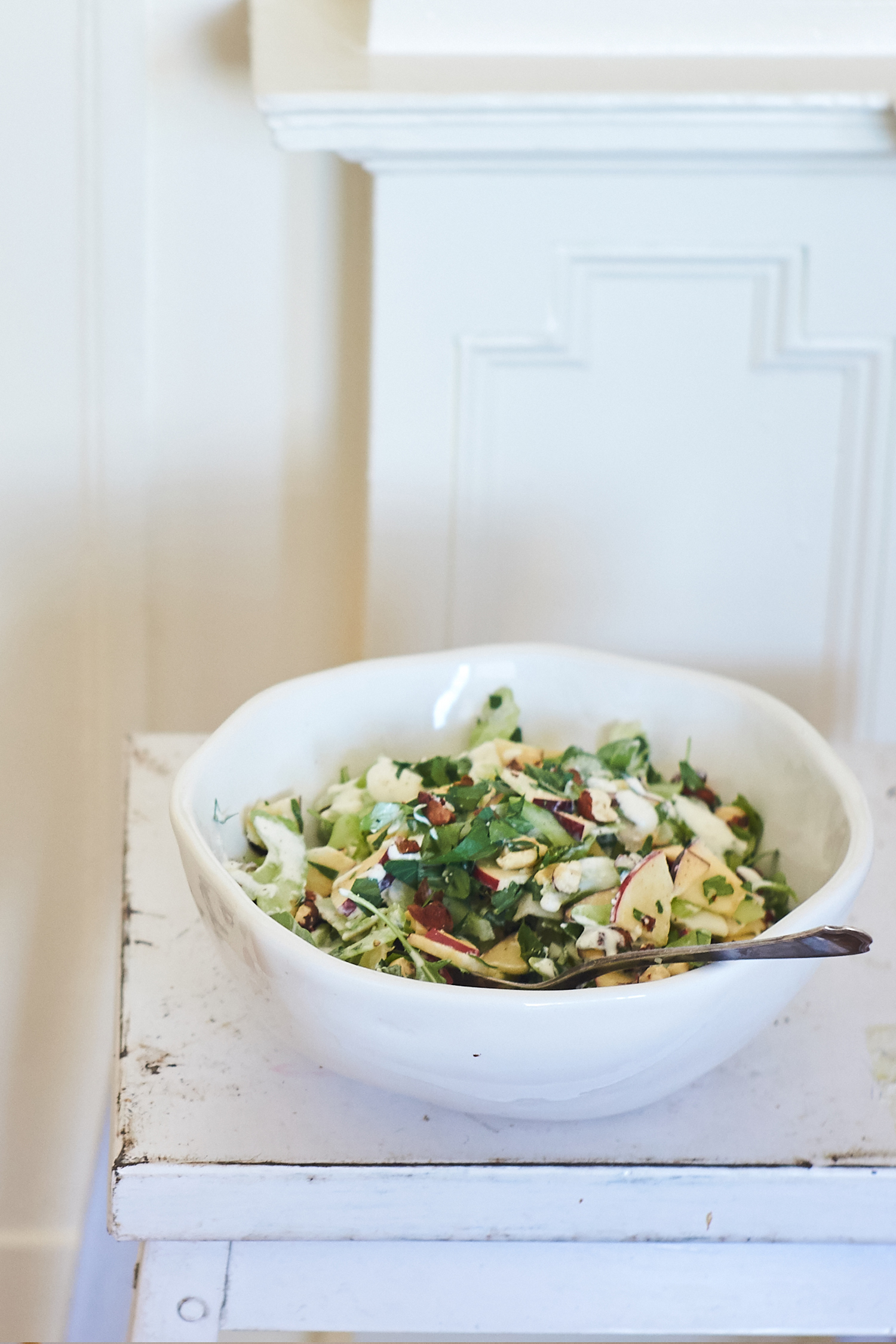 Substitutions
Think of this recipe as more of a sketch than anything else. I used arugula because it's what I had on hand, but the baby gems at the market looked great and would have been a nice substitute. Same goes for the nuts. Toast whatever you have on hand – pine nuts, almonds, or walnuts. And on the dressing front, crème fraîche brings a beautiful luxe texture into the mix, but  you can certainly use sour cream or even yogurt, and whatever good-tasting white wine vinegar you like.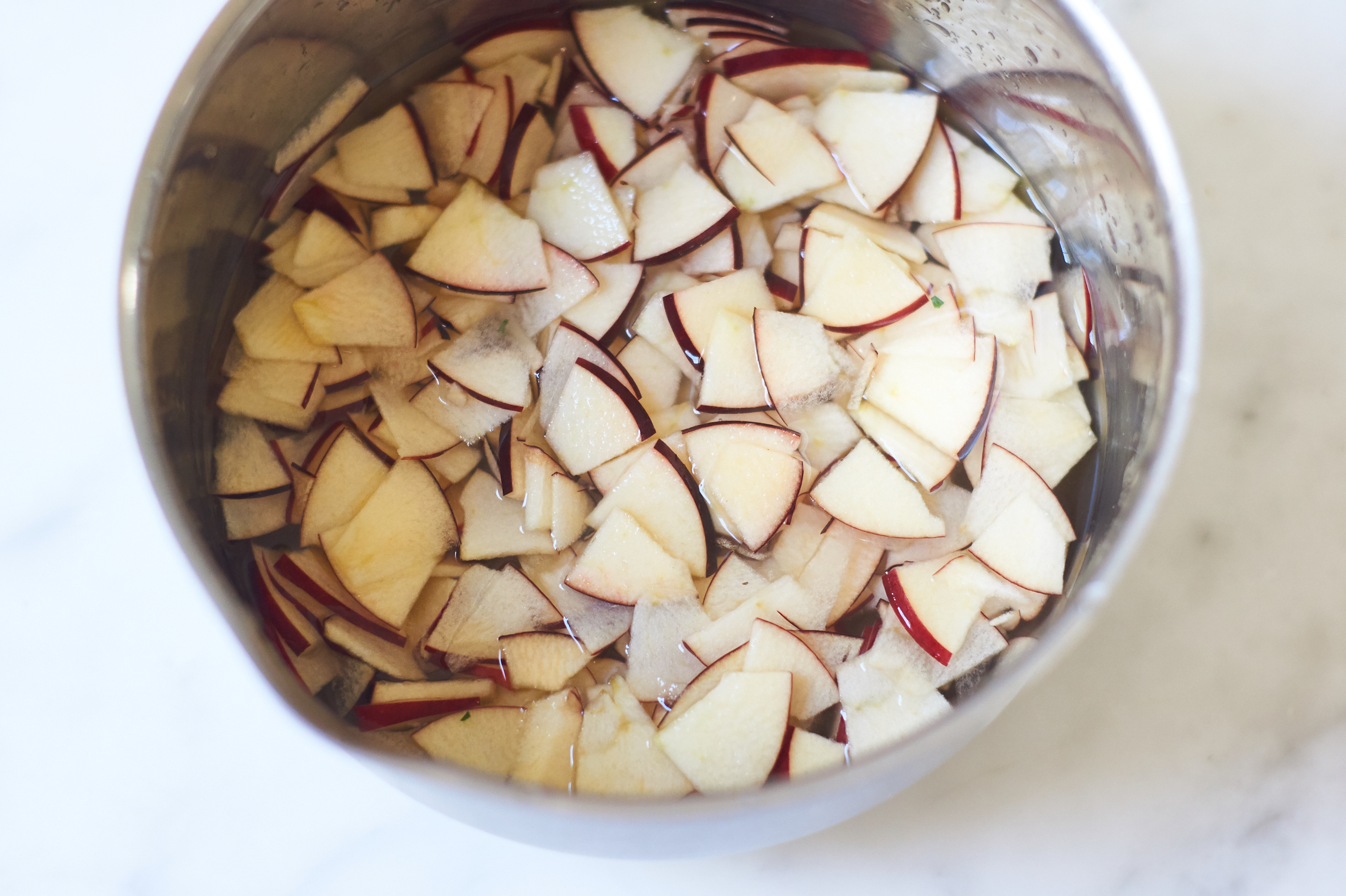 Slicing the Apples
Another variable you can experiment is the cut of the apple. You can see my preferred slices up above. They thick enough to retain some snap, and bite-sized. I like them sliced this way so you can get a bit of everything on a fork – some arugula, apple, nuts, etc. But if you really love apples, add more and slice them thicker. I also have it in my notes to do an apple salsa of sorts – with everything chopped smaller & a few serrano chiles chopped and added to the mix. For use on winter panini, and the like.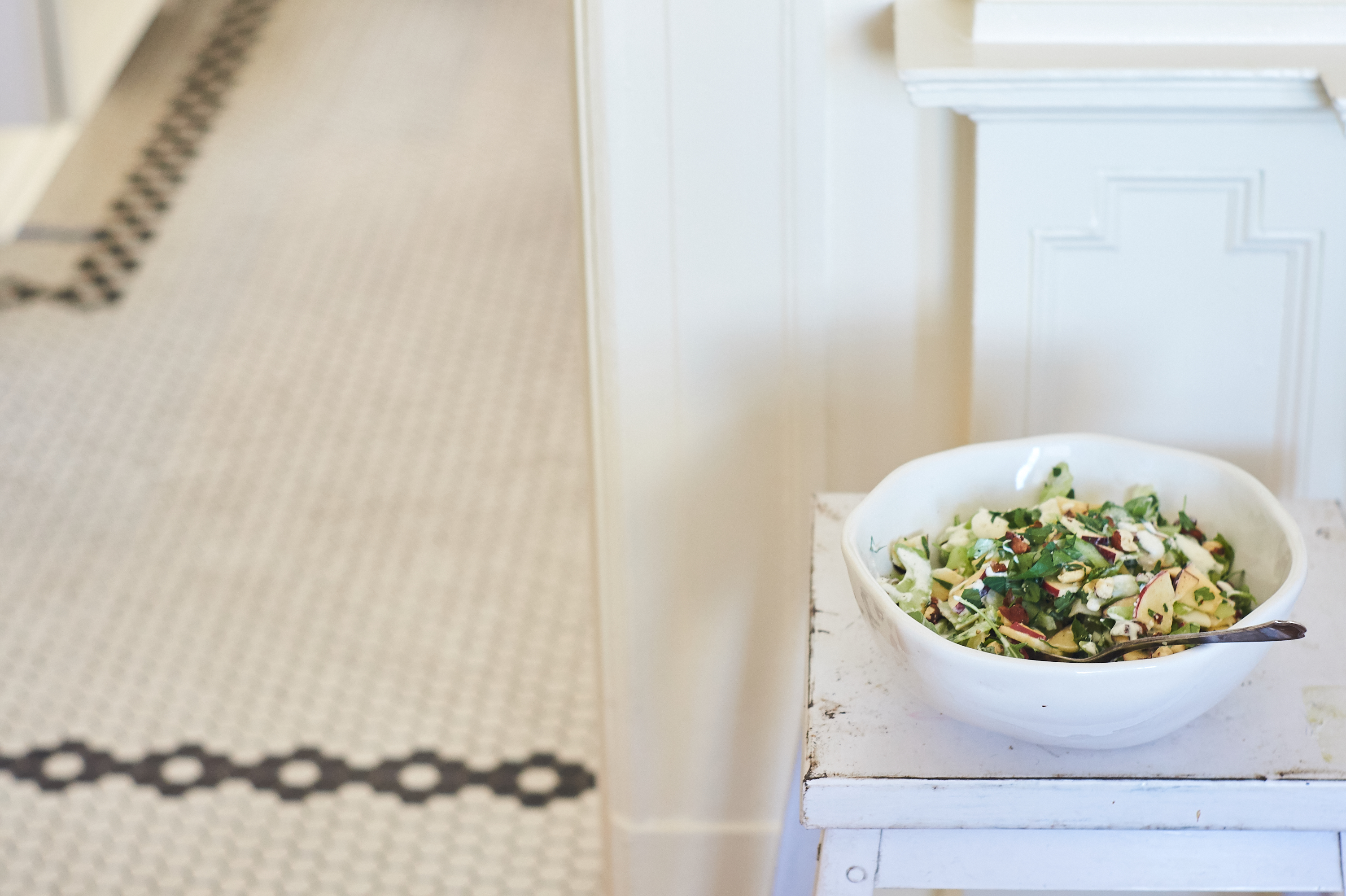 The Dressing
The dressing is great on all sorts of things. Not just apple salad. It's decadent drizzled over roasted potatoes (or sweet potatoes!), as a finishing kiss for mushrooms, or as a slather on panini. I also love it drizzled over oven-roasted broccoli, or a medley of sheet-pan baked vegetables.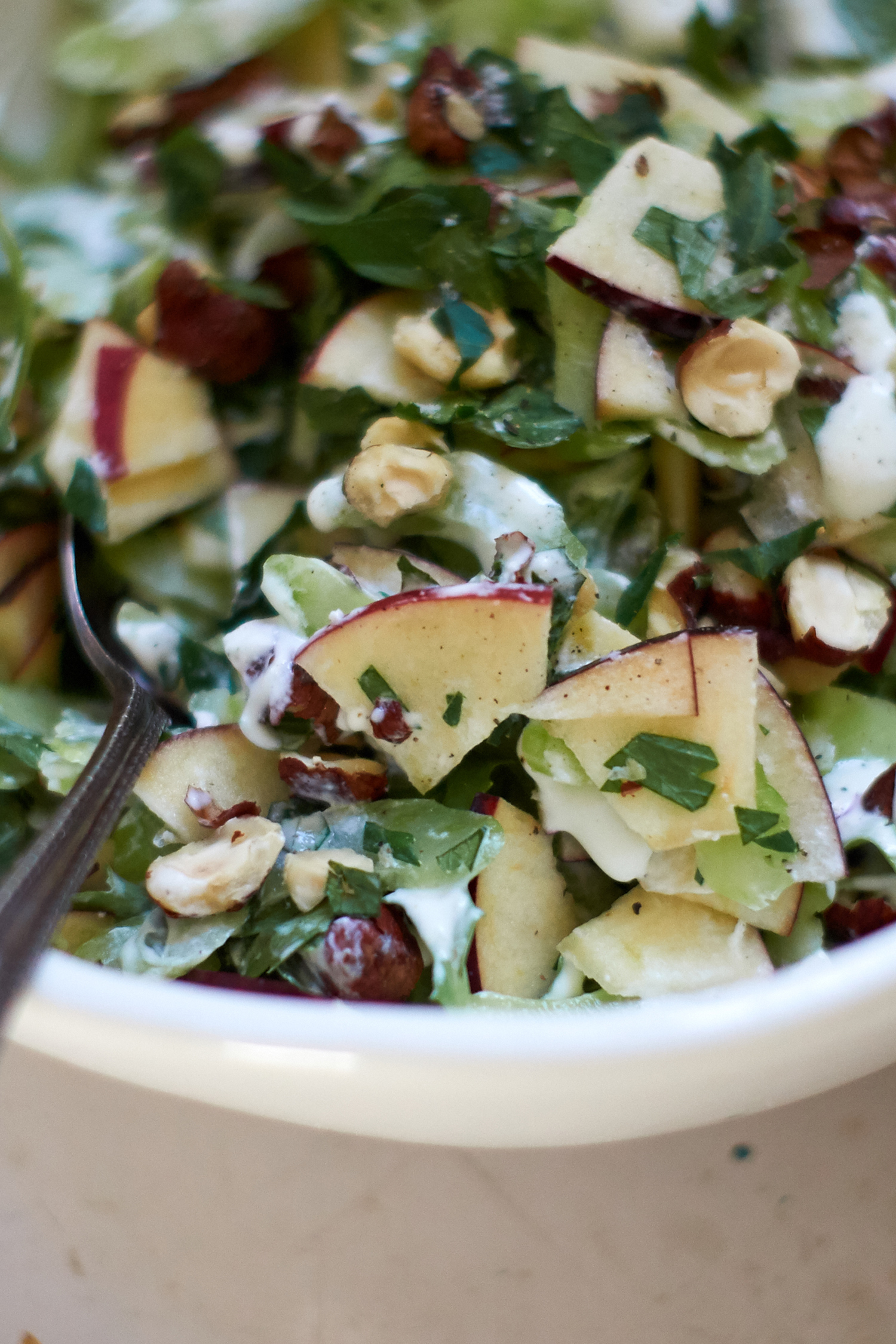 Your Apple Salad Ideas
Over the years you've left some great suggestions and variations in the comments. I'm going to highlight a few and also encourage you to let us know of any riffs on the recipe you enjoy in the future!
Amanda says, " I grated a half a celery root into the salad as well, which boosted the yummy celery flavor and added another texture. So good!"
Chase brilliantly swapped in pears, "I have made this salad 8 times in the last 10 days!!!! An instant favorite! Hazelnuts were the nut of choice and a pear/apple mix with some added Rosemary crostini crumbled in gives it a great crunch!!!"
Dana turned it into more of a main dish, "I added some cooked and cooled wheat berries to this salad and it was divine! Nutty crunch and great nutrition to bulk it up for a main course dinner."
Kara introduced a few ingredients, ""Hallelujah!" is what I thought when I bit into this salad today for lunch! I substituted baby broccoli for the celery, used walnuts, and some sliced Parmesan."
Have fun and poke around for more salad recipes, or more fall recipe inspiration. I love this Genius Kale Salad, this Shaved Fennel Salad from Super Natural Every Day, this pure Cilantro Salad for the cilantro fans out there, and for more of a main, this Hazelnut & Chard Ravioli Salad is always a go-to.
Here's a quickie recipe for those nights when you just need something fast and delicious. This Lemon Ricotta Pasta is super fast, light, and fresh, which makes it perfect for an easy weeknight dinner during the summer. The bright lemon flavor perfectly compliments the light and creamy ricotta, and the little pops of sweetness from the peas make every bite a little more interesting. Simple, fresh, and easy.
Originally posted 3-4-2011, updated 6-8-2022.
Do I Have to Use Fresh Lemon?
This is one of those recipes where you really do want to use a fresh lemon instead of bottled juice. The zest from the lemon adds a ton of bright, summery lemon flavor to the pasta without making the sauce too sour. We add just a little of the juice to balance the creaminess of the ricotta, but the zest is where you're getting all that gorgeous sunny lemon flavor!
Not All Ricotta is Created Equal
I find there is quite a bit of variation in the quality of ricotta from brand to brand. Some are smooth, mild, and sweet like fresh milk, while others are bland and grainy. My preferred brand is Galbani, but they didn't have any at the store when I went, so I got the generic Kroger brand. It was definitely a bit grainy, but the pasta was still quite delicious despite that!
Also, make sure to get whole milk ricotta. Low-fat ricotta just doesn't hit the same in this recipe.
What Else Can I Add?
This simple pasta is a great jumping-off point for making a more elaborate pasta, if that's what you're in the mood for. Try adding some sliced chicken breast, fresh basil, or fresh spinach. Garlic butter shrimp would also go great with this pasta!
What to Serve with Lemon Ricotta Pasta
This pasta is so light and fresh that I suggest keeping any side dishes really simple, light, and fresh as well. I would go with a super simple side salad, or maybe some roasted asparagus and tomatoes.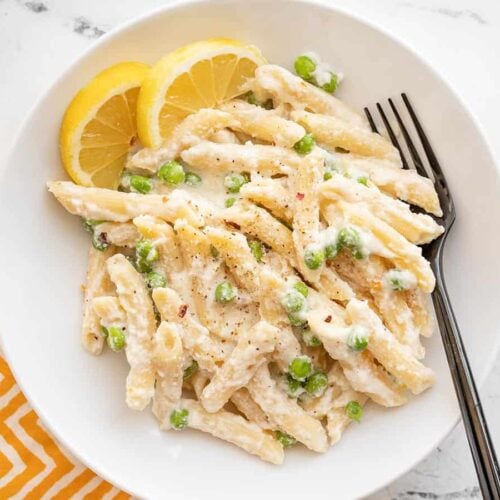 Lemon Ricotta Pasta
Lemon Ricotta Pasta is light, fresh, and quick to prepare, making it the perfect pasta for weeknight dinners in the summer.
Ingredients
1

lemon

$0.89

8

oz.

pasta*

$0.67

1

cup

frozen peas

$0.50

1

clove

garlic, minced

$0.08

1

Tbsp

butter

$0.11

1

cup

whole milk ricotta

$1.60

1/4

cup

grated Parmesan

$0.36

1/4

tsp

salt (or to taste)

$0.02

1/4

tsp

freshly cracked black pepper (or to taste)

$0.02

1

pinch

crushed red pepper (or to taste)

$0.02
Instructions
Zest and juice the lemon. You'll need about ½ tsp zest and 1 Tbsp lemon juice.

Cook the pasta according to the package directions (boil for 7-10 minutes, or until tender). Before draining, reserve about 1 cup of the starchy water from the pot.

Place the frozen peas in the colander before draining the pasta so the pasta will thaw the peas as it drains.

Add the butter and minced garlic to a large skillet and sauté over medium heat for 1-2 minutes, or just until the garlic is fragrant.

Add the drained pasta and peas, and about ½ cup of the starchy pasta cooking water to the skillet with the butter and garlic. Stir to combine, then turn off the heat.

Add the ricotta, Parmesan, 1 tablespoon lemon juice, and ½ teaspoon lemon zest to the skillet. Stir until everything is well combined, the residual heat from the skillet and pasta have warmed the ricotta, and the ricotta has formed a creamy sauce. Add more of the warm reserved pasta water if needed.

Season the pasta with salt, pepper, and crushed red pepper to taste. Serve warm.
Notes
*Use any short shape pasta.
Nutrition
Serving:
1
serving
|
Calories:
400
kcal
|
Carbohydrates:
51
g
|
Protein:
18
g
|
Fat:
14
g
|
Sodium:
335
mg
|
Fiber:
4
g
How to Make Lemon Ricotta Pasta – Step By Step Photos
Zest and juice one lemon. You'll need about ½ tsp of zest and 1 Tbsp juice.
Cook 8oz. pasta according to the package directions (boil for 7-10 minutes, or until tender). Reserve about 1 cup of the starchy pasta water before draining.
Add 1 cup of frozen peas to a colander, then pour the boiled pasta over top to thaw the peas as you drain the pasta.
Add 1 Tbsp butter and 1 clove garlic to a large skillet. Sauté over medium heat for 1-2 minutes, or just until the garlic becomes very fragrant.
Add the still-hot pasta and peas to the skillet along with about ½ cup of the hot reserved pasta water. Stir to combine, then turn off the heat.
Add 1 cup whole milk ricotta, ¼ cup grated Parmesan, 1 Tbsp lemon juice, and ½ tsp lemon zest to the pasta. Stir until the ingredients are combined, the residual heat from the pasta and skillet have warmed the ricotta, and the ricotta has turned into a creamy sauce.
Add more of the reserved pasta water if the mixture is too thick or too dry. Season the pasta with salt, pepper, and crushed red pepper to taste.
Enjoy the lemon ricotta pasta while still warm!
The post Lemon Ricotta Pasta appeared first on Budget Bytes.