Green Harissa Grilled Cheese
https://www.loveandlemons.com/grilled-cheese/
Do you ever have days when you just need a grilled cheese sandwich? This green harissa grilled cheese recipe is what I make when nothing but a grilled cheese will do. It has all the essentials of a good grilled cheese sandwich – crunchy, toasty bread and gooey cheese – but a handful of spinach and a slather of green harissa add an extra dimension of freshness and flavor. It's lightly spicy and totally delicious – hands down the best grilled cheese I've had!
The green harissa is really the star of the show here. Made with charred peppers, garlic, lemon, spices, cilantro, pepitas, and olive oil, it has a similar texture to pesto and a delicious spiced flavor. It's easy to make in the food processor, and it really jazzes up this classic comfort food. I hope you love it as much as I do!
How to Make Grilled Cheese
A basic grilled cheese requires just 3 ingredients:
Sliced bread – Sourdough is my favorite!
Cheese – I like Havarti.
Butter or olive oil – As usual, extra-virgin olive oil is my pick.
I love to dress up this classic combo with green harissa and spinach, but really, when it comes to grilled cheese, your filling options are endless. Swap in your favorite cheese, and skip the harissa if you like. A slather of chipotle sauce or pesto would be great in its place. If you're not in the mood for spinach, leave it out, or add some thin tomato or pepper slices, roasted red peppers, or arugula instead.
Once you've assembled your ingredients, it's time to cook! If you're using it, slather the harissa onto a slice of bread and add some spinach and a thick layer of grated cheese. Top with the remaining slice of bread, drizzle with olive oil (or spread with butter), and grill your sandwich on both sides until the bread becomes golden brown and the cheese melts.
Serve with tomato soup or gazpacho, and enjoy!
My Best Grilled Cheese Sandwich Tips
Want to make the best grilled cheese sandwich you've ever had? Just follow these easy tips!
Better ingredients = a better sandwich. As with all simple recipes, the better your ingredients are, the better your grilled cheese will be. I like mine with sourdough bread and Havarti or sharp cheddar cheese.
Use a good melting cheese. Because higher-moisture cheeses yield the best oozy, pull-apart sandwiches, steer clear of crumbly, hard cheeses like Parmesan or manchego. I use Havarti here (Roth Cheese is a favorite), but gruyere, gouda, provolone, mozzarella, and cheddar are all great choices for a grilled cheese sandwich.
Cover for even cooking. If your bread is browning faster than your cheese is melting, reduce the heat to low and cover the pan. The trapped heat will help melt the cheese before the bread gets too brown.
Toast both sides of the bread. This step isn't entirely necessary, but it's totally worth it. Before you add your fillings, get the inside face of your bread a little toasty in the pan. Then, load it up and grill on the outside, flipping halfway. Your bread will have a crave-worthy crunch that's a perfect contrast to the creamy, cheesy middle.
For a more traditional (red) harissa recipe, check out page 281 in my new cookbook, Love & Lemons Every Day. This zippy green version is very different, but just as delicious! If you have extra harissa after making this recipe, it's yummy scooped onto tacos, avocado toast, grilled veggies, pizza slices, falafel flatbread, and especially these shawarma wraps.
If you love this grilled cheese recipe…
Try my egg salad sandwich, vegan club sandwich, or meatball sandwich next!
Green Harissa Grilled Cheese
Author: Jeanine Donofrio
Recipe type: main course
2 green Anaheim peppers (or 1 poblano)
2 garlic cloves
2 tablespoons lemon juice
½ teaspoon ground cumin
½ teaspoon ground coriander
½ teaspoon sea salt
½ teaspoon honey or maple syrup
¾ cup cilantro
¼ cup pepitas
2 tablespoons extra-virgin olive oil
freshly ground black pepper
8 sourdough bread slices
A few handfuls of spinach leaves
2 to 3 cups grated havarti cheese
Extra-virgin oil, for grilling
Make the green harissa. Char the peppers over a gas burner or under a broiler until the skin is blackened all over. Remove from the heat and place in a bowl and cover with a towel or plastic wrap for 10 minutes. Slice off the stem and place the peppers, garlic, lemon juice, cumin, coriander, salt, honey, cilantro, pepitas and a few grinds of black pepper into a food processor and pulse until combined. Drizzle in the olive oil and process until smooth.
Make the grilled cheese. Slather the green harissa on the insides of each slice of bread. Assemble with spinach leaves and cheese. Pre-heat a cast iron skillet or grill pan over medium heat. Brush the outsides of the sandwich with olive oil and grill on each side until the cheese is melted.
Here's a quickie recipe for those nights when you just need something fast and delicious. This Lemon Ricotta Pasta is super fast, light, and fresh, which makes it perfect for an easy weeknight dinner during the summer. The bright lemon flavor perfectly compliments the light and creamy ricotta, and the little pops of sweetness from the peas make every bite a little more interesting. Simple, fresh, and easy.
Originally posted 3-4-2011, updated 6-8-2022.
Do I Have to Use Fresh Lemon?
This is one of those recipes where you really do want to use a fresh lemon instead of bottled juice. The zest from the lemon adds a ton of bright, summery lemon flavor to the pasta without making the sauce too sour. We add just a little of the juice to balance the creaminess of the ricotta, but the zest is where you're getting all that gorgeous sunny lemon flavor!
Not All Ricotta is Created Equal
I find there is quite a bit of variation in the quality of ricotta from brand to brand. Some are smooth, mild, and sweet like fresh milk, while others are bland and grainy. My preferred brand is Galbani, but they didn't have any at the store when I went, so I got the generic Kroger brand. It was definitely a bit grainy, but the pasta was still quite delicious despite that!
Also, make sure to get whole milk ricotta. Low-fat ricotta just doesn't hit the same in this recipe.
What Else Can I Add?
This simple pasta is a great jumping-off point for making a more elaborate pasta, if that's what you're in the mood for. Try adding some sliced chicken breast, fresh basil, or fresh spinach. Garlic butter shrimp would also go great with this pasta!
What to Serve with Lemon Ricotta Pasta
This pasta is so light and fresh that I suggest keeping any side dishes really simple, light, and fresh as well. I would go with a super simple side salad, or maybe some roasted asparagus and tomatoes.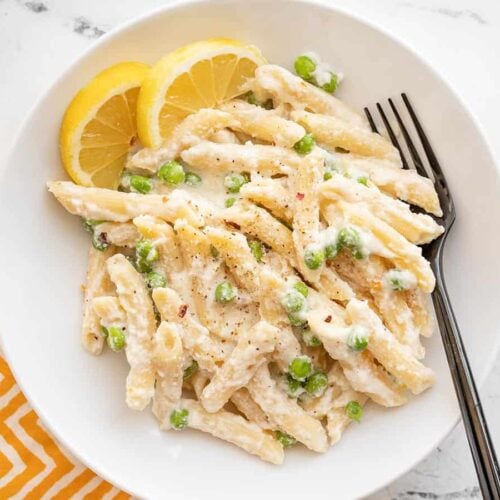 Lemon Ricotta Pasta
Lemon Ricotta Pasta is light, fresh, and quick to prepare, making it the perfect pasta for weeknight dinners in the summer.
Ingredients
1

lemon

$0.89

8

oz.

pasta*

$0.67

1

cup

frozen peas

$0.50

1

clove

garlic, minced

$0.08

1

Tbsp

butter

$0.11

1

cup

whole milk ricotta

$1.60

1/4

cup

grated Parmesan

$0.36

1/4

tsp

salt (or to taste)

$0.02

1/4

tsp

freshly cracked black pepper (or to taste)

$0.02

1

pinch

crushed red pepper (or to taste)

$0.02
Instructions
Zest and juice the lemon. You'll need about ½ tsp zest and 1 Tbsp lemon juice.

Cook the pasta according to the package directions (boil for 7-10 minutes, or until tender). Before draining, reserve about 1 cup of the starchy water from the pot.

Place the frozen peas in the colander before draining the pasta so the pasta will thaw the peas as it drains.

Add the butter and minced garlic to a large skillet and sauté over medium heat for 1-2 minutes, or just until the garlic is fragrant.

Add the drained pasta and peas, and about ½ cup of the starchy pasta cooking water to the skillet with the butter and garlic. Stir to combine, then turn off the heat.

Add the ricotta, Parmesan, 1 tablespoon lemon juice, and ½ teaspoon lemon zest to the skillet. Stir until everything is well combined, the residual heat from the skillet and pasta have warmed the ricotta, and the ricotta has formed a creamy sauce. Add more of the warm reserved pasta water if needed.

Season the pasta with salt, pepper, and crushed red pepper to taste. Serve warm.
Notes
*Use any short shape pasta.
Nutrition
Serving:
1
serving
|
Calories:
400
kcal
|
Carbohydrates:
51
g
|
Protein:
18
g
|
Fat:
14
g
|
Sodium:
335
mg
|
Fiber:
4
g
How to Make Lemon Ricotta Pasta – Step By Step Photos
Zest and juice one lemon. You'll need about ½ tsp of zest and 1 Tbsp juice.
Cook 8oz. pasta according to the package directions (boil for 7-10 minutes, or until tender). Reserve about 1 cup of the starchy pasta water before draining.
Add 1 cup of frozen peas to a colander, then pour the boiled pasta over top to thaw the peas as you drain the pasta.
Add 1 Tbsp butter and 1 clove garlic to a large skillet. Sauté over medium heat for 1-2 minutes, or just until the garlic becomes very fragrant.
Add the still-hot pasta and peas to the skillet along with about ½ cup of the hot reserved pasta water. Stir to combine, then turn off the heat.
Add 1 cup whole milk ricotta, ¼ cup grated Parmesan, 1 Tbsp lemon juice, and ½ tsp lemon zest to the pasta. Stir until the ingredients are combined, the residual heat from the pasta and skillet have warmed the ricotta, and the ricotta has turned into a creamy sauce.
Add more of the reserved pasta water if the mixture is too thick or too dry. Season the pasta with salt, pepper, and crushed red pepper to taste.
Enjoy the lemon ricotta pasta while still warm!
The post Lemon Ricotta Pasta appeared first on Budget Bytes.