Golden Crusted Brussels Sprouts: Five Ways
I thought I'd share my all-time favorite brussels sprouts recipe with you. It's a slightly extended version of the one I included in Super Natural Cooking, but to be honest, calling it a recipe is a bit of a stretch. It involves a skillet, less than five ingredients, about ten minutes of your time, and minimal culinary skills.
What makes this brussels sprout recipe special? It's so simple. And you end up with vibrant green, tender brussels sprouts that become deeply golden and crusty where they touch the pan. I then lightly dust them with cheese and serve. This time of year it's not unusual for us to cook them like this two or three times a week. Even if you're a sprout skeptic, this golden-crusted version has the ability to turn the most vigilant brussels sprout loathers around.
What To Look For
A couple shopping tips before you get started, look for brussels sprouts that are on the small size and tightly closed. The tiny ones cook through quickly. Larger ones tend to brown on the outside long before the insides are done. When the weather is mild, I finish them with a lighter, salty cheese, like Parmesan. If it's stormy and cold, I opt for a heavier, more melty cheese, like a regular or smoked Gouda (or gruyere). Or(!), I'll skip the cheese altogether, and add a simple finishing shower of chopped nuts.
Cooking Brussels Sprouts:
My main quick pro-tip? Try not to overcook the sprouts, and eat them as soon as they come off the stove if at all possible. They're so great this way!
Favorite Variations
Many of you have made these over the years, and mentioned variations in the comments. I wanted to highlight a few!
Gina noted, "I made a riff on these tonight that you might enjoy too. I used butter in the pan instead of olive oil, and added about a teaspoon of horseradish at the end and tossed the sprouts in it with the heat off before I sprinkled with parm. I had a similar dish at Coppa in Boston once and have not stopped thinking about them."
Rachel brought the turmeric angle, "added a little turmeric to my salt and pepper, which brought in a nice flavor as well as a subtle golden glow."
And Jessa brings the citrus, "the only way I can eat them is roasted with toasted walnuts, and hit with some lemon juice, parmesan, and walnut oil right at the end. I also like zesting orange peel on them."
And the last two ideas?! Add two finely chopped cloves of garlic in the last minute of cooking, for any garlic lovers out there. Or, toss 2 tablespoons of your favorite pesto into to the skillet just as you finish cooking the brussels sprouts.
I also love brussels sprouts in this caramelized tofu. This Shredded Brussels Sprouts with Apple recipe is also A+.
Golden-Crusted Brussels Sprouts Recipe
Use brussels sprouts that are on the small size and tightly closed. You can finish these with many different types of cheese but I tend to go for Parmesan when the weather is good. I trade that in for heavier cheeses like gruyere or Gouda in colder weather. I tend to finish them off with toasted hazelnuts, walnuts, or almonds. I've also noted five variations on this recipe in the body of the post. Enjoy!
INGREDIENTS
1

 

pound

 

of small brussels sprouts

2

 

tablespoons

 

extra-virgin olive oil

fine-grain sea salt and freshly ground black pepper

1/4

 

cup

 

grated cheese or chopped nuts – your choice!
INSTRUCTIONS
1. Wash the brussels sprouts well. Trim the stem ends and remove any raggy outer leaves. Cut in half from stem to top and toss in a bowl with 1 tablespoon of the olive oil.
2. Heat the remaining tablespoon of olive oil in your largest skillet over medium heat. Don't overheat the skillet, or the outsides of the sprouts will cook too quickly. Place the brussels sprouts in the pan flat side down (single-layer), sprinkle with a couple pinches of salt, cover, and cook for roughly 5 minutes; the bottoms of the sprouts should only show a hint of browning. Cut into or taste one of the sprouts to gauge whether they're tender throughout. If not, cover and cook for a few more minutes.
3. Once just tender, uncover, turn up the heat, and cook until the flat sides are deep brown and caramelized. Use a metal spatula to toss them once or twice to get some browning on the rounded side. Season with more salt, a few grinds of pepper, and a dusting of grated cheese (or nuts). While you might be able to get away with keeping a platter of these warm in the oven for a few minutes, they are exponentially tastier if popped in your mouth immediately.
Here's a quickie recipe for those nights when you just need something fast and delicious. This Lemon Ricotta Pasta is super fast, light, and fresh, which makes it perfect for an easy weeknight dinner during the summer. The bright lemon flavor perfectly compliments the light and creamy ricotta, and the little pops of sweetness from the peas make every bite a little more interesting. Simple, fresh, and easy.
Originally posted 3-4-2011, updated 6-8-2022.
Do I Have to Use Fresh Lemon?
This is one of those recipes where you really do want to use a fresh lemon instead of bottled juice. The zest from the lemon adds a ton of bright, summery lemon flavor to the pasta without making the sauce too sour. We add just a little of the juice to balance the creaminess of the ricotta, but the zest is where you're getting all that gorgeous sunny lemon flavor!
Not All Ricotta is Created Equal
I find there is quite a bit of variation in the quality of ricotta from brand to brand. Some are smooth, mild, and sweet like fresh milk, while others are bland and grainy. My preferred brand is Galbani, but they didn't have any at the store when I went, so I got the generic Kroger brand. It was definitely a bit grainy, but the pasta was still quite delicious despite that!
Also, make sure to get whole milk ricotta. Low-fat ricotta just doesn't hit the same in this recipe.
What Else Can I Add?
This simple pasta is a great jumping-off point for making a more elaborate pasta, if that's what you're in the mood for. Try adding some sliced chicken breast, fresh basil, or fresh spinach. Garlic butter shrimp would also go great with this pasta!
What to Serve with Lemon Ricotta Pasta
This pasta is so light and fresh that I suggest keeping any side dishes really simple, light, and fresh as well. I would go with a super simple side salad, or maybe some roasted asparagus and tomatoes.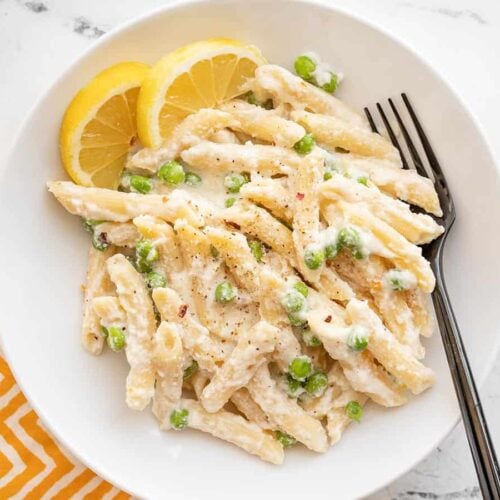 Lemon Ricotta Pasta
Lemon Ricotta Pasta is light, fresh, and quick to prepare, making it the perfect pasta for weeknight dinners in the summer.
Ingredients
1

lemon

$0.89

8

oz.

pasta*

$0.67

1

cup

frozen peas

$0.50

1

clove

garlic, minced

$0.08

1

Tbsp

butter

$0.11

1

cup

whole milk ricotta

$1.60

1/4

cup

grated Parmesan

$0.36

1/4

tsp

salt (or to taste)

$0.02

1/4

tsp

freshly cracked black pepper (or to taste)

$0.02

1

pinch

crushed red pepper (or to taste)

$0.02
Instructions
Zest and juice the lemon. You'll need about ½ tsp zest and 1 Tbsp lemon juice.

Cook the pasta according to the package directions (boil for 7-10 minutes, or until tender). Before draining, reserve about 1 cup of the starchy water from the pot.

Place the frozen peas in the colander before draining the pasta so the pasta will thaw the peas as it drains.

Add the butter and minced garlic to a large skillet and sauté over medium heat for 1-2 minutes, or just until the garlic is fragrant.

Add the drained pasta and peas, and about ½ cup of the starchy pasta cooking water to the skillet with the butter and garlic. Stir to combine, then turn off the heat.

Add the ricotta, Parmesan, 1 tablespoon lemon juice, and ½ teaspoon lemon zest to the skillet. Stir until everything is well combined, the residual heat from the skillet and pasta have warmed the ricotta, and the ricotta has formed a creamy sauce. Add more of the warm reserved pasta water if needed.

Season the pasta with salt, pepper, and crushed red pepper to taste. Serve warm.
Notes
*Use any short shape pasta.
Nutrition
Serving:
1
serving
|
Calories:
400
kcal
|
Carbohydrates:
51
g
|
Protein:
18
g
|
Fat:
14
g
|
Sodium:
335
mg
|
Fiber:
4
g
How to Make Lemon Ricotta Pasta – Step By Step Photos
Zest and juice one lemon. You'll need about ½ tsp of zest and 1 Tbsp juice.
Cook 8oz. pasta according to the package directions (boil for 7-10 minutes, or until tender). Reserve about 1 cup of the starchy pasta water before draining.
Add 1 cup of frozen peas to a colander, then pour the boiled pasta over top to thaw the peas as you drain the pasta.
Add 1 Tbsp butter and 1 clove garlic to a large skillet. Sauté over medium heat for 1-2 minutes, or just until the garlic becomes very fragrant.
Add the still-hot pasta and peas to the skillet along with about ½ cup of the hot reserved pasta water. Stir to combine, then turn off the heat.
Add 1 cup whole milk ricotta, ¼ cup grated Parmesan, 1 Tbsp lemon juice, and ½ tsp lemon zest to the pasta. Stir until the ingredients are combined, the residual heat from the pasta and skillet have warmed the ricotta, and the ricotta has turned into a creamy sauce.
Add more of the reserved pasta water if the mixture is too thick or too dry. Season the pasta with salt, pepper, and crushed red pepper to taste.
Enjoy the lemon ricotta pasta while still warm!
The post Lemon Ricotta Pasta appeared first on Budget Bytes.