I make a version of these cinnamon rolls nearly every year for Christmas. The first time I made them was in 2010, inspired by the version in Lotta Jansdotter's book. They're beauties. Everyone LOVES them. The base recipe is for a version of Lotta's beautiful, homemade, hot from the oven, loaded with sugar and spice, golden, buttery, classic cinnamon rolls.

Cinnamon Roll Basics
To make cinnamon buns you start by making a buttery yeast dough. I know some of you shy away from yeast-based recipes, because of perceived difficulty, but these really are fun to make. One thing to know, they do take time. You'll need to let the dough rest and rise at various points, but most of that time isn't active, so don't let that deter you. Also, once you get the hang of things, you can play around with all sorts of different fillings in future batches. If you want to explore something beyond cinnamon sugar, the filling can be anything from jam, a sweet compound butter, a flavored cream cheese filling. Have fun, experiment, and use this recipe as a jumping off point.

How to Make Cinnamon Rolls: The Process
Making cinnamon rolls goes like this. Mix the dough. Let it rise. Roll it out. Put down the filling. Roll. Slice. (Freeze here, if you're going that route). Another rise. Bake. Lotta sprinkles her cinnamon buns with pearl sugar before baking, which gives them a nice crunchy top, but I know a lot of people like a thick slathering of icing – to the horror of some Swedes, I might add. Sometimes I serve these w/ raw sugar on top and icing on the side, and often use the icing from these hermit cookies. 

Variations
I've made little tweaks over the years reflected here. Above you see a version of the cinnamon rolls topped with icing. Alternately, you can do a simple sugar sprinkle before baking. I include instructions for both below. You can also play around with the flour. I've done versions with a percentage of rye and also whole wheat flour, for a kiss of rustic-ness. There are some great insights in the comments as well.

Make Ahead Magic
One of the great things about these cinnamon rolls, is that you can prepare them ahead of time. You can even freeze the pre-baked rolls. The night before you're ready to bake them, leave them to thaw, covered, on your counter, and bake them in the morning. 

To Make A Cinnamon Swirl Loaf:
This is an easy tweak to the below cinnamon roll recipe & results in a beautiful, braided loaf. Don't be intimidated – it looks much more difficult than it is. Promise! The basic jist is this: instead of slicing your two tubes of tightly rolled cinnamon roll dough into individual buns, slice each tube lengthwise with a sharp knife and arrange them side by side, cut side up. See the illustration below to understand how to braid the strands. You should now have four "strands." If you are having trouble slicing, try getting your knife a bit wet, and clean between each cut.

To braid: Pinch the top ends together. Now, take the left strand and move it over two strands (to the right) and under one strand back to the left. Switch to the other side: take the most right strand and lift it over two strands to the left and back under one strand to the right. Repeat, alternating from left side to right side until the loaf is complete. I find it easiest to say out loud, "over two under one, over two, under one." Pinch the ends together and carefully lift and tuck into a 9×5 loaf pan. It really doesn't have to be perfect, just aim for a reasonably tight braid.
Continue with the recipe as written, allowing the twisted loaf to rise in a cozy spot. You'll bake at the same temperature noted in the recipe, but for longer with the twisted loaf – closer to 30 minutes. And with a loaf like this, where you run the risk of a doughy interior if you under bake, I like to use an instant read thermometer to make sure the interior hits about 190F. If the top of your loaf darkens before the dough is cooked, tent a piece of foil over the top for the duration of the bake.

More Ideas:
There are a lot of way to go from classic cinnamon rolls to something else. Here are some of the ideas that have come up over the years. For the vegans out there, Shannon notes, "1 cup wheat whole wheat flour and used coconut milk and a flax egg. Topped with nutella and whipped cream." I make a version of the icing with creme fraiche, always a hit, but buttermilk is great too, and easier to come by.
Danielle had this to add," I added 1 tsp of a medicinal masala chai spice blend I ordered on etsy, and it put these over the top!" I love this idea, and heartily encourage experimenting with other spice blends as well. I make these at times with a cinnamon, rose petal, sesame blend. Also, hard to go wrong by using a bit of lemon zest in the bottom of your baking dish.
Hope you love these as much as we have over the years! If you're looking for breakfast recipes don't miss this healthy granola, or the best waffle recipe (seriously!), these classic pancakes, a loaded frittata, tofu scramble, Herb Cream Cheese Scrambled Eggs, and the baked oatmeal is always popular.
Continue reading Favorite Cinnamon Rolls on 101 Cookbooks
Here's a quickie recipe for those nights when you just need something fast and delicious. This Lemon Ricotta Pasta is super fast, light, and fresh, which makes it perfect for an easy weeknight dinner during the summer. The bright lemon flavor perfectly compliments the light and creamy ricotta, and the little pops of sweetness from the peas make every bite a little more interesting. Simple, fresh, and easy.
Originally posted 3-4-2011, updated 6-8-2022.
Do I Have to Use Fresh Lemon?
This is one of those recipes where you really do want to use a fresh lemon instead of bottled juice. The zest from the lemon adds a ton of bright, summery lemon flavor to the pasta without making the sauce too sour. We add just a little of the juice to balance the creaminess of the ricotta, but the zest is where you're getting all that gorgeous sunny lemon flavor!
Not All Ricotta is Created Equal
I find there is quite a bit of variation in the quality of ricotta from brand to brand. Some are smooth, mild, and sweet like fresh milk, while others are bland and grainy. My preferred brand is Galbani, but they didn't have any at the store when I went, so I got the generic Kroger brand. It was definitely a bit grainy, but the pasta was still quite delicious despite that!
Also, make sure to get whole milk ricotta. Low-fat ricotta just doesn't hit the same in this recipe.
What Else Can I Add?
This simple pasta is a great jumping-off point for making a more elaborate pasta, if that's what you're in the mood for. Try adding some sliced chicken breast, fresh basil, or fresh spinach. Garlic butter shrimp would also go great with this pasta!
What to Serve with Lemon Ricotta Pasta
This pasta is so light and fresh that I suggest keeping any side dishes really simple, light, and fresh as well. I would go with a super simple side salad, or maybe some roasted asparagus and tomatoes.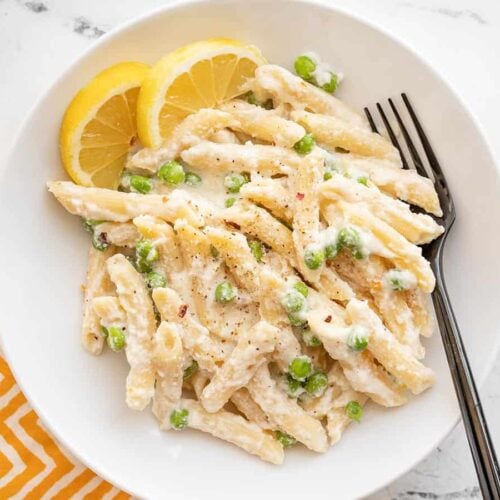 Lemon Ricotta Pasta
Lemon Ricotta Pasta is light, fresh, and quick to prepare, making it the perfect pasta for weeknight dinners in the summer.
Ingredients
1

lemon

$0.89

8

oz.

pasta*

$0.67

1

cup

frozen peas

$0.50

1

clove

garlic, minced

$0.08

1

Tbsp

butter

$0.11

1

cup

whole milk ricotta

$1.60

1/4

cup

grated Parmesan

$0.36

1/4

tsp

salt (or to taste)

$0.02

1/4

tsp

freshly cracked black pepper (or to taste)

$0.02

1

pinch

crushed red pepper (or to taste)

$0.02
Instructions
Zest and juice the lemon. You'll need about ½ tsp zest and 1 Tbsp lemon juice.

Cook the pasta according to the package directions (boil for 7-10 minutes, or until tender). Before draining, reserve about 1 cup of the starchy water from the pot.

Place the frozen peas in the colander before draining the pasta so the pasta will thaw the peas as it drains.

Add the butter and minced garlic to a large skillet and sauté over medium heat for 1-2 minutes, or just until the garlic is fragrant.

Add the drained pasta and peas, and about ½ cup of the starchy pasta cooking water to the skillet with the butter and garlic. Stir to combine, then turn off the heat.

Add the ricotta, Parmesan, 1 tablespoon lemon juice, and ½ teaspoon lemon zest to the skillet. Stir until everything is well combined, the residual heat from the skillet and pasta have warmed the ricotta, and the ricotta has formed a creamy sauce. Add more of the warm reserved pasta water if needed.

Season the pasta with salt, pepper, and crushed red pepper to taste. Serve warm.
Notes
*Use any short shape pasta.
Nutrition
Serving:
1
serving
|
Calories:
400
kcal
|
Carbohydrates:
51
g
|
Protein:
18
g
|
Fat:
14
g
|
Sodium:
335
mg
|
Fiber:
4
g
How to Make Lemon Ricotta Pasta – Step By Step Photos
Zest and juice one lemon. You'll need about ½ tsp of zest and 1 Tbsp juice.
Cook 8oz. pasta according to the package directions (boil for 7-10 minutes, or until tender). Reserve about 1 cup of the starchy pasta water before draining.
Add 1 cup of frozen peas to a colander, then pour the boiled pasta over top to thaw the peas as you drain the pasta.
Add 1 Tbsp butter and 1 clove garlic to a large skillet. Sauté over medium heat for 1-2 minutes, or just until the garlic becomes very fragrant.
Add the still-hot pasta and peas to the skillet along with about ½ cup of the hot reserved pasta water. Stir to combine, then turn off the heat.
Add 1 cup whole milk ricotta, ¼ cup grated Parmesan, 1 Tbsp lemon juice, and ½ tsp lemon zest to the pasta. Stir until the ingredients are combined, the residual heat from the pasta and skillet have warmed the ricotta, and the ricotta has turned into a creamy sauce.
Add more of the reserved pasta water if the mixture is too thick or too dry. Season the pasta with salt, pepper, and crushed red pepper to taste.
Enjoy the lemon ricotta pasta while still warm!
The post Lemon Ricotta Pasta appeared first on Budget Bytes.