Chocolate Zucchini Bread
https://www.loveandlemons.com/chocolate-zucchini-bread/
Earlier this week, I wrote about my seasonal love affair with zucchini. When it's at its peak, I add zucchini to all sorts of savory summer recipes – pasta, pizza, lasagna, and soup, to name a few – but I absolutely cannot let zucchini season pass by without using it in sweet recipes, too. This year, moist, fudgy chocolate zucchini bread has been my sweet zucchini recipe obsession.
This double chocolate zucchini bread recipe is based on the chocolate zucchini muffins from our first cookbook. While I love that recipe, I wanted to make a version that worked well as a loaf for slicing and enjoying with a morning latte or afternoon coffee. This super easy, delicious recipe came out better than I could have imagined – it has a perfect cakey crumb, delectable moist texture, and rich chocolate flavor. Like my traditional zucchini bread recipe, this one makes two loaves. We gobble them up pretty quickly at our house, but if you have extra, pop one loaf in the freezer for another day, or share it with a friend!
Healthy Chocolate Zucchini Bread Recipe Ingredients
My chocolate zucchini bread is rich, moist, and perfectly spiced, but it's secretly healthy, too! Here's what I use to make this delightful summer treat:
Flour – A mix of white and whole wheat flour gives it a perfect moist texture and a little whole grain power.
Baking powder & baking soda – They make the bread nice & puffy.
Cinnamon & nutmeg – They add a lovely spiced contrast to the chocolate.
Sea salt – I add a dash to highlight the rich chocolate flavor.
Maple syrup – I swap maple syrup for granulated or brown sugar, so this healthy chocolate zucchini bread is refined sugar-free!
Eggs – They help the bread rise and add richness.
Almond milk – I use it instead of dairy milk to make this chocolate zucchini bread wonderfully moist.
Coconut oil – I use a scant ¼ cup of melted coconut oil to make the bread rich, but not too decadent.
Vanilla – A healthy 2 teaspoons adds depth to the spiced chocolatey flavor.
Zucchini – I grate mine on the largest holes of a box grater to get the best moist, zucchini-flecked texture!
Chocolate chips – I don't recommend skimping on these guys! They make the inside of the bread super fudgy and delicious, and I sprinkle some on top too.
Mix together the dry ingredients, whisk together the wet ingredients, and gently stir the dry mixture into the wet. Fold in the chocolate chips, pour the batter into two pans, and bake until a toothpick inserted into the center comes out clean!

Chocolate Zucchini Bread Recipe Tips
Be careful not to overmix! As with all baking recipes that use wheat flour, overmixing the batter will make the bread dense. Stir until everything is just combined to get soft, moist & puffy loaves.
Use two packed cups of zucchini.The zucchini is essential for adding moisture, so pack your cups full! Skimping on it will yield a dryer final loaf.
Bake once, eat twice.This recipe makes two loaves. I like to enjoy one right away and slice and freeze the other for quick breakfasts or whenever I have a chocolate zucchini bread craving.
Try changing it up! Swap half the chocolate chips for chopped walnuts or dried tart cherries. Or, if you have it on hand, use yellow squash in place of the zucchini. Let me know what variations you try!
If you love this chocolate zucchini bread…
Try my banana bread, pumpkin bread, or chocolate zucchini cake next!
Chocolate Zucchini Bread
Author: Jeanine Donofrio
Recipe type: Breakfast, snack, dessert
2½ cups flour, white/wheat mix
⅓ cup cocoa powder
1 tablespoon baking powder
1 teaspoon baking soda
1 teaspoon sea salt
1 teaspoon cinnamon
½ teaspoon nutmeg
3 eggs
1½ cups almond milk, room temp
¼ cup coconut oil, melted
⅔ cup maple syrup
2 teaspoon vanilla extract
2 cups shredded unpeeled zucchini
1 cup semisweet chocolate chips, more for sprinkling on top
Preheat the oven to 350°F and lightly spray two 8×4" loaf pans with nonstick spray.
In a medium bowl, combine the flour, cocoa powder, baking powder, baking soda, salt, cinnamon, and nutmeg.
In a large bowl, whisk together the eggs, almond milk, coconut oil, maple syrup, and vanilla. Stir in the zucchini. Add the dry ingredients to the bowl and stir until just combined. Don't overmix. Fold in the chocolate chips.
Pour the batter into the loaf pans. Sprinkle with more chocolate chips and bake for 45 to 50 minutes, or until a toothpick inserted comes out clean and the tops spring back to the touch. Remove from the oven and cool completely.
Here's a quickie recipe for those nights when you just need something fast and delicious. This Lemon Ricotta Pasta is super fast, light, and fresh, which makes it perfect for an easy weeknight dinner during the summer. The bright lemon flavor perfectly compliments the light and creamy ricotta, and the little pops of sweetness from the peas make every bite a little more interesting. Simple, fresh, and easy.
Originally posted 3-4-2011, updated 6-8-2022.
Do I Have to Use Fresh Lemon?
This is one of those recipes where you really do want to use a fresh lemon instead of bottled juice. The zest from the lemon adds a ton of bright, summery lemon flavor to the pasta without making the sauce too sour. We add just a little of the juice to balance the creaminess of the ricotta, but the zest is where you're getting all that gorgeous sunny lemon flavor!
Not All Ricotta is Created Equal
I find there is quite a bit of variation in the quality of ricotta from brand to brand. Some are smooth, mild, and sweet like fresh milk, while others are bland and grainy. My preferred brand is Galbani, but they didn't have any at the store when I went, so I got the generic Kroger brand. It was definitely a bit grainy, but the pasta was still quite delicious despite that!
Also, make sure to get whole milk ricotta. Low-fat ricotta just doesn't hit the same in this recipe.
What Else Can I Add?
This simple pasta is a great jumping-off point for making a more elaborate pasta, if that's what you're in the mood for. Try adding some sliced chicken breast, fresh basil, or fresh spinach. Garlic butter shrimp would also go great with this pasta!
What to Serve with Lemon Ricotta Pasta
This pasta is so light and fresh that I suggest keeping any side dishes really simple, light, and fresh as well. I would go with a super simple side salad, or maybe some roasted asparagus and tomatoes.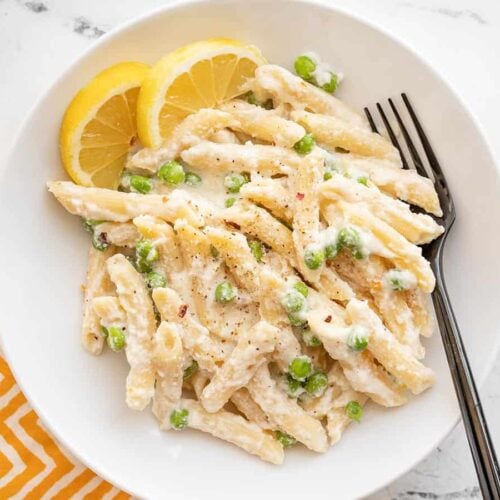 Lemon Ricotta Pasta
Lemon Ricotta Pasta is light, fresh, and quick to prepare, making it the perfect pasta for weeknight dinners in the summer.
Ingredients
1

lemon

$0.89

8

oz.

pasta*

$0.67

1

cup

frozen peas

$0.50

1

clove

garlic, minced

$0.08

1

Tbsp

butter

$0.11

1

cup

whole milk ricotta

$1.60

1/4

cup

grated Parmesan

$0.36

1/4

tsp

salt (or to taste)

$0.02

1/4

tsp

freshly cracked black pepper (or to taste)

$0.02

1

pinch

crushed red pepper (or to taste)

$0.02
Instructions
Zest and juice the lemon. You'll need about ½ tsp zest and 1 Tbsp lemon juice.

Cook the pasta according to the package directions (boil for 7-10 minutes, or until tender). Before draining, reserve about 1 cup of the starchy water from the pot.

Place the frozen peas in the colander before draining the pasta so the pasta will thaw the peas as it drains.

Add the butter and minced garlic to a large skillet and sauté over medium heat for 1-2 minutes, or just until the garlic is fragrant.

Add the drained pasta and peas, and about ½ cup of the starchy pasta cooking water to the skillet with the butter and garlic. Stir to combine, then turn off the heat.

Add the ricotta, Parmesan, 1 tablespoon lemon juice, and ½ teaspoon lemon zest to the skillet. Stir until everything is well combined, the residual heat from the skillet and pasta have warmed the ricotta, and the ricotta has formed a creamy sauce. Add more of the warm reserved pasta water if needed.

Season the pasta with salt, pepper, and crushed red pepper to taste. Serve warm.
Notes
*Use any short shape pasta.
Nutrition
Serving:
1
serving
|
Calories:
400
kcal
|
Carbohydrates:
51
g
|
Protein:
18
g
|
Fat:
14
g
|
Sodium:
335
mg
|
Fiber:
4
g
How to Make Lemon Ricotta Pasta – Step By Step Photos
Zest and juice one lemon. You'll need about ½ tsp of zest and 1 Tbsp juice.
Cook 8oz. pasta according to the package directions (boil for 7-10 minutes, or until tender). Reserve about 1 cup of the starchy pasta water before draining.
Add 1 cup of frozen peas to a colander, then pour the boiled pasta over top to thaw the peas as you drain the pasta.
Add 1 Tbsp butter and 1 clove garlic to a large skillet. Sauté over medium heat for 1-2 minutes, or just until the garlic becomes very fragrant.
Add the still-hot pasta and peas to the skillet along with about ½ cup of the hot reserved pasta water. Stir to combine, then turn off the heat.
Add 1 cup whole milk ricotta, ¼ cup grated Parmesan, 1 Tbsp lemon juice, and ½ tsp lemon zest to the pasta. Stir until the ingredients are combined, the residual heat from the pasta and skillet have warmed the ricotta, and the ricotta has turned into a creamy sauce.
Add more of the reserved pasta water if the mixture is too thick or too dry. Season the pasta with salt, pepper, and crushed red pepper to taste.
Enjoy the lemon ricotta pasta while still warm!
The post Lemon Ricotta Pasta appeared first on Budget Bytes.