BROCCOLI MUSHROOM ORZO BAKE
She was sitting on the edge of the pool, waiting for her turn at swim lessons and was completely sausaged into her swimsuit. Her longer body stretching the length of the bathing suit so that the chest of it was too low and the straps looked stressed. Beautiful, tender, winter skin against that mustard yellow daisy print. Cleo waves at me, looking like such a… girl.
She turned six a few weeks ago and while we are dancing in the kitchen to the Encanto soundtrack and mixing up our "b's" and "d's" , our conversations are about friendships at school and what happens when you die. She is both little and big to me. Motherhood is a wild whiplash. Each one of those days, while the bathing suit became too small, felt like nothing, but is also the compilation of so many small moments. I'm having a bit of a time with my own insecurities and watching them find their way at school and with people. My kids growth, tangled up and digested through my own. It's just like the moms before me said, the challenges never go away, they just change. I see this girl of mine growing, still needing me, but also moving towards my role as support, instead of the lead. Yessss, I know she's young, but I can see it. A small shift, the ones you can miss if you're not paying attention.
January used to be a month of goals all organized on paper – less sugar and new tennis shoes to get moving but this one felt… observant. Curious. Asking what I want, and what my family needs, as opposed to the more/better mentality that a new year sells you. I want to take a few classes, read books to learn things – parts of history that didn't stick through school, or Spanish so I can help my kids with homework without so much google translation. We need a vacation that feels different, exciting. I learned from our covid quarantine week that we need more time just playing and hanging, as opposed to schedules and sports and social plans that I naturally tend towards. That includes me, stopping, not wiping down counters when I can afford to sit and compose some legos, or bead for a bit instead. I can feel and see a different season with my kids and while I definitely prefer it to toddlerhood (preach!), it feels like things are moving quickly and I'll have to stay connected to myself, to see these simple, magical moments with my family.
With that said, let me share this casserole that went over really well with my Sprouted Kitchen Cooking Club folks. It's two pans and veggies that can be swapped and kid friendly because who doesn't love orzo? I delivered one to a friend who said it stretched for two meals, so keep this in your back pocket for delivery.
Anyway. From my tender heart to yours this month, hope you are healthy and well and feeling hopeful about this next year. Cheers.
BROCCOLI + MUSHROOM ORZO BAKE // Serves 6
It's like a mac n cheese-ish pasta bake but with some vegetables in it. My kids like broccoli, but you could get away with whatever your people like in similar volume, and cooked before adding it in. So long as the mushrooms are super small, I can squeeze those by them. Sub in peas or hunks of cooked butternut squash or add in 1/2 lb. of browned Italian sausage if you prefer an animal protein in there.
If you're making this to deliver or freeze, assemble everything through the panko parm topper, and wrap it in foil. Pass along directions to bring it to room temperature before baking.
Ingredients
2 Tbsp. of extra virgin olive oil or butter
1 small yellow onion – chopped small
8 oz. of mushrooms – wiped clean, super well chopped
3 cloves of garlic – minced
sea salt
pepper
2/3 cup of white wine
1 pinch of red pepper flakes
2 tsp. of fresh thyme leaves
3 cups of vegetable or chicken stock
1/2 lb. of orzo (about 1 heaping cup)
10 oz. of broccoli florets – steamed & chopped
1/2 cup of heavy cream
1 lemon – zested
4 oz. of grated fontina or Italian cheese blend
1 cup of panko
1/4 cup of parmesean
extra virgin olive oil
fresh parsley – chopped
Directions
Grease an 8" pan or 10" oven-proof skillet. Preheat the oven to 400'.
In a large Dutch oven or skillet over medium, heat your oil or butter. Add the onion, and sauté a few minutes until tender. Add the mushrooms, garlic, big pinches of salt and pepper and sauté another 5 minutes, until the liquid is released and you get some browning. Stir in the wine and cook another 5 minutes to cook down. Stir in the pepper flakes, thyme, and turn off the heat.
In another pot, heat the broth to a gentle boil. Add the orzo and cook for about 7 minutes until just tender. Yes, it will absorb most of the moisture.
Transfer the orzo and any residual broth to the pot with the mushrooms. Add the steamed broccoli, cream, lemon zest, cheese and another pinch of salt and pepper. Fold everything to combine. It should be loose.
Transfer the mixture to your prepared pan. Sprinkle the panko and parm on top, and drizzle it with olive oil (it can be refrigerated for a day or frozen at this point. Bring the refrigerated one to room temperature before baking. Cook the frozen one, covered for 25 then uncovered for 20). Bake for 20 minutes, uncovered, until the top is golden brown.
Garnish with fresh herbs.
Tips
Make Ahead
The entire casserole can be assembled up to a day in advance and baked just before serving. It can be frozen pre-bake as well.
Use It Twice
This makes a lot of food, would be a great one to double and gift or freeze for later.
Kid Friendly
So long as you get your mushrooms and broccoli small, mine loved it!
Gluten Free
Jovial makes a cassava-based orzo. It can get gummy, but I think it will still work here. It's possible a long-grain brown rice would work here, too. I would just steam it before assembling, and add two eggs in there if you can to help it hold some shape.
Here's a quickie recipe for those nights when you just need something fast and delicious. This Lemon Ricotta Pasta is super fast, light, and fresh, which makes it perfect for an easy weeknight dinner during the summer. The bright lemon flavor perfectly compliments the light and creamy ricotta, and the little pops of sweetness from the peas make every bite a little more interesting. Simple, fresh, and easy.
Originally posted 3-4-2011, updated 6-8-2022.
Do I Have to Use Fresh Lemon?
This is one of those recipes where you really do want to use a fresh lemon instead of bottled juice. The zest from the lemon adds a ton of bright, summery lemon flavor to the pasta without making the sauce too sour. We add just a little of the juice to balance the creaminess of the ricotta, but the zest is where you're getting all that gorgeous sunny lemon flavor!
Not All Ricotta is Created Equal
I find there is quite a bit of variation in the quality of ricotta from brand to brand. Some are smooth, mild, and sweet like fresh milk, while others are bland and grainy. My preferred brand is Galbani, but they didn't have any at the store when I went, so I got the generic Kroger brand. It was definitely a bit grainy, but the pasta was still quite delicious despite that!
Also, make sure to get whole milk ricotta. Low-fat ricotta just doesn't hit the same in this recipe.
What Else Can I Add?
This simple pasta is a great jumping-off point for making a more elaborate pasta, if that's what you're in the mood for. Try adding some sliced chicken breast, fresh basil, or fresh spinach. Garlic butter shrimp would also go great with this pasta!
What to Serve with Lemon Ricotta Pasta
This pasta is so light and fresh that I suggest keeping any side dishes really simple, light, and fresh as well. I would go with a super simple side salad, or maybe some roasted asparagus and tomatoes.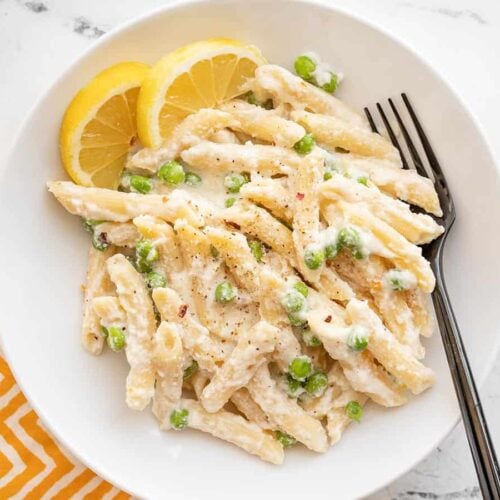 Lemon Ricotta Pasta
Lemon Ricotta Pasta is light, fresh, and quick to prepare, making it the perfect pasta for weeknight dinners in the summer.
Ingredients
1

lemon

$0.89

8

oz.

pasta*

$0.67

1

cup

frozen peas

$0.50

1

clove

garlic, minced

$0.08

1

Tbsp

butter

$0.11

1

cup

whole milk ricotta

$1.60

1/4

cup

grated Parmesan

$0.36

1/4

tsp

salt (or to taste)

$0.02

1/4

tsp

freshly cracked black pepper (or to taste)

$0.02

1

pinch

crushed red pepper (or to taste)

$0.02
Instructions
Zest and juice the lemon. You'll need about ½ tsp zest and 1 Tbsp lemon juice.

Cook the pasta according to the package directions (boil for 7-10 minutes, or until tender). Before draining, reserve about 1 cup of the starchy water from the pot.

Place the frozen peas in the colander before draining the pasta so the pasta will thaw the peas as it drains.

Add the butter and minced garlic to a large skillet and sauté over medium heat for 1-2 minutes, or just until the garlic is fragrant.

Add the drained pasta and peas, and about ½ cup of the starchy pasta cooking water to the skillet with the butter and garlic. Stir to combine, then turn off the heat.

Add the ricotta, Parmesan, 1 tablespoon lemon juice, and ½ teaspoon lemon zest to the skillet. Stir until everything is well combined, the residual heat from the skillet and pasta have warmed the ricotta, and the ricotta has formed a creamy sauce. Add more of the warm reserved pasta water if needed.

Season the pasta with salt, pepper, and crushed red pepper to taste. Serve warm.
Notes
*Use any short shape pasta.
Nutrition
Serving:
1
serving
|
Calories:
400
kcal
|
Carbohydrates:
51
g
|
Protein:
18
g
|
Fat:
14
g
|
Sodium:
335
mg
|
Fiber:
4
g
How to Make Lemon Ricotta Pasta – Step By Step Photos
Zest and juice one lemon. You'll need about ½ tsp of zest and 1 Tbsp juice.
Cook 8oz. pasta according to the package directions (boil for 7-10 minutes, or until tender). Reserve about 1 cup of the starchy pasta water before draining.
Add 1 cup of frozen peas to a colander, then pour the boiled pasta over top to thaw the peas as you drain the pasta.
Add 1 Tbsp butter and 1 clove garlic to a large skillet. Sauté over medium heat for 1-2 minutes, or just until the garlic becomes very fragrant.
Add the still-hot pasta and peas to the skillet along with about ½ cup of the hot reserved pasta water. Stir to combine, then turn off the heat.
Add 1 cup whole milk ricotta, ¼ cup grated Parmesan, 1 Tbsp lemon juice, and ½ tsp lemon zest to the pasta. Stir until the ingredients are combined, the residual heat from the pasta and skillet have warmed the ricotta, and the ricotta has turned into a creamy sauce.
Add more of the reserved pasta water if the mixture is too thick or too dry. Season the pasta with salt, pepper, and crushed red pepper to taste.
Enjoy the lemon ricotta pasta while still warm!
The post Lemon Ricotta Pasta appeared first on Budget Bytes.