Basic Buddha Burrito Bowl from Fast and Easy Vegan Cookbook
https://www.chicvegan.com/buddha-burrito-bowl-from-fast-and-easy-vegan-cookbook/
This Basic Buddha Burrito Bowl from Fast and Easy Vegan Cookbook by JL Fields will spice up your meal rotation. It's perfect for either lunch or dinner (or both!). This easy recipe is vegan and gluten-free.
Fast and Easy Vegan Cookbook
One of the complaints I often hear from people is that they don't have time to cook meals. Dinner is especially a problem, as they want something fast and easy after a long day at the office. JL Fields has come to their rescue with her new Fast and Easy Vegan Cookbook.
Fast and Easy Vegan Cookbook is full of — you guessed it — fast and easy vegan recipes! Some recipes are fast, others are easy, and some are both! None of them require a lot of ingredients, and preparation for each one is pretty simple. A lot of the recipes include substitution tips, making it easy to use what you have on hand. And some include oil-free, gluten-free, nut-free, and soy-free options, too, making it easy for those with dietary restrictions.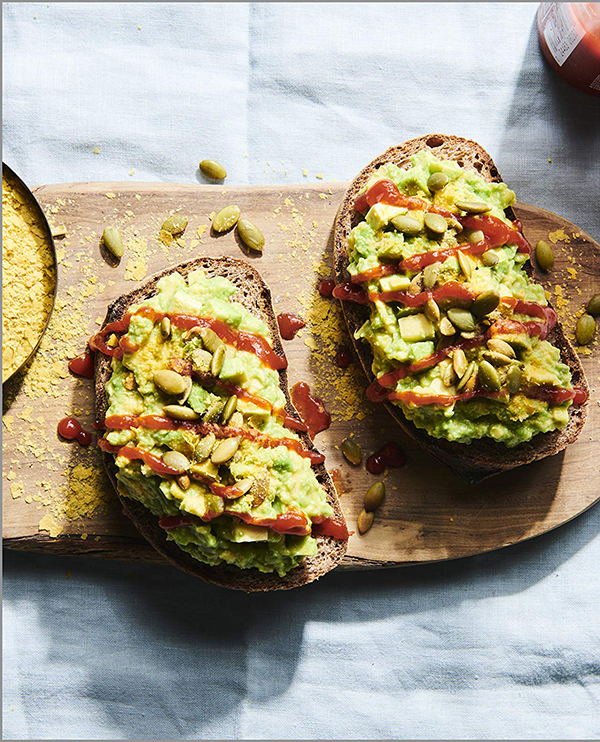 JL includes information on how to balance meals as a vegan, versatile ways to use vegetables, and even how to store veggies. She's also included useful meal-prep tips and a list of equipment that's handy to have on hand in your plant-based kitchen.
Rather than group recipes by meal, they're divided by level of ease, which makes using the book super handy. Some recipes don't require any cooking at all, some can be made with just five ingredients, and others take 30 minutes or less from start to finish. There's even a chapter devoted to pressure cooking!

Chapters Include:
Vegan Meals Made Fast and Easy
No Cooking Required
Thirty-Minute Meals (or Less)
Five Ingredients
One-Pot Wonders
No-Pressure Pressure Cooking
Kitchen Staples
If you're a vegan in need of fast and easy recipes, if you're a new vegan and aren't sure of what to cook, or if you're just looking for new recipes to add to your collection, Fast and Easy Vegan Cookbook is the book for you!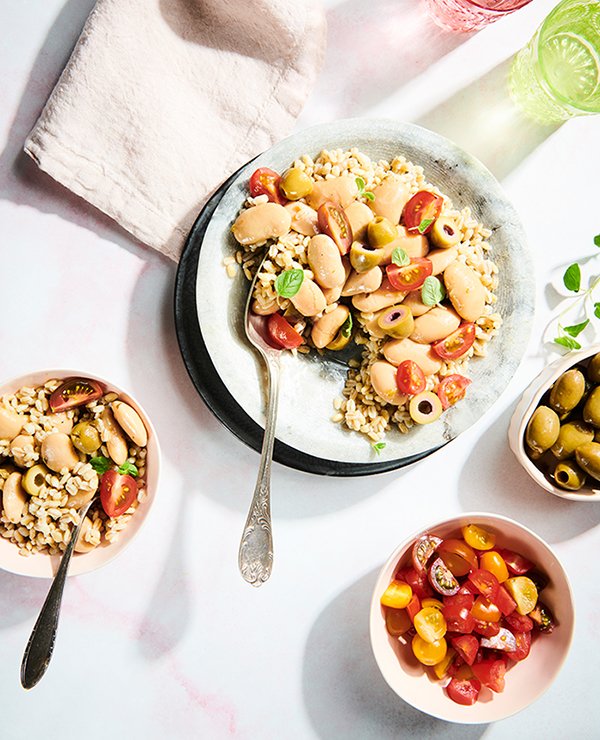 Basic Buddha Burrito Bowl
Buddha bowls, also known as "hippie" bowls, used to be a way to sort of poke fun at vegan eating: "All you eat is beans, greens, and grains!" But, hey, what's wrong with that? There are so many choices! And, for the lazy (or just plain tired) cook, it simply means assembling the plant-based elements—a cooked grain, vegetables (raw, cooked, or both), protein, sauce or dressing, and a colorful garnish such as nuts or seeds—all together in one bowl. This bowl is burrito-style, just one of so many ways you can create a bowl based on your favorite flavor profiles.
Ingredients
1




cup




quinoa

2




cups




water

1/2




teaspoon




salt




optional

2




teaspoons




olive oil

1




15-ounce can




black beans




drained and rinsed

16




ounces




(about 8 cups) fresh spinach




trimmed and chopped

1/2




cup




salsa




fresh or jarred

1/4




cup




vegan sour cream
Instructions
In a medium saucepan, combine the quinoa, water, and salt (if using), and bring to a boil over medium-high heat. Once boiling, cover, reduce the heat to medium-low, and simmer until the water is absorbed and the quinoa is tender, 15 to 20 minutes. Remove from the heat and set aside, still covered, for 5 minutes before fluffing with a fork.

While the quinoa cooks, in a large skillet over medium-high heat, heat the oil for 1 minute. Add the beans and spinach and toss gently until the spinach turns dark green and begins to wilt, 3 to 4 minutes.
To serve, portion the quinoa into four bowls, then portion out the sautéed beans and spinach. Top each bowl with 2 tablespoons salsa and 1 tablespoon sour cream.

Make It Ahead: Batch cooking is your best friend for Buddha bowls. Any legume partnered with vegetables and grains (or starches, like sweet potatoes or parsnips) qualifies. That's why every weekend I prepare a batch of beans and a batch of grains or starch vegetables; during the week I can reheat and quickly assemble a tasty bowl with a steamed, roasted, or sautéed veggie and a little sauce or dressing.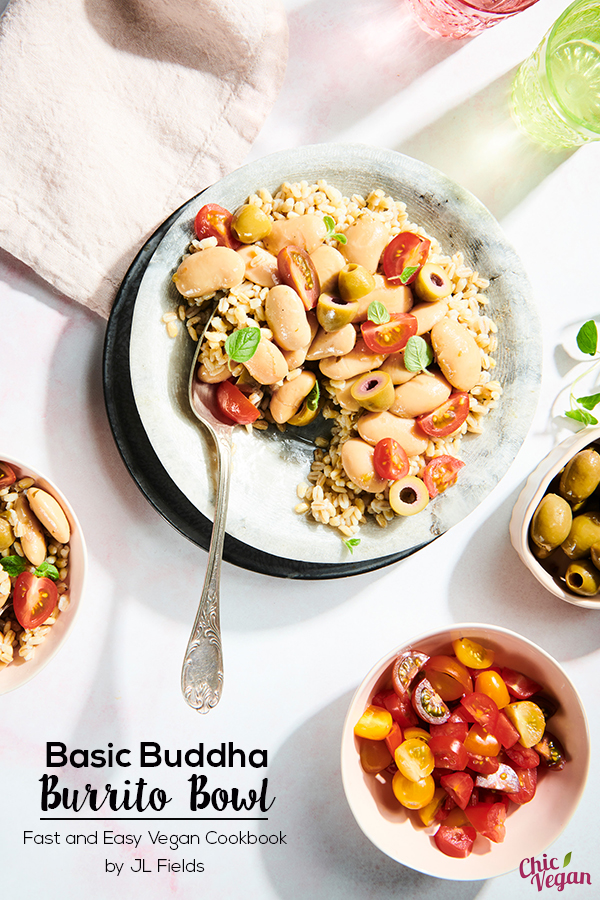 Loaded Baked Potato Wedges with Creamy Cheese Sauce and Tofu Bacony Bits
Loaded Vegan Baked Potato Wedges – These crispy baked potato wedges are perfection! Baked until crispy and topped with vegan cashew cheese sauce, tofu bacon, and scallions. These just might be potato perfection!
This easy recipe for Baked Loaded Potato Wedges will blow you away with the delicious combo of crispy baked potatoes,  tofu bacon bits, and a creamy vegan cashew cheese sauce.
While you could eat these loaded potato wedges as a meal or side dish, I love serving these as a shared appetizer or a Game Day snack. Having a few is delicious, but having a whole sheet pan on your own is quite gluttonous so you might want to share. If you're hosting a party, a movie night or a game day get-together, make sure to put these delicious loaded potato wedges on the menu and you will be everyone's favorite!
These Vegan Cheesy Potato Wedges are perfect for when you're craving something cheesy and comforting. The potatoes are baked not fried.  They are baked on the same sheet pan as the tofu bacon which makes for easy clean-up. While the potato wedges are baking, we whip up my favorite vegan cashew cheese sauce. It only takes minutes and you'll love the creamy rich texture. I like to make some extra and serve pasta with vegan cheese sauce and bacon the next day. You can also slice the potatoes into halves to make loaded baked potatoes!
More Vegan Game Day Foods & Snacks
Firecracker crispy tofu wings
Spinach artichoke dip 
Thai Layered Dip -because Peanut sauce.
Spicy Pepper Crisp Cauliflower bites with celery ranch
Zucchini chickpea Fritters
Cajun Chickpea Fries
Continue reading: Loaded Baked Potato Wedges with Creamy Cheese Sauce and Tofu Bacony Bits
The post Loaded Baked Potato Wedges with Creamy Cheese Sauce and Tofu Bacony Bits appeared first on Vegan Richa.