Baked Aloo Gobi Vegan Recipe Indian Spiced Potato Cauliflower
http://feedproxy.google.com/~r/blogspot/yPHzu/~3/4dw8ZbwB1eU/baked-aloo-gobi-vegan-recipe.html
Baked Aloo Gobi – Indian Spiced Potato Cauliflower Side. Tips for the Best Aloo Gobi Subzi that bakes perfectly. 10 Mins Active. Toss with spices, put it to bake, and done! No Standing around, no Mushy Cauliflower! Same Amazing Indian flavor and excellent texture. Vegan Glutenfree Soyfree Nutfree Recipe.  Jump to Recipe
Aloo Gobi is the quintessential part of an Indian spread. Spiced, perfectly cooked bites of potato and cauliflower, often served along with dals, curries. Aloo gobi is made almost exactly the same way at my mom's since forever. No one wants to mess with perfection! The recipe, process or spices vary by region, family. The everyday home cooked version is usually a dryish seasoned veggies. Not all Indian dishes(even if they are called curries) have a sauce. Restaurants often will make it into a curried/saucy dish try this version or gobi masala from my book, that can be a meal served with flatbread(gf options). 
My family recipe is a Punjabi recipe with spices such as cumin seeds, coriander, turmeric and loads of ginger and garlic. The skillet version posted way since when is made every few weeks. I've changed it up slightly and I also started baking it. The process is much easier and needs less active time, as you don't need to be in standing the kitchen.
Also the baked aloo gobi turns out fabulously flavored, perfectly cooked and no mushy Cauliflower! Aloo Gobi in my house has got to be dry evenly spiced side without a sauce. Its wet enough from the moisture in the veggies. Just a few ingredients and gorgeous golden veggies is what we are aiming for.  You can change up the spices to preference. For less roasted crisp, just use a smaller baking dish so they are spread almost double layer. Believe me, you wont go back to the skillet or Instant pot for aloo gobi once you try this Roasted Aloo Gobi!
More Indian Sides from the blog
This Aloo Gobi takes just 10 mins to put together. Toss with spices, put it to bake, and done! No Standing around, no Mushy Cauliflower! Same Amazing Indian flavor and excellent texture. If you make it, let me know in the comments how it turned out!
Tips to make the Best Aloo Gobi:
You want to keep the size of the cauliflower florets and potatoes similar. Too large florets or potatoes and they will not pickup flavor or cook through evenly. Too small of either will tend to have burnt edges.  
Spread the veggies so that they are in a single layer with just a bit of overlapping for dry Aloo Gobi. Too spaced out and they will be too crispy like roasted veggies. Spread them with overlapping for softer, less crisp (I put them in almost a double layer in smaller dish when making it for my Dad who likes his soft and slightly moist. The veggies have enough moisture and they will sauce(moisten) more as they sit in the serving dish). You can try different pan size to see what pan and spreading amount gives you your preferred crisp and texture.
There are 2 ways to spice the veggies. 1. Mixing the spices, ginger, garlic in some water and then tossing in the veggies. 2. Mixing the dry spices and tossing in the veggies(this needs another teaspoon of oil for good distribution.) 
As with the tips for my Roasted Brussels sprouts post, you want to use stoneware for best results. And cover the veggies for a portion of the baking. 
Baked Aloo Gobi Vegan Recipe (Indian Spiced Potato Cauliflower)
Baked Aloo Gobi – Indian Spiced Potato Cauliflower Side. Tips for the Best Aloo Gobi Subzi that bakes perfectly every time! Vegan Glutenfree Soyfree Nutfree Recipe. 
Course: Side
Cuisine: Gluten-free, Indian, Vegan
Keyword: aloo gobi recipe, aloo gobi vegan, baked aloo gobi, best aloo gobi, roasted aloo gobi
Servings: 4
Calories: 117 kcal
Author: Vegan Richa
Ingredients
1

small head of cauliflower

, 2 heaping cups

2

medium potatoes

(yukon gold or white), about 2 cups cubed
Spicing:
1

tsp

turmeric

, divided

1

tsp

ground cumin

(1/2 tsp if you dont like cumin)

1

tsp

ground coriander

, optional, but nice

1/3

tsp

cayenne

or paprika

1/2

tsp

garam masala

or curry powder or berbere(1/2 to 1 tsp to preference)

3/4

tsp

salt

1

tbsp

minced ginger

1 inch

1

tbsp

minced garlic or 1 tsp garlic powder

2

tbsp

water

1

tsp

oil

cilantro for garnish
Instructions
Chop the cauliflower into small florets and put in a large bowl.

Chop the potatoes into small cubes (less than 1/2 inch) and add to the bowl.

In a small bowl. Mix the 1/2 tsp turmeric and the rest of the ingredients under spicing until well combined. Add the spice mixture to the large bowl and toss to coat.

Alternatively, Add the minced ginger, garlic, oil to the bowl and toss well. Combine the turmeric, cumin, coriander, garam masala, cayenne, salt in a small bowl, mix well. Sprinkle over the cauliflower, potatoes and toss well. 

Let the cauliflower and potatoes sit for a minute. 

Sprinkle some more turmeric and mix lightly (optional). 

Spread the veggies in a stoneware or ceramic baking dish. Spray oil. See Tips above on how to spread the veggies and pan size to choose. 

Bake at 400 deg F (204 C) for 20 mins, then cover with parchment and bake for another 15 mins or until tender to preference. Taste carefully and adjust salt and spice and mix in. garnish with cilantro and some lemon juice. 
Recipe Notes
Variations: Add 1 hot green chili, finely chopped with the ginger and garlic.
Change up the spices, use panch phoron blend instead of garam masala for achari aloo gobi.
Add thawed peas in the last 10 minutes of baking for Aloo Gobi Matar.
Add some cooked chickpeas to amp up the protein. Increase the spices to preference to accommodate the added chickpea volume.
Oilfree: Omit the oil. Cover the Veggies half way through(about 5 mins longer).
Nutrition is for 1 serve
Nutrition Facts
Baked Aloo Gobi Vegan Recipe (Indian Spiced Potato Cauliflower)
Amount Per Serving
Calories 117 Calories from Fat 9
% Daily Value*
Total Fat 1g 2%
Sodium 492mg 21%
Potassium 892mg 25%
Total Carbohydrates 22g 7%
Dietary Fiber 5g 20%
Sugars 1.8g
Protein 5.4g 11%
Vitamin A 1.2%
Vitamin C 100.5%
Calcium 7.2%
Iron 26%
* Percent Daily Values are based on a 2000 calorie diet.
Here's a quickie recipe for those nights when you just need something fast and delicious. This Lemon Ricotta Pasta is super fast, light, and fresh, which makes it perfect for an easy weeknight dinner during the summer. The bright lemon flavor perfectly compliments the light and creamy ricotta, and the little pops of sweetness from the peas make every bite a little more interesting. Simple, fresh, and easy.
Originally posted 3-4-2011, updated 6-8-2022.
Do I Have to Use Fresh Lemon?
This is one of those recipes where you really do want to use a fresh lemon instead of bottled juice. The zest from the lemon adds a ton of bright, summery lemon flavor to the pasta without making the sauce too sour. We add just a little of the juice to balance the creaminess of the ricotta, but the zest is where you're getting all that gorgeous sunny lemon flavor!
Not All Ricotta is Created Equal
I find there is quite a bit of variation in the quality of ricotta from brand to brand. Some are smooth, mild, and sweet like fresh milk, while others are bland and grainy. My preferred brand is Galbani, but they didn't have any at the store when I went, so I got the generic Kroger brand. It was definitely a bit grainy, but the pasta was still quite delicious despite that!
Also, make sure to get whole milk ricotta. Low-fat ricotta just doesn't hit the same in this recipe.
What Else Can I Add?
This simple pasta is a great jumping-off point for making a more elaborate pasta, if that's what you're in the mood for. Try adding some sliced chicken breast, fresh basil, or fresh spinach. Garlic butter shrimp would also go great with this pasta!
What to Serve with Lemon Ricotta Pasta
This pasta is so light and fresh that I suggest keeping any side dishes really simple, light, and fresh as well. I would go with a super simple side salad, or maybe some roasted asparagus and tomatoes.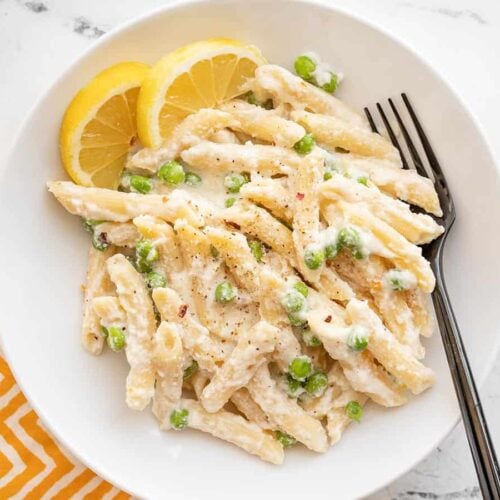 Lemon Ricotta Pasta
Lemon Ricotta Pasta is light, fresh, and quick to prepare, making it the perfect pasta for weeknight dinners in the summer.
Ingredients
1

lemon

$0.89

8

oz.

pasta*

$0.67

1

cup

frozen peas

$0.50

1

clove

garlic, minced

$0.08

1

Tbsp

butter

$0.11

1

cup

whole milk ricotta

$1.60

1/4

cup

grated Parmesan

$0.36

1/4

tsp

salt (or to taste)

$0.02

1/4

tsp

freshly cracked black pepper (or to taste)

$0.02

1

pinch

crushed red pepper (or to taste)

$0.02
Instructions
Zest and juice the lemon. You'll need about ½ tsp zest and 1 Tbsp lemon juice.

Cook the pasta according to the package directions (boil for 7-10 minutes, or until tender). Before draining, reserve about 1 cup of the starchy water from the pot.

Place the frozen peas in the colander before draining the pasta so the pasta will thaw the peas as it drains.

Add the butter and minced garlic to a large skillet and sauté over medium heat for 1-2 minutes, or just until the garlic is fragrant.

Add the drained pasta and peas, and about ½ cup of the starchy pasta cooking water to the skillet with the butter and garlic. Stir to combine, then turn off the heat.

Add the ricotta, Parmesan, 1 tablespoon lemon juice, and ½ teaspoon lemon zest to the skillet. Stir until everything is well combined, the residual heat from the skillet and pasta have warmed the ricotta, and the ricotta has formed a creamy sauce. Add more of the warm reserved pasta water if needed.

Season the pasta with salt, pepper, and crushed red pepper to taste. Serve warm.
Notes
*Use any short shape pasta.
Nutrition
Serving:
1
serving
|
Calories:
400
kcal
|
Carbohydrates:
51
g
|
Protein:
18
g
|
Fat:
14
g
|
Sodium:
335
mg
|
Fiber:
4
g
How to Make Lemon Ricotta Pasta – Step By Step Photos
Zest and juice one lemon. You'll need about ½ tsp of zest and 1 Tbsp juice.
Cook 8oz. pasta according to the package directions (boil for 7-10 minutes, or until tender). Reserve about 1 cup of the starchy pasta water before draining.
Add 1 cup of frozen peas to a colander, then pour the boiled pasta over top to thaw the peas as you drain the pasta.
Add 1 Tbsp butter and 1 clove garlic to a large skillet. Sauté over medium heat for 1-2 minutes, or just until the garlic becomes very fragrant.
Add the still-hot pasta and peas to the skillet along with about ½ cup of the hot reserved pasta water. Stir to combine, then turn off the heat.
Add 1 cup whole milk ricotta, ¼ cup grated Parmesan, 1 Tbsp lemon juice, and ½ tsp lemon zest to the pasta. Stir until the ingredients are combined, the residual heat from the pasta and skillet have warmed the ricotta, and the ricotta has turned into a creamy sauce.
Add more of the reserved pasta water if the mixture is too thick or too dry. Season the pasta with salt, pepper, and crushed red pepper to taste.
Enjoy the lemon ricotta pasta while still warm!
The post Lemon Ricotta Pasta appeared first on Budget Bytes.