Announcing: The New Cookbook!!!
https://www.loveandlemons.com/announcing-the-new-cookbook/
I've been keeping this a secret for a while now, but today's the day that I can finally tell you about my new cookbook, Love & Lemons Every Day! The main thing that I want you to know about it is that, well… it's packed with all of my absolute favorite recipes, ones I've been obsessively making, eating, serving, and testing nearly every day for the past three years. It's a big fat beautiful book packed with all-new vibrant veggie recipes (none are on the blog – you'll only find them in the book) and lots of beautiful visuals to inspire you to make fun, delicious food. It's coming out April 2nd, and you can pre-order it now!
My approach to this cookbook was very different from the first book. With the first book, I focused all of the recipes on my farmers market finds, and I based dishes solely off that inspiration. With our recent move closer to my family in Chicago, I decided to change things up a bit. With Chicago's farmers market season being much shorter, as well as having more meals with my extended family, I shifted the focus of this book more towards everyday cooking with vegetables that you can easily find – whether you're shopping at the grocery store or the farmers market. Of course, the book is full of recipes featuring gorgeous produce, but it's organized by meal type, so you'll easily find something yummy to make any day. This means more meals that your whole family will love with vegetables at the center of the plate.
PRE-ORDER TODAY!
U.S.
Amazon  /  Barnes & Noble  /  Indiebound
Canada:
Chapters Indigo  /  Amazon.ca
International:
Book Depository
eBook:
Apple Books  / Google Play  / Kindle
Kobo (US)  /  Kobo (Canada)  /  Nook
So, what's in the book?
100+ all-new vibrant recipes that make vegetables insanely delicious!

Love & Lemons Every Day is the perfect book for making any meal, from breakfast to dessert, where vegetables (and/or fruits) are the star. Butternut squash becomes the best queso you've ever eaten, broccoli transforms into a zesty green "rice" burrito filling, and sweet potato blends into a smooth chocolate frosting. The book is organized by meal type, including Breakfast, Snacks & Starters, Salads, Soups, Side Dishes, Desserts, Drinks, and Homemade Extras, but the biggest chapter by far is Dinner! Because, when I personally read cookbooks, I'm usually looking for something inspiring to make for dinner, and I wanted to give you lots and lots of plant-forward main dish options.
And speaking of plant-forward options, all of the recipes are vegetarian and nearly all of the recipes have a vegan alternative if the recipe is not vegan already. There are a good amount of gluten-free recipes as well.

Go-to guides

If you have our first cookbook, you're probably familiar with the hummus, smoothie, and pesto charts that are at the back of the book. Everyone loved those (including me!), so I made more! Sprinkled throughout the book are visual charts and guides to show you how to make my favorite kitchen staples. Learn how to roast or grill any vegetable, how to make vegetable stock with whatever you have on hand, and more.
Inspiration to get creative!

Tired of your usual desk lunch? A giant grid of 5-ingredient salad dressings will have you devouring a new salad every day! All the dressings are wonderful to have on hand for throwing together quick meals. You'll have a great time discovering other uses for them as well. Of course, the dressings are great to pep up your greens, but you'll also love them on grain bowls or drizzled over roasted vegetables. As I created these dressings (and had a million dressings hanging around my fridge), I had tons of ideas of how to mix and match them to create new recipes. I hope these informative graphics spark that kind of kitchen joy for you too.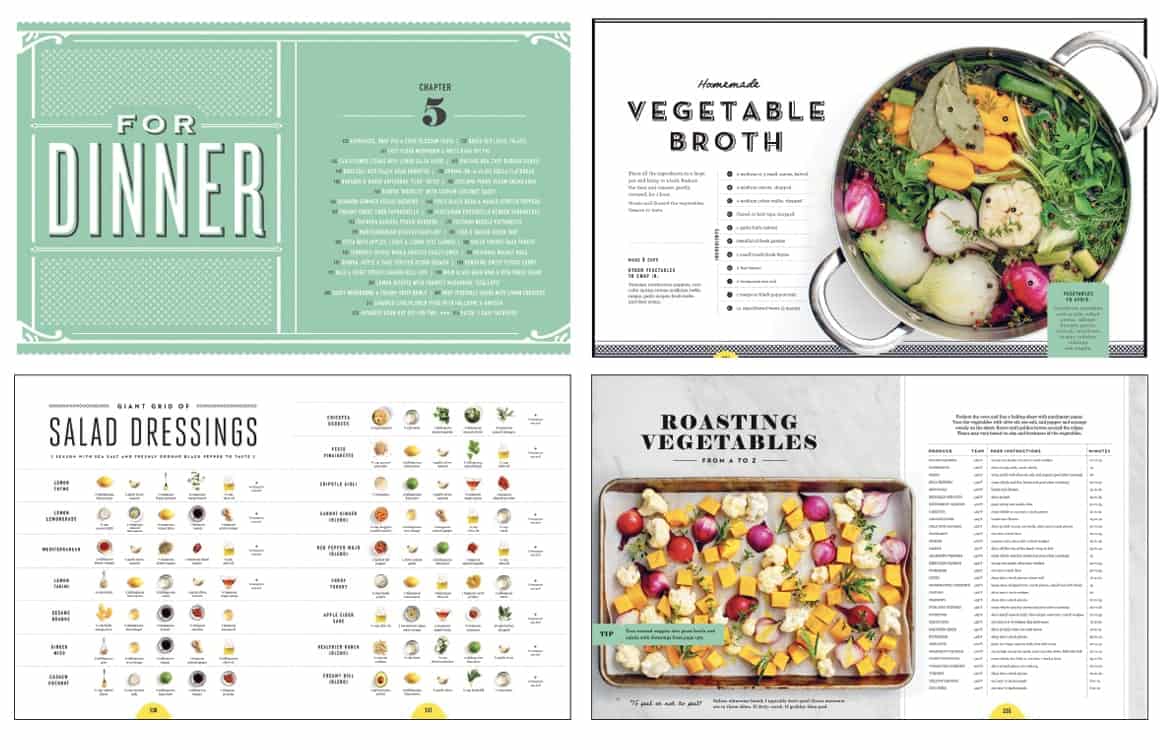 Fast food

Sometimes you just need a quick, tasty combination of healthy ingredients. If you've been reading the blog for a while, you're familiar with our Many Ways posts, such as Overnight Oats Many Ways and Stuffed Sweet Potatoes Many Ways. These 'many-ways' style concepts (new ones!) appear in the book, too! You'll see 6 Ways to Scramble, 5 Easy Pasta Favorites, and Fruit Crumbles 4 Ways. 
… and slow food

Sometimes you want to pour a glass of wine and spend quality time in the kitchen. This book features an array of more involved recipes for those days. Try the Cozy Vegan Mushroom White Bean Pot Pies, Zucchini Verde Vegan Enchiladas, or explore a collection of special occasion menus.

Clever ideas to use the whole vegetable

Not sure what to do with your beet greens and broccoli stalks? I've included a section filled with fun ways to use scrap vegetable parts in your everyday cooking – waste not, want not!
A recipe for "insert vegetable here"

Nearly every (easily accessible) vegetable under the sun is featured. Cauliflower and kale are here, but you'll find tasty ideas for less popular veggies like parsnips, rutabagas, and collard greens, too! Some of my favorites include a hearty meatless rutabaga ragu and a collard green slaw that's perfect to pack for lunch.
And some sweet treats
The day you get your book, I suggest that you make the Flourless Almond Chocolate Chip Cookies (we constantly have a stash in our freezer), my all-time favorite Lemon Olive Oil Pistachio Cake, or these Vegan Date Brownies:

I truly hope you love this book as much as I loved making it for you!
Click one of these links to pre-order the book!
U.S.
Amazon  /  Barnes & Noble  /  Indiebound
Canada:
Chapters Indigo  /  Amazon.ca
International:
Book Depository
eBook:
Apple Books  / Google Play  / Kindle
Kobo (US)  /  Kobo (Canada)  /  Nook
Praise for Love & Lemons Every Day
"For years, Love & Lemons has been my go-to guide for vegetable-packed inspiration in the kitchen. Love & Lemons Every Day, Jeanine's latest and most vibrant project yet, is the tangible incarnation of why her work is so popular and appealing. It's loaded with positive, practical, and passionate recipes that make cooking every day a true joy, as well as endless smart tips for healthier, happier eating!"
– Gail Simmons
"Love & Lemons Every Day is going to be a new staple on my bookshelf. First of all, the recipes are SO GOOD. They're vegetarian without sacrificing anything, and they're totally drool-worthy (Lasagna Soup—like what??) but don't require spending your whole night in the kitchen. Then there are the add-ins, sprinkled throughout the book like delectable little bonus morsels: How to use food scraps and freeze herbs, easy salad dressing formulas, and more.  It's a book that will inspire people to get excited about healthy food, but more importantly, a book that will actually enable them to cook it in their daily lives."
 – Liz Moody
"Being a California girl, Jeanine's approach to food speaks deep into my heart. Her new book is bright, fresh, and filled with everyday recipes that beautifully celebrate what is so special about cooking with what is in season."
– Tiffani Thiessen
"I want you to come watch the movie with us ON the couch, not be in the kitchen!"
I've been filling out this one-question-a-day journals for moms that I received for Christmas. It records a little thought or memory over the last year, and then starts again, so you can see how your answers change over a few years. One of the recent ones, prompted me to jot notes about what I am learning as a mom, and I found the question so general I was basically annoyed. I am a romantic, and also wildly pragmatic. In the span of a day I can tear up over the depths of love I feel for my kids, and also wish for them to have a mute button. We all have worlds within us; mothering pushing me into the corners of myself I am sometimes proud of or other corners ashamed of, but am I learning? Yes, every single day. Sometimes in the moment and other times after a particular season. But in 2021, my answer in the bullet journal was that I see my kids are wanting me to play with them. They aren't registering all the service and shuttling and laundry and what it takes to pull off a week, they just want to play WITH me. It's natural for me to move within lists and tasks and responsibilities and hustling, but playing is something I have to pay attention to. For them and for me. We usually do a family movie on Friday nights and my son (6.5), see quote above, pointed out that I don't actually watch the movie, I tinker in the kitchen and he wants me in the couch cuddle. Flattered, and found out that I'd rather make granola than watch The Croods 🙂 So from annoyed, to passing on the question to fellow parents, what are you learning? Try not to be annoyed. Maybe circle back to it.
I published this recipe over on SKCC a few weeks ago and wanted it to live here. We're trying to find more family-friendly vegetarian recipes (it's easy for me to fill up on roasted veggies and big salads, not so much for the kids). This batch lasts us two meals – once with noodles, maybe half zoodles, and the second round on toast or english muffins with cheese melted on top, like a pizza sort of thing? It freezes well and is great to deliver to new parents.
CAULIFLOWER BOLOGNESE
Serves 6
Ingredients
2 Tbsp. of extra virgin olive oil
1 small yellow onion – roughly chopped
3 cloves of garlic
sea salt to taste
pepper to taste
1 head of cauliflower (about ¾ lb. or 12 oz. riced)
1/2 cup of raw walnuts pieces
1/2 tsp. of Italian seasoning
1/2 tsp. of fennel seeds – crushed
2 Tbsp. of tomato paste
2 Tbsp. of balsamic vinegar
1/2 cup of red wine (or broth of any sort, and double the vinegar to mimic the wine's acidity)
28 oz. of canned, crushed tomatoes
1/2 cup of red lentils
red pepper flake to taste
For serving
12 oz. of pasta or choice, zoodles, etc.
parmesan
fresh, torn basil
Directions
In a large Dutch-oven or stockpot, heat the olive oil over medium low heat.
In a food processor, pulse the onion and garlic into smaller bits. Add them to the pot with a big pinch of salt and pepper. Sauté to soften, about 3 minutes.
Pulse up the cauliflower florets to get a rice-like texture. Add the riced-cauliflower to the pot and sauté to soften, about 5 minutes.
Pulse the walnuts in the processor and add those to the pot along with the Italian seasoning, fennel seed, another few generous pinches of salt and pepper, tomato paste and balsamic vinegar. Sauté until fragrant.
Add the red wine, cook about 3 minutes, then add the crushed tomatoes, ½ cup water, lentils, pinch of pepper flakes and stir to combine. Turn the heat to low, put the cover ajar and let it simmer gently for 30-35 minutes. Turn off the heat, taste for seasoning and adjust.
Cook your pasta or zoodles according to instructions. Top with cauli Bolognese, grated cheese, fresh basil and enjoy!
The Bolognese will keep in the fridge for a week and can be frozen for a few months.