7.6 Million Vegans?
https://veganoutreach.org/76-million-vegans/
By Jack Norris, Executive Director, and Rania Hannan, Research and Assessment Specialist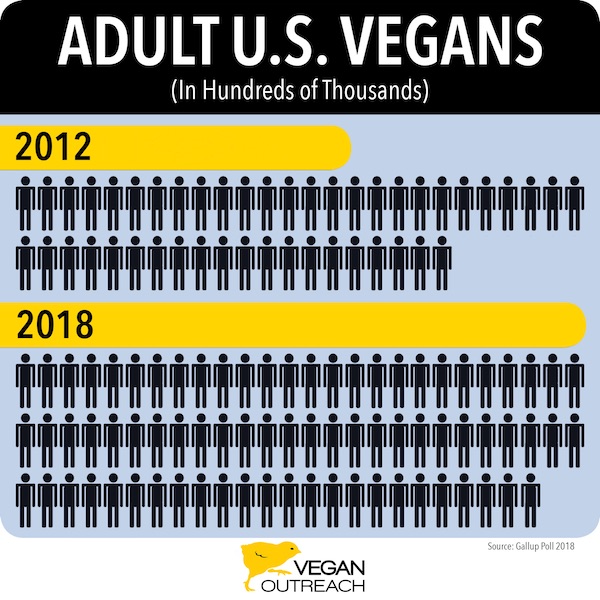 On August 1, Gallup released a poll in which they asked people whether they were vegetarian and vegan, and then compared the results to the same poll they conducted in 2012 (1). Gallup framed their results as, "Few Americans Vegetarian or Vegan," but that really depends on your perspective—applying their results to the adult population shows that 7.6 million U.S. adults consider themselves to be vegan and that's a considerable increase from earlier decades.
Gallup found that while the percentage of vegetarians has remained at 5% since 2012, the percentage of vegans had increased from 2% to 3%—a 50% increase in six years. And if you do the math based on the U.S. adult population from 2011 and 2017—the years they used in their calculations (2)—the number of vegans has increased by an estimated 2.8 million in those six years.
There are two caveats to this poll:
Unlike the Vegetarian Resource Group's polls of vegetarians and vegans which ask people what foods they eat, Gallup asked people if they "consider themselves to be" a vegetarian or vegan. The Vegetarian Resource Group's pollsters estimated there to be 3.7 million adult vegans in the U.S. in 2016 based on food frequency data (3).
The margin of error for these Gallup polls is wide at ±4%.
That said, the trends point in the right direction and reinforce our experience on the ground—the number of vegans is growing. Thank you to everyone working to spread a vegan lifestyle and end the suffering of farmed animals!
References
1. Snapshot: Few Americans Vegetarian or Vegan. Gallup. August 1, 2018.
2. Adults U.S. population taken from U.S. Census Bureau, Population Division (2011). Accessed August 10, 2018. Found U.S. adult population to be 237,734,073 in 2011 and 252,063,800 in 2017.
3. How many adults in the U.S. are vegetarian and vegan? Vegetarian Resource Group. Accessed August 10, 2018.
Loaded Baked Potato Wedges with Creamy Cheese Sauce and Tofu Bacony Bits
Loaded Vegan Baked Potato Wedges – These crispy baked potato wedges are perfection! Baked until crispy and topped with vegan cashew cheese sauce, tofu bacon, and scallions. These just might be potato perfection!
This easy recipe for Baked Loaded Potato Wedges will blow you away with the delicious combo of crispy baked potatoes,  tofu bacon bits, and a creamy vegan cashew cheese sauce.
While you could eat these loaded potato wedges as a meal or side dish, I love serving these as a shared appetizer or a Game Day snack. Having a few is delicious, but having a whole sheet pan on your own is quite gluttonous so you might want to share. If you're hosting a party, a movie night or a game day get-together, make sure to put these delicious loaded potato wedges on the menu and you will be everyone's favorite!
These Vegan Cheesy Potato Wedges are perfect for when you're craving something cheesy and comforting. The potatoes are baked not fried.  They are baked on the same sheet pan as the tofu bacon which makes for easy clean-up. While the potato wedges are baking, we whip up my favorite vegan cashew cheese sauce. It only takes minutes and you'll love the creamy rich texture. I like to make some extra and serve pasta with vegan cheese sauce and bacon the next day. You can also slice the potatoes into halves to make loaded baked potatoes!
More Vegan Game Day Foods & Snacks
Firecracker crispy tofu wings
Spinach artichoke dip 
Thai Layered Dip -because Peanut sauce.
Spicy Pepper Crisp Cauliflower bites with celery ranch
Zucchini chickpea Fritters
Cajun Chickpea Fries
Continue reading: Loaded Baked Potato Wedges with Creamy Cheese Sauce and Tofu Bacony Bits
The post Loaded Baked Potato Wedges with Creamy Cheese Sauce and Tofu Bacony Bits appeared first on Vegan Richa.