5 Activists Bringing Veganism to the Masses
https://veganoutreach.org/5-activists-bringing-veganism-to-the-masses/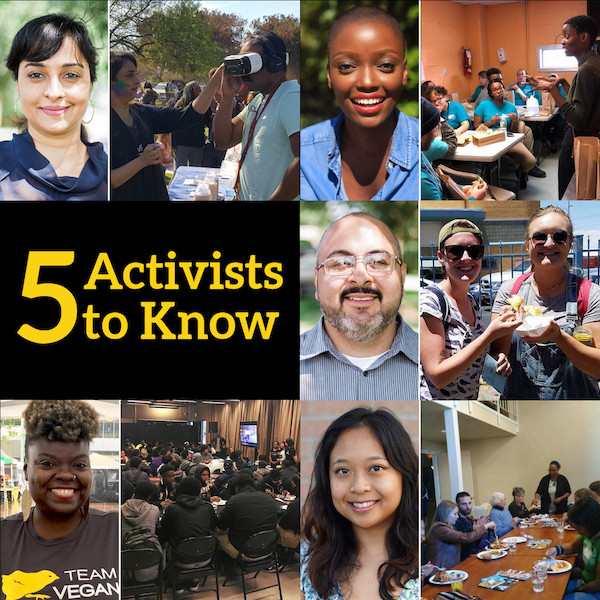 From Los Angeles to Brooklyn and in between, Vegan Outreach has connected with a multitude of curious non-vegans—sharing vegan food and providing informative, fun, and welcoming ways for folks to explore veganism.
We've hosted vegan food tasting events, shown iAnimal virtual reality videos at local festivals, and given presentations to groups of all sizes—and the positive feedback we get is very uplifting!
Today, we'd like to share a few of those inspiring moments with you and recognize our hard-working Community Events Coordinators. Below, each Coordinator recounts a particularly impactful moment they had over the past few months.
1. Gwenna Hunter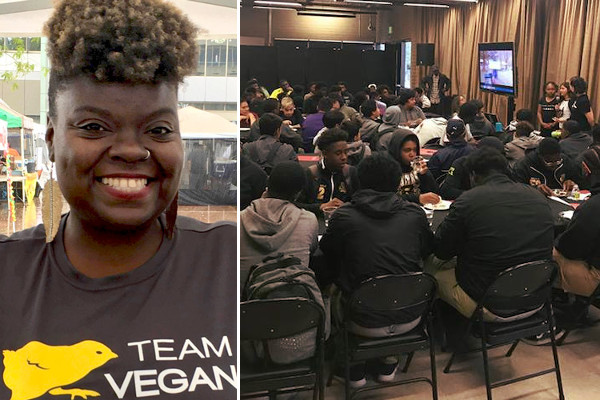 "This week, I had the extreme pleasure of having Dr. Ietef Cavem Vita and Genesis Butler of A Vegan Child's Journey speak in front of 150 male youth from Green Dot Public Schools in Los Angeles. We served delicious vegan tacos by Nays Tacos.
"Honestly, the kids were very judgmental at first because they wanted to see meat—but once they started eating the tacos, they loved them! They couldn't believe tacos could be so delicious without having meat!"
—Gwenna Hunter
Greater Los Angeles Community Events Coordinator
April 13, 2018
2. Jackie Va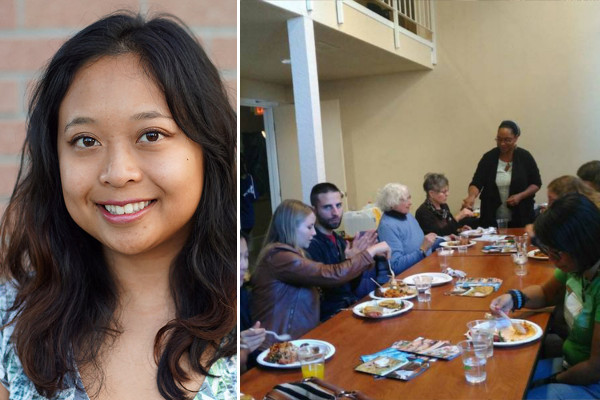 "On Sunday, I hosted the Taste Vegan Meats and Cheese Potluck in Stockton, CA. The event was capped at 40 RSVPs and it sold out in one day! Almost all of the attendees were non-vegan.
"I put literature out for people on the dining tables and set up an information table. Most people took more than one booklet, flipped through the pages, and asked questions as they ate. People stayed for 2 plus hours to talk to each other."
—Jackie Va
Central Valley Community Events Coordinator
February 20, 2018
3. Nzinga Young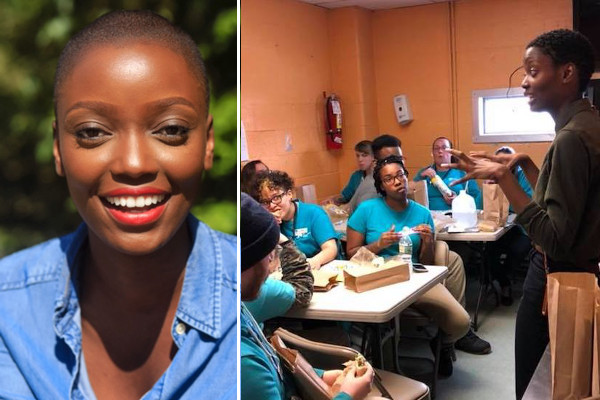 "Today, I did humane education presentations for the staff at Animal Care Centers (ACC) Brooklyn and Manhattan locations. Forty non-vegan employees spent their lunch break discussing how their love for animals could extend to animals raised for food.
"Attendees received a bagged lunch, two VO booklets, and a Tofurky coupon so they could recreate the vegan chicken salad they had for lunch. Both ACCs said the events were a hit and conversations on veganism lingered long after I left!"
—Nzinga Young
Greater NYC Community Events Coordinator
April 5, 2018
4. Victor Flores
"Vegan Outreach had the opportunity to attend the Bees and Seeds Festival in Albuquerque, NM last weekend. We gave out samples of sopaipillas from La Salita and served them with Bee Free Honee.
"So many people stopped by our booth that we ran out of samples! We gave out a lot of information on veganism and several folks committed to giving it a try."
—Victor Flores
Greater New Mexico Community Events Coordinator
May 20, 2018
5. Roopashree Rao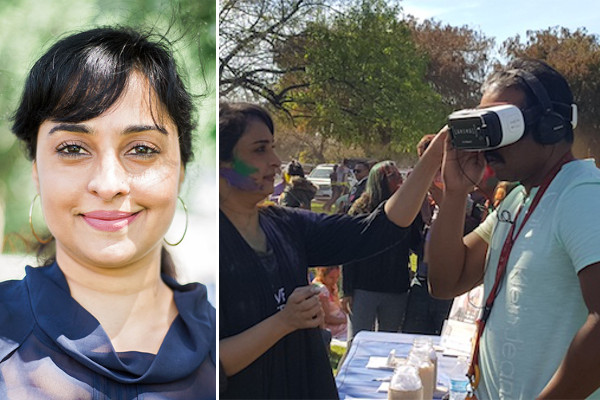 "VO tabled for the first time at the Holi Mela in Woodley Park, Los Angeles. The crowd was in a festive mood since it is the Festival of Colours! Quite a few kids and adults tried the vegan milks and cookies.
"A handful of people watched the iAnimal Virtual Reality video, and it clearly made a huge impact. When people have a strong reaction, my response to them is, "I didn't know either—but once we do see the cruelty, we can decide if we want to make changes."
—Roopashree Rao
Indian American Community Events Coordinator
March 4, 2018
Let's give a big round of applause for this hardworking group of activists who are truly making a difference through community outreach. Stay tuned because this won't be the last you hear of their work!
Do you want to get active for animals? Sign up now for our Action Alerts or join our Vegan Mentor Program!
Loaded Baked Potato Wedges with Creamy Cheese Sauce and Tofu Bacony Bits
Loaded Vegan Baked Potato Wedges – These crispy baked potato wedges are perfection! Baked until crispy and topped with vegan cashew cheese sauce, tofu bacon, and scallions. These just might be potato perfection!
This easy recipe for Baked Loaded Potato Wedges will blow you away with the delicious combo of crispy baked potatoes,  tofu bacon bits, and a creamy vegan cashew cheese sauce.
While you could eat these loaded potato wedges as a meal or side dish, I love serving these as a shared appetizer or a Game Day snack. Having a few is delicious, but having a whole sheet pan on your own is quite gluttonous so you might want to share. If you're hosting a party, a movie night or a game day get-together, make sure to put these delicious loaded potato wedges on the menu and you will be everyone's favorite!
These Vegan Cheesy Potato Wedges are perfect for when you're craving something cheesy and comforting. The potatoes are baked not fried.  They are baked on the same sheet pan as the tofu bacon which makes for easy clean-up. While the potato wedges are baking, we whip up my favorite vegan cashew cheese sauce. It only takes minutes and you'll love the creamy rich texture. I like to make some extra and serve pasta with vegan cheese sauce and bacon the next day. You can also slice the potatoes into halves to make loaded baked potatoes!
More Vegan Game Day Foods & Snacks
Firecracker crispy tofu wings
Spinach artichoke dip 
Thai Layered Dip -because Peanut sauce.
Spicy Pepper Crisp Cauliflower bites with celery ranch
Zucchini chickpea Fritters
Cajun Chickpea Fries
Continue reading: Loaded Baked Potato Wedges with Creamy Cheese Sauce and Tofu Bacony Bits
The post Loaded Baked Potato Wedges with Creamy Cheese Sauce and Tofu Bacony Bits appeared first on Vegan Richa.