Included here are classic cookie recipes like chocolate chip cookies, shortbread, skillet cookies, and snickerdoodles. Also, check out the crowd-pleasing wildcards here, like Nikki's Healthy Cookies (really!), No Bake Energy Bites, and Limoncello Macaroons.
This is the recipe I use anytime I want perfect sugar cookies. Great flavor, and the dough is a dream to work with.

Classic, buttery, whole wheat shortbread cookies fragrant with rosewater, flecked with toasted nuts, and dried rose petals.

A special triple ginger cookie made with three kinds of ginger and a hint of lemon zest. Cracked and sugar-crusted on the outside, dense and moist within.

Saffron Vanilla Snickerdoodles with a slight buckle in the middle, kiss of saffron, and thin golden crust with a fudge-textured center, from Blue Bottle Coffee.

Toasty, nutty sable cookies made with whole wheat flour, sliced almonds, currents and salted butter.

Powder-kissed and pretty, these Swedish Rye cookies are perfect for holiday cookie enthusiasts who are after a not-too-sweet, shortbread-style butter cookie.

The perfect bite-sized chocolate chip cookie. Tiny, thin, golden, crisp, a bit nutty with plenty of shaved chocolate.

A crackle-edged puddle of chocolate with a texture that made me think of the collision between a soft meringue and a fudgy brownie.

This is the shortbread from Yotam Ottolenghi and Helen Goh's Sweet, and it's incredible.

Sesame studded and heavily scented with crushed fennel seeds and chamomile.

A nut-free (school-friendly), double chocolate version of one of the most popular cookies on my site. Made with a banana-batter, shredded coconut, dark chocolate chunks, and oats.

Made using 100% whole wheat flour and hand-chopped chocolate chips, this is a skillet-baked twist on chocolate chip cookies.

My favorite alternative to energy bars – these are a favorite late afternoon snack.

Anzacs are made from oats, coconut, and flour coming together in a butter-kissed dough.

A limoncello macaroon recipe that are golden-crusted, powder-coated, almond-citrus gems spiked with limoncello liqueur.

One of the easiest cookies I know how to make – made from rolled oats, they're razor thin and lacy, golden, freckled with poppy seeds, with and anise accent from crushed fennel seeds.

Snappy, small, fragrant, vanilla wafer cookies made with a whole vanilla pod.

Everything you want in a gingerbread cookie. These are classic, spice-flecked, and delicious.

A quick way to get quinoa, hemp seeds, chia, and coconut into one naturally sweetened, no-bake snack.

Charming little bite-sized, powder-coated pistachio biscotti cookies.

These are the best oatmeal chocolate chip cookies ever of all time.

Cookies made from toasted quinoa and wheat flours, flecked with chocolate shavings, rolled and stamped into cloud shapes.

The batter is made with pureed white beans, lots of oats, and whole wheat flour. The resulting cookies are sesame coated and flavored with aniseed, lemon zest, olive oil and chopped dates.

Tiny, bite-sized holiday cookies made with two kinds of ginger and lots of shaved chocolate.

A remarkable healthy cookie recipe. And SO popular! Banana-batter, shredded coconut, dark chocolate chunks, and oats.

Thin, biscotti-style crackers densely pebbled with all manner of nuts and seeds – green pistachios, rust-toned hazelnuts, and off-black poppy seeds.

Perfect, golden, scalloped madeleines. From a favorite recipe shared with me by a friend and long-time Madeleine baker.

If you like a serious chocolate chip cookie, this is the recipe. A high chip to dough ratio guarantees lots of chocolate in every bite, and the walnuts add crunch, density, and a delicious flavor to the overall mix.

Beautiful, billowy Swiss meringue, punctuate with a range of nuts, seeds, and spices.

Blueberry Rye Cookies

I'm going to include the recipe for these below. It is hands-down my absolute favorite cookie recipe right now. I included a raspberry version of it in my last book, Super Natural Simple. Made with 100% rye flour and lots of freeze-dried blueberries.

Cookies are often a favorite punctuation to everyday moments, or the best kind of homemade gift for a friend. Everyone can (and should) bake delicious cookies on occasion! Have fun!
Blueberry Rye Cookie Recipe
The flour here is 100% rye, and my wildcard ingredient is an entire bag of crushed, freeze-dried blueberries. The cookies are extra-large, perfect for cutting into quarters to serve on a cookie plate. If baking from frozen, increase baking time by 4-6 minutes.
INGREDIENTS
14

 

tablespoons

 

unsalted butter, room temperature, sliced

1 ½

 

cups

 

granulated sugar

¼

 

cup

 

brown sugar

1

 

large egg

2

 

teaspoons

 

vanilla extract

2 1/4

 

cup

 

rye flour

1/2

 

teaspoon

 

baking soda

1/2

 

teaspoon

 

fine grain sea salt

1.2

 

oz

 

bag (1 cup) freeze-dried blueberries, crushed
INSTRUCTIONS
Preheat the oven to 350F, with a rack in the middle. Line two baking pans with parchment paper.

Beat the butter, by hand or mixer, in a large bowl until light and fluffy. Add the sugars, then beat until uniform. Stir in the egg and vanilla extract until well combined. Add the rye flour, and then sprinkle with baking soda, salt, and raspberries. Stir just until the dough is combined.

Form the dough into twelve 70g balls, approximately 1/4 cup each. Place 6 on each baking sheet. Put in the freezer for 15 minutes prior to baking, or chill, refrigerated, overnight. Bake, one sheet at a time, until the cookie edges are deeply golden, 15-18 minutes or so. Transfer to a baking rack to cool completely.
Here's a quickie recipe for those nights when you just need something fast and delicious. This Lemon Ricotta Pasta is super fast, light, and fresh, which makes it perfect for an easy weeknight dinner during the summer. The bright lemon flavor perfectly compliments the light and creamy ricotta, and the little pops of sweetness from the peas make every bite a little more interesting. Simple, fresh, and easy.
Originally posted 3-4-2011, updated 6-8-2022.
Do I Have to Use Fresh Lemon?
This is one of those recipes where you really do want to use a fresh lemon instead of bottled juice. The zest from the lemon adds a ton of bright, summery lemon flavor to the pasta without making the sauce too sour. We add just a little of the juice to balance the creaminess of the ricotta, but the zest is where you're getting all that gorgeous sunny lemon flavor!
Not All Ricotta is Created Equal
I find there is quite a bit of variation in the quality of ricotta from brand to brand. Some are smooth, mild, and sweet like fresh milk, while others are bland and grainy. My preferred brand is Galbani, but they didn't have any at the store when I went, so I got the generic Kroger brand. It was definitely a bit grainy, but the pasta was still quite delicious despite that!
Also, make sure to get whole milk ricotta. Low-fat ricotta just doesn't hit the same in this recipe.
What Else Can I Add?
This simple pasta is a great jumping-off point for making a more elaborate pasta, if that's what you're in the mood for. Try adding some sliced chicken breast, fresh basil, or fresh spinach. Garlic butter shrimp would also go great with this pasta!
What to Serve with Lemon Ricotta Pasta
This pasta is so light and fresh that I suggest keeping any side dishes really simple, light, and fresh as well. I would go with a super simple side salad, or maybe some roasted asparagus and tomatoes.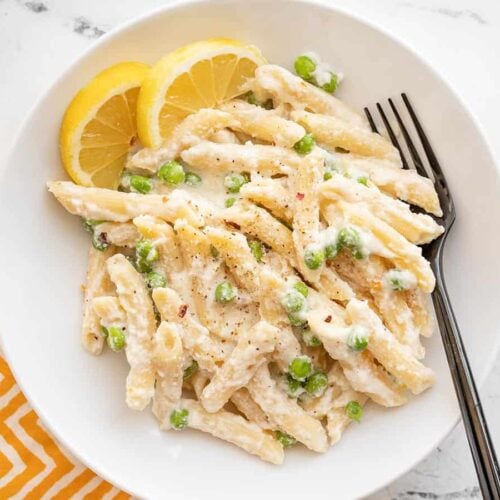 Lemon Ricotta Pasta
Lemon Ricotta Pasta is light, fresh, and quick to prepare, making it the perfect pasta for weeknight dinners in the summer.
Ingredients
1

lemon

$0.89

8

oz.

pasta*

$0.67

1

cup

frozen peas

$0.50

1

clove

garlic, minced

$0.08

1

Tbsp

butter

$0.11

1

cup

whole milk ricotta

$1.60

1/4

cup

grated Parmesan

$0.36

1/4

tsp

salt (or to taste)

$0.02

1/4

tsp

freshly cracked black pepper (or to taste)

$0.02

1

pinch

crushed red pepper (or to taste)

$0.02
Instructions
Zest and juice the lemon. You'll need about ½ tsp zest and 1 Tbsp lemon juice.

Cook the pasta according to the package directions (boil for 7-10 minutes, or until tender). Before draining, reserve about 1 cup of the starchy water from the pot.

Place the frozen peas in the colander before draining the pasta so the pasta will thaw the peas as it drains.

Add the butter and minced garlic to a large skillet and sauté over medium heat for 1-2 minutes, or just until the garlic is fragrant.

Add the drained pasta and peas, and about ½ cup of the starchy pasta cooking water to the skillet with the butter and garlic. Stir to combine, then turn off the heat.

Add the ricotta, Parmesan, 1 tablespoon lemon juice, and ½ teaspoon lemon zest to the skillet. Stir until everything is well combined, the residual heat from the skillet and pasta have warmed the ricotta, and the ricotta has formed a creamy sauce. Add more of the warm reserved pasta water if needed.

Season the pasta with salt, pepper, and crushed red pepper to taste. Serve warm.
Notes
*Use any short shape pasta.
Nutrition
Serving:
1
serving
|
Calories:
400
kcal
|
Carbohydrates:
51
g
|
Protein:
18
g
|
Fat:
14
g
|
Sodium:
335
mg
|
Fiber:
4
g
How to Make Lemon Ricotta Pasta – Step By Step Photos
Zest and juice one lemon. You'll need about ½ tsp of zest and 1 Tbsp juice.
Cook 8oz. pasta according to the package directions (boil for 7-10 minutes, or until tender). Reserve about 1 cup of the starchy pasta water before draining.
Add 1 cup of frozen peas to a colander, then pour the boiled pasta over top to thaw the peas as you drain the pasta.
Add 1 Tbsp butter and 1 clove garlic to a large skillet. Sauté over medium heat for 1-2 minutes, or just until the garlic becomes very fragrant.
Add the still-hot pasta and peas to the skillet along with about ½ cup of the hot reserved pasta water. Stir to combine, then turn off the heat.
Add 1 cup whole milk ricotta, ¼ cup grated Parmesan, 1 Tbsp lemon juice, and ½ tsp lemon zest to the pasta. Stir until the ingredients are combined, the residual heat from the pasta and skillet have warmed the ricotta, and the ricotta has turned into a creamy sauce.
Add more of the reserved pasta water if the mixture is too thick or too dry. Season the pasta with salt, pepper, and crushed red pepper to taste.
Enjoy the lemon ricotta pasta while still warm!
The post Lemon Ricotta Pasta appeared first on Budget Bytes.