11 places for vegans to eat in Madison, Wisconsin
https://www.chicvegan.com/11-places-for-vegans-to-eat-in-madison-wisconsin/?utm_source=rss&utm_medium=rss&utm_campaign=11-places-for-vegans-to-eat-in-madison-wisconsin
Madison, Wisconsin is an easy place for vegans to visit. Here are some of the top spots you won't want to miss in this progressive Midwestern college town.
Green Owl Café
Madison's first all-vegetarian restaurant, the Green Owl can make most dishes vegan. This is your comfortable hangout spot, all decked out in cheerful green, orange and yellow, for veggie burgers, vegan wings or a jackfruit quesadilla. The peanut macrobowl is on the healthful end of the spectrum, made with roasted sweet potato, coconut quinoa and steamed kale. More interested in the decadent end? Opt for vegan coconut cream pie or lava cake.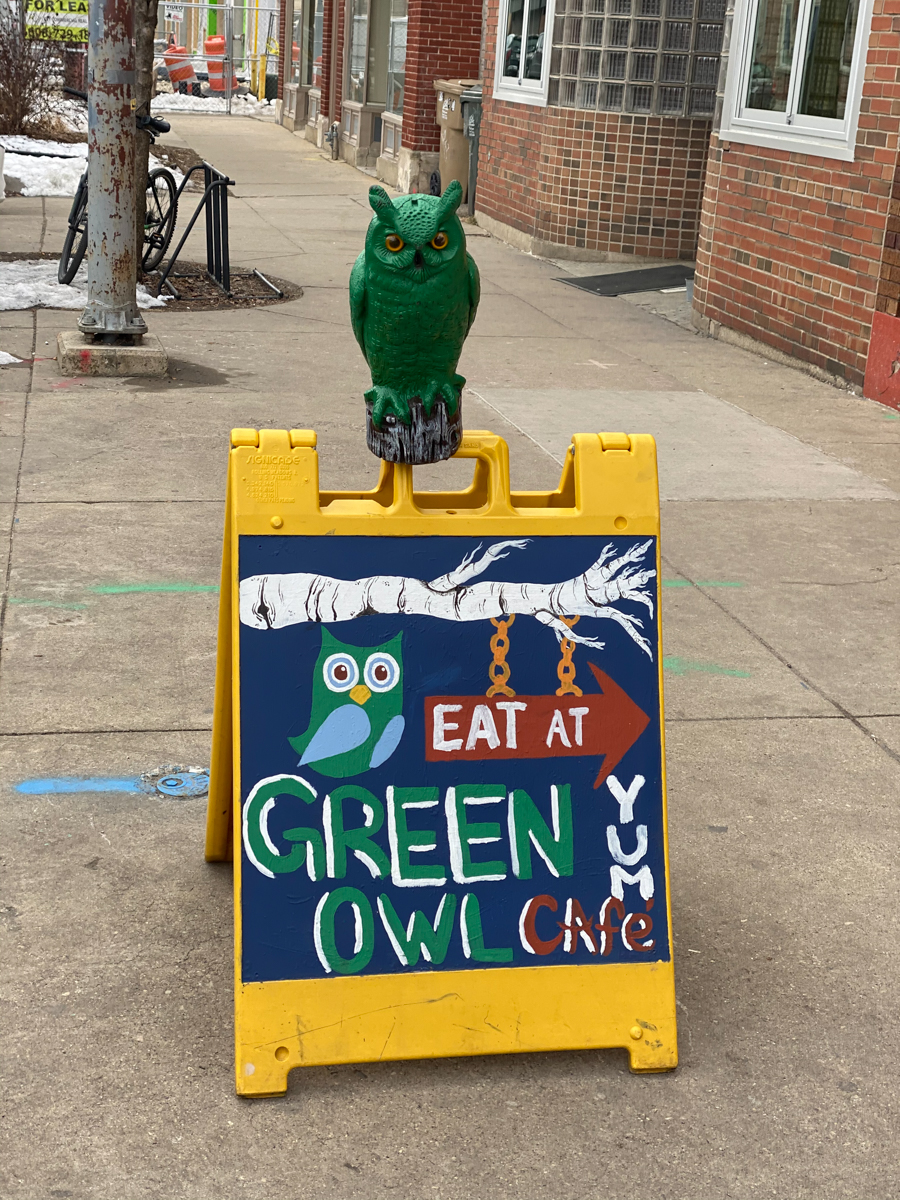 Surya
This new plant-based café recently opened in the gorgeously refurbished Garver Feed Mill building. Surya makes all kinds of unusual dishes. Have you been craving a curried cauliflower waffle with maple-cumin kale and mango jalapeno sauce? How about a vegan cheese board? This is the first place I've ever seen a toast flight, so you can try all of the café's innovative toast toppings. I opted for the gluten-free Treehugger waffle, which came topped with fruit, granola, berry sauce and vanilla cashew cream. Someday I need to return to find out just what medicinal hot chocolate is.
Kosa Wellness Spa & Retreat
Also in the Garver Feed building, the Kosa Wellness Spa offers a day or half-day retreat. You can use its steam room and sauna, book an Ayurvedic treatment, peruse spiritual books in the big relaxation room, and order lunch from a menu of Indian specialties made from family recipes of owner Shilpa Sankaran. The menu changes seasonally. During winter, expect a warming and grounding Khichdi bowl of rice, lentils vegetables and spices. The family non-dairy chai recipe is spicy and not too sweet.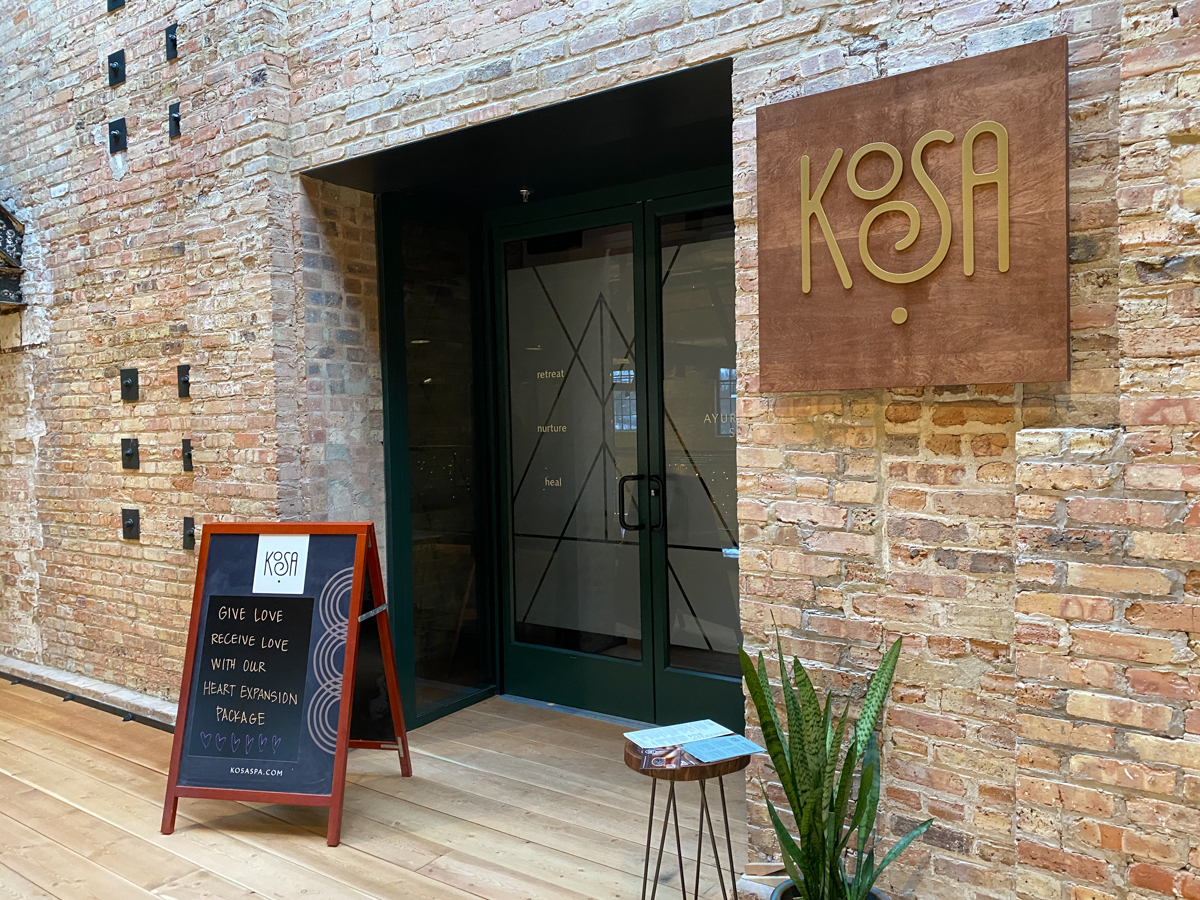 Himal Chuli
This award-winning restaurant owned by a Nepali family began as a food cart back in the 1980s. Now Himal Chuli is a downtown institution, a comfortable little restaurant with plenty of veg options. Order the rice, tarkrai and dal and you'll get a blend of nicely spiced fresh vegetables that change according to what's on hand that day. When I visited, you could choose between cauliflower or spinach-based tarkrai. Himal Chuli also has a couple of tofu dishes and some veg seasonal stews. The roti is especially good, served hot from the oven with a choice of white or wheat. I had to order extra.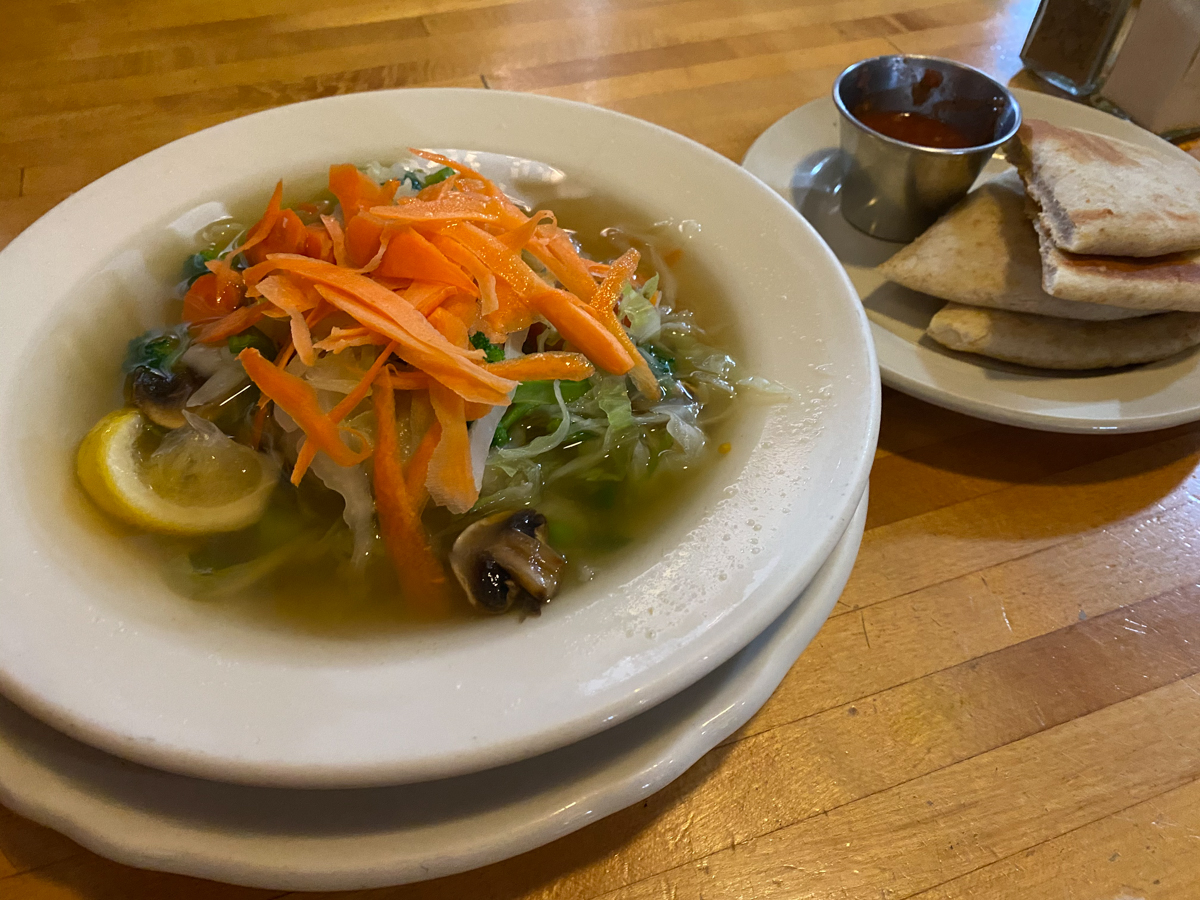 Tavernakaya
This Japanese tavern specializes in small plates. It was lively on the Friday night I visited, despite the winter chill. One of the most popular vegan dishes is General Tso's cauliflower, fried with scallions and a sweet sauce. Tavernakaya's crispy Brussels sprouts with soy sauce togarashi (dried red chili) and shallots was a standout dish. There's also a small veg sushi menu.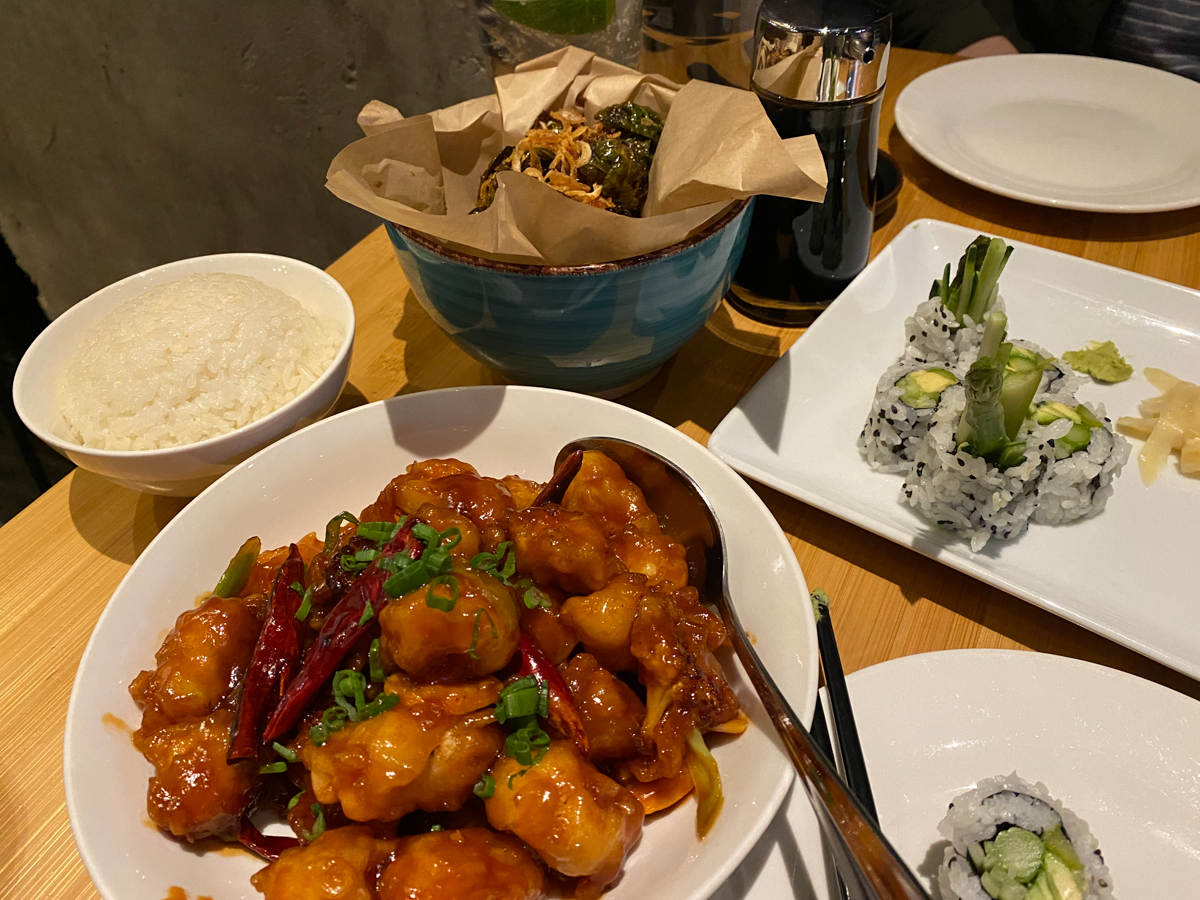 Ian's Pizza
This is one of my favorite Madison places, a student hangout that attracts other demographics, too. The salads are gigantic and you can choose from more than 40 mix-in options, lots of vegs, tofu, chick peas, nuts and Brussels sprouts. Ian's Pizza often has vegan slices ready to go. If not, you can order a custom vegan pizza.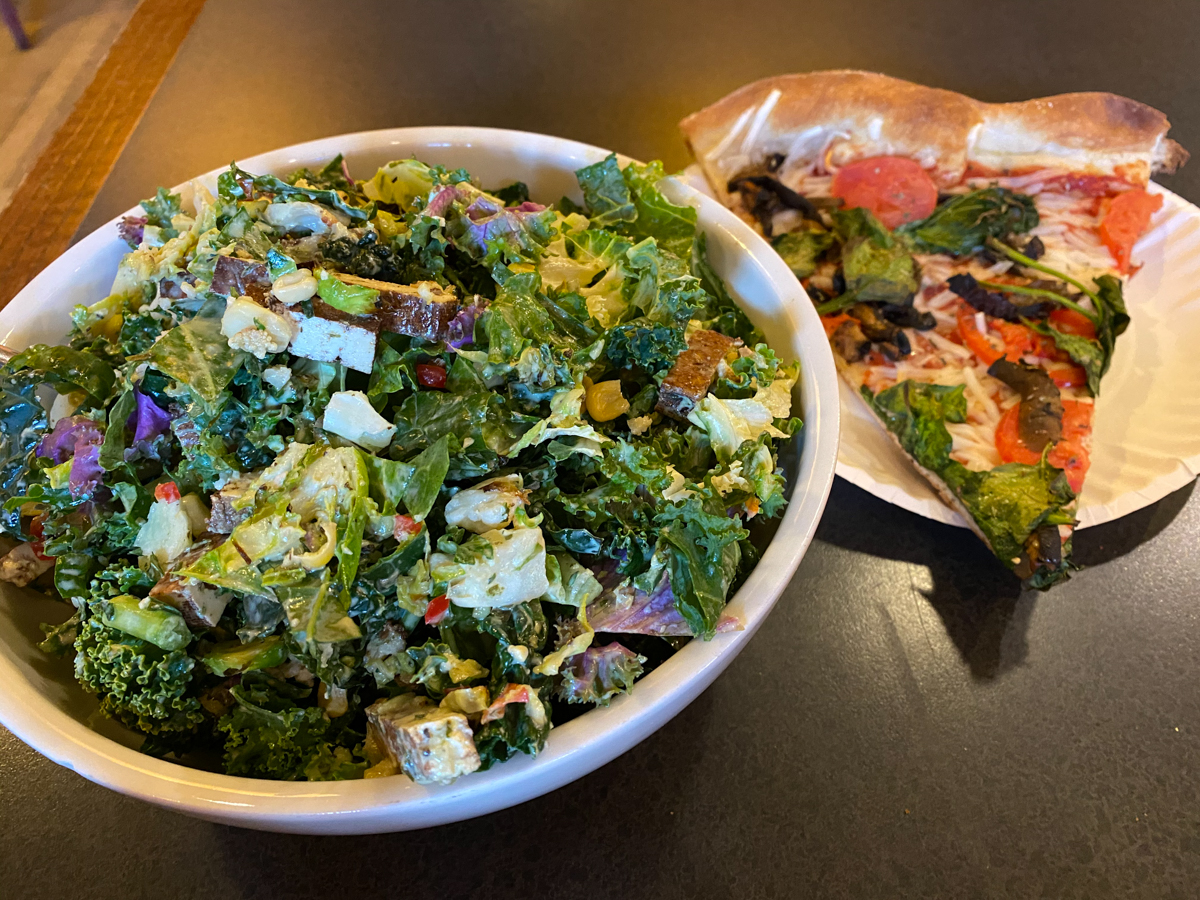 Everly
Everly has a couple of good choices for vegans. I got a black bean quinoa burger with kale salad which was good and filling. If you're there for dinner, consider sharing small plates like edamame hummus toast with fried artichoke, caramelized onions and lime salt or fried Brussels sprouts with citrus vinaigrette. For dessert, there's chocolate avocado mousse with sea salt/banana coconut cookies.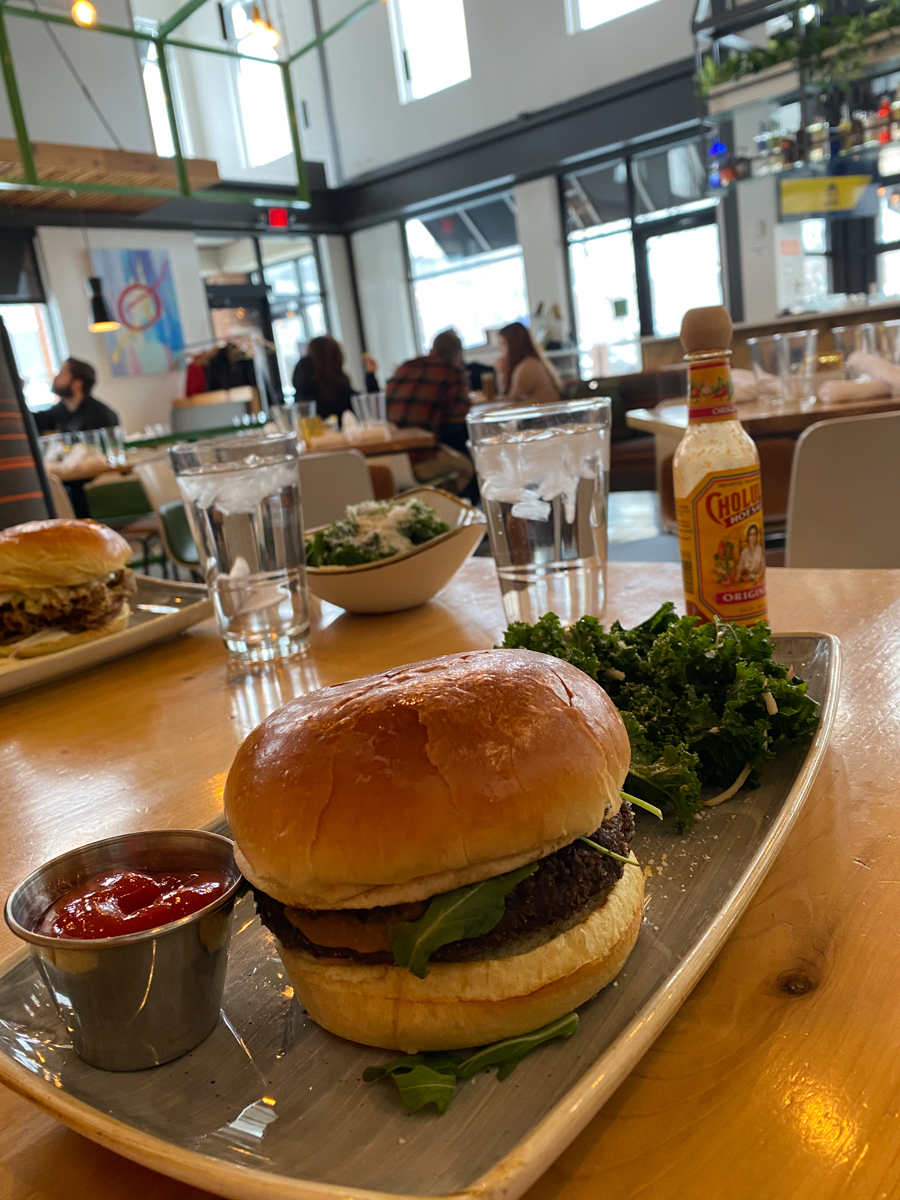 Tubb's Taco Palace
Tubb's has tacos, one of Madison's best neon signs, and lots of vegetarian and vegan options clearly marked on its menu. You can order seven different vegan tacos, if you're really hungry, plus three vegan burritos. Choose from taco toppers like sweet potato, fried avocado, vegan chorizo and chipotle beet.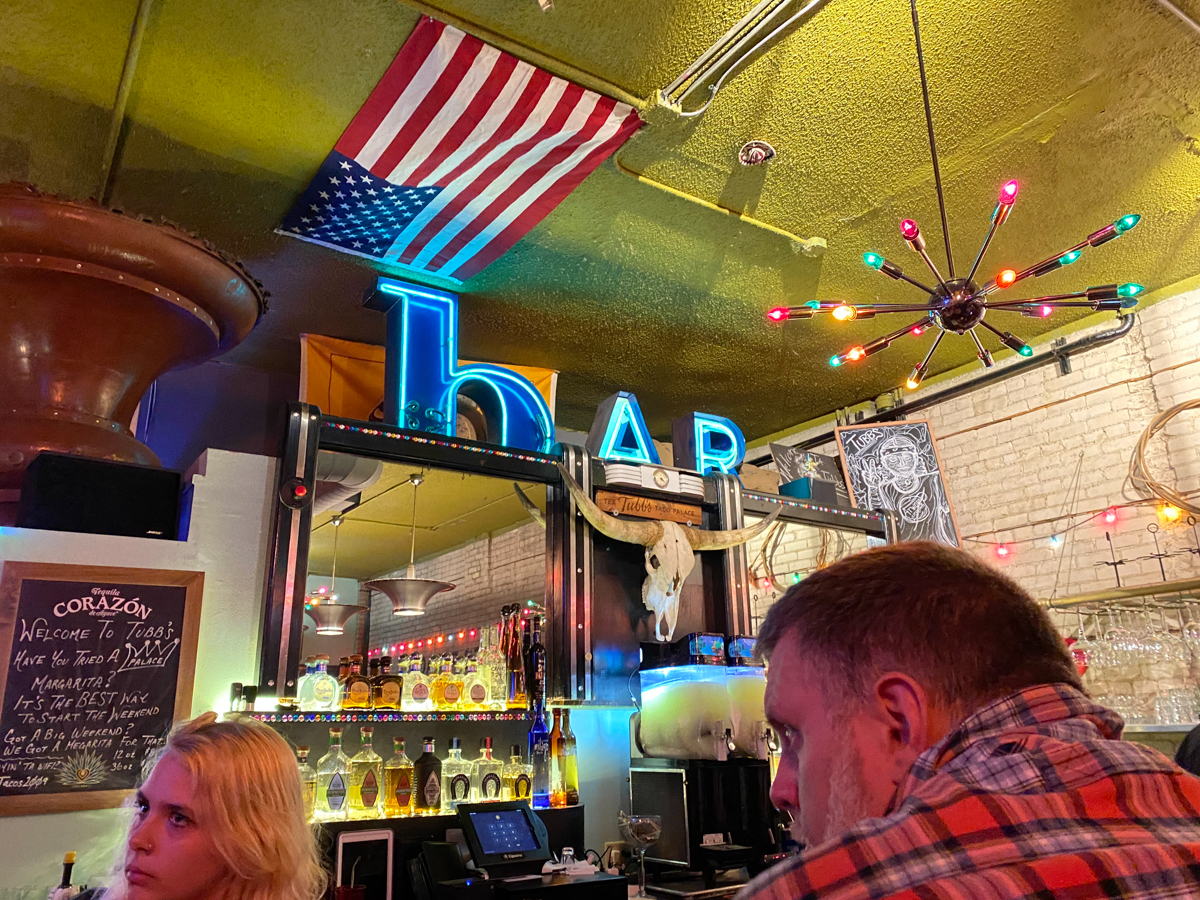 National Mustard Museum
The National Mustard Museum in nearby Middleton is a ton of fun. Here you can sit in Mustardpiece Theater and watch old industrial movies about mustard. Or you can play a ring toss game and perhaps win…a bottle of mustard! They sell about 300 kinds of mustard in the gift shop, and you can try them all at the mustard tasting bar. Most of the mustards are vegan, though a few contain egg, so read the labels first. But beware. Vegans are excluded from many food tastings, so I really had fun trying about ten kinds of mustard.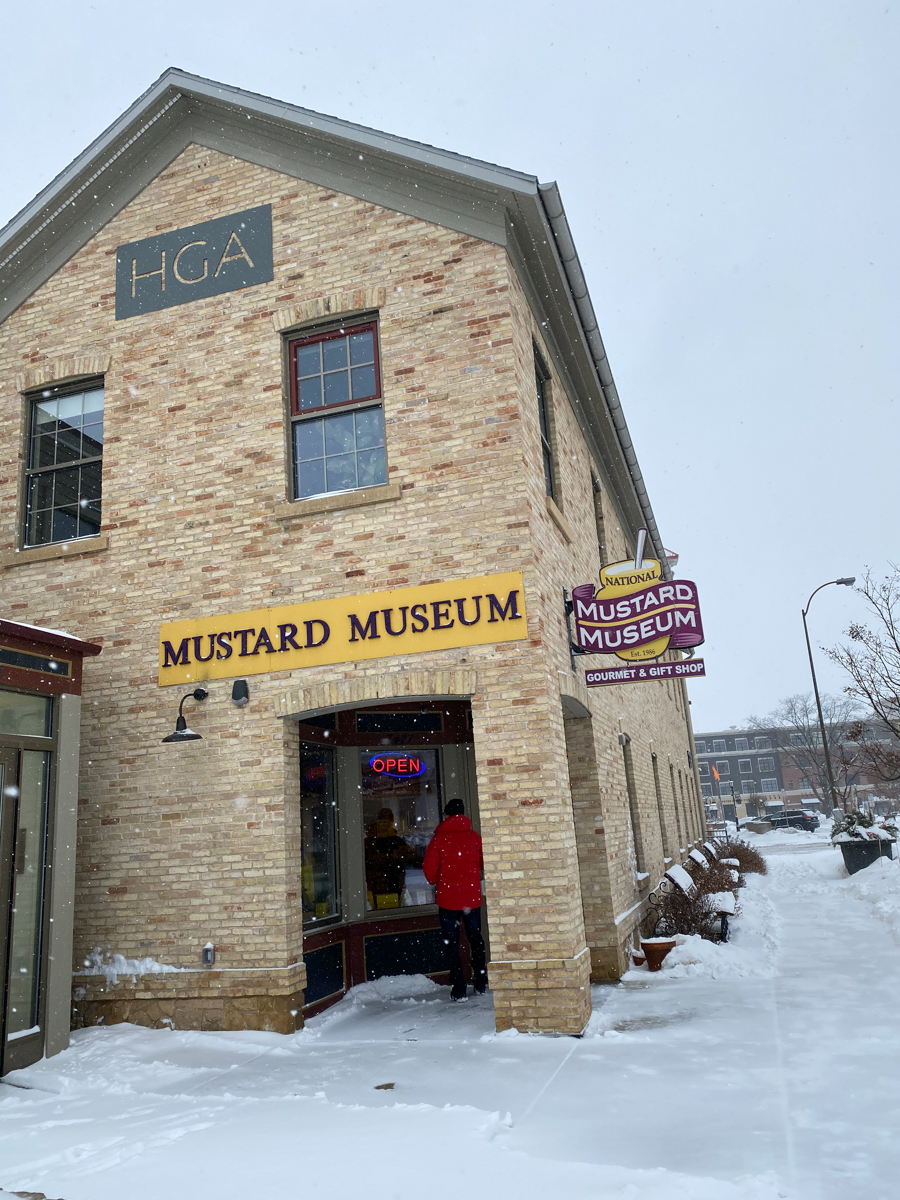 Bloom Bake Shop
Bloom has a whole case of vegan cupcakes! Do I need to say more? I got the vegan chocolate cream cheese ganache.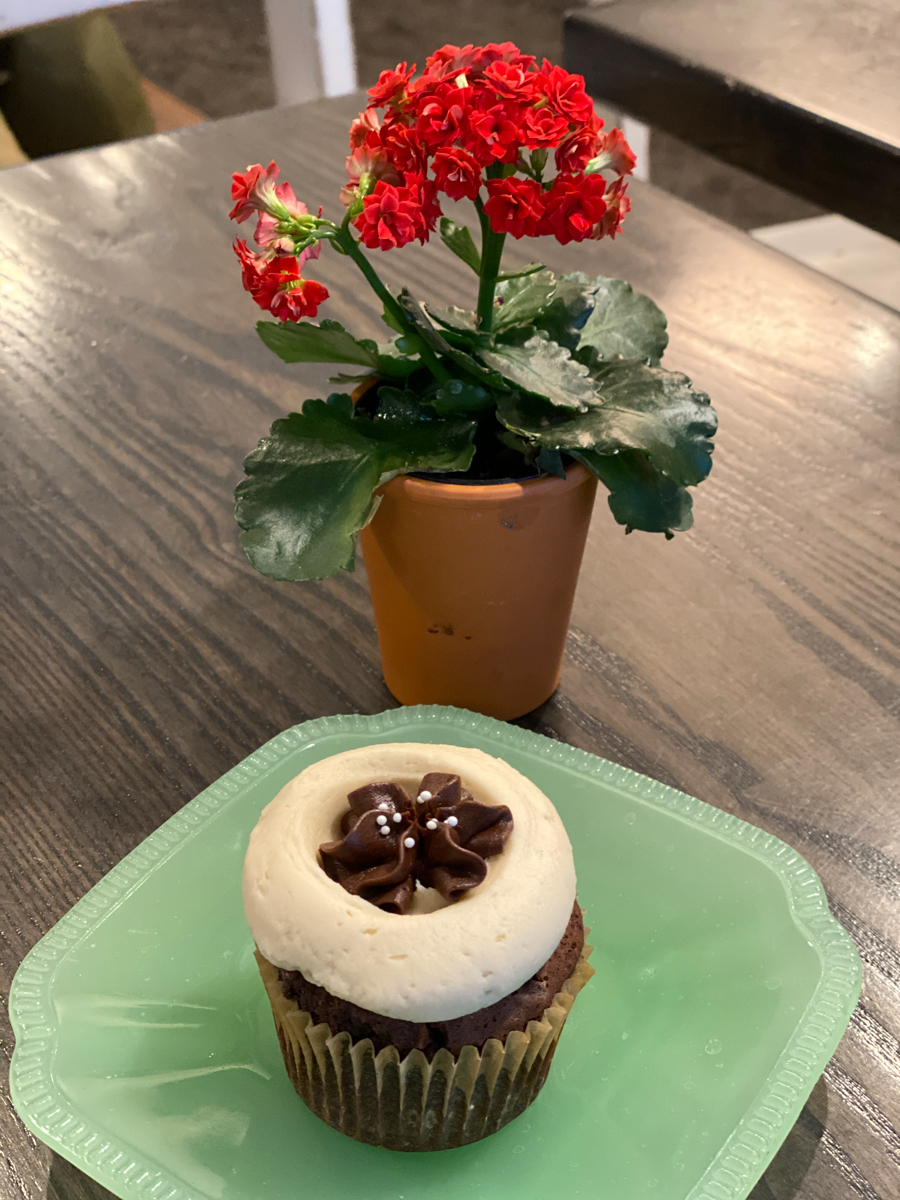 Chocolate Shoppe Ice Cream
This popular ice creamery on State Street doesn't forget the vegans. And we're not just talking sad sorbet. They cycle through about eight flavors of non-dairy soy, plus a few Italian ices. The day I went, the Chocolate Shoppe's soy flavors were butter pecan and ultimate Oreo. In the name of research, I tried both.